Donald E. Anderson, aged 73, a retired postal worker in Seattle, Washington, died recently. I didn't know Mr. Anderson, who lived at literally the opposite end of the U.S. from my home in New Hampshire, and he didn't know me. But he has had a lasting imprint on me and my family. We are linked forever, and I hope we can live up to his legacy.
You see, Donald Anderson was the first March of Dimes "poster child" in 1946. He helped the March of Dimes touch the American public by putting a human face on the organization's work to prevent polio, which successfully led to the polio vaccines still used today to protect our children.
Today my 6-year-old son, Aidan, is the March of Dimes 2014 National Ambassador, the modern name for the March of Dimes "poster child." He was born nearly 12 weeks too soon and represents the March of Dimes current mission to improve the health of babies by preventing birth defects, premature birth and infant mortality.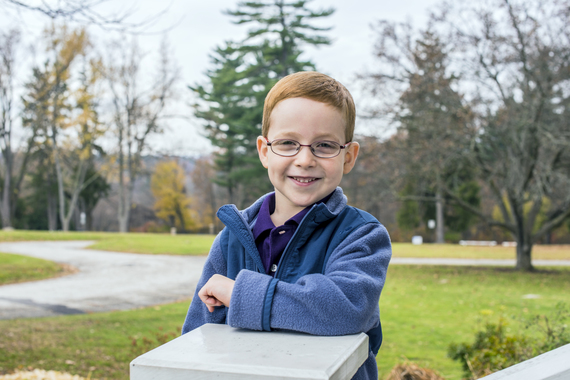 Donald Anderson was only a year younger than Aidan when he became the first poster child. He had contracted polio as a tiny boy of three. His iconic March of Dimes poster shows him looking so terribly little and vulnerable in his hospital bed with a neck brace and arm splint, and then, after undergoing various therapies, striding briskly along, unsupported and radiating confidence. He grew up to work for the U.S. Postal Service, was married for 53 years and had four children and seven grandchildren.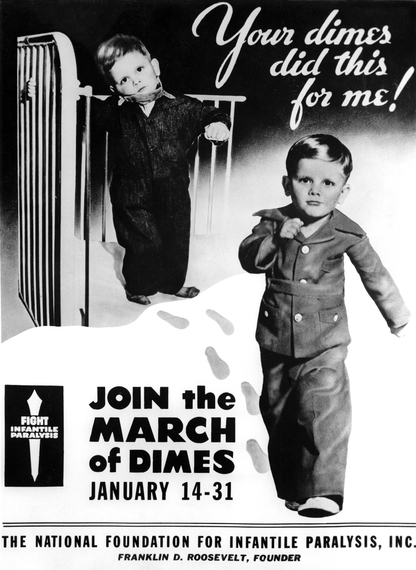 My husband David's aunt and uncle were stricken with polio as children. In his 80s now, Uncle Maurice continues to cope with the long-term consequences of polio and currently use a wheelchair. And, during the polio era, my father, too, served the March of Dimes. He was a "polio pioneer" -- one of the first children to receive the Salk vaccine approved in 1955. Looking back, it now make sense to me why he emphasized to his family the importance of preventive medicine his whole life.
Vaccines are just important today as they were when Mr. Anderson and my father were children. They continue to protect us against diseases that our grandparents faced, like polio, as well as other vaccine-preventable diseases, such as pertussis (whooping cough), varicella (chicken pox), and influenza.
The March of Dimes hasn't conquered preterm birth as it did polio -- yet. But we're making progress. Nearly 450,000 babies like Aidan are born prematurely each year. After rising steadily for more than three decades, the U.S. preterm birth is improving; it has dropped 10 percent in six years, to the lowest rate in 15 years. We believe that with more research, we can identify the unknown causes of preterm birth and learn to prevent them.
When I learned of Mr. Anderson's death, I thought about the message he sent to Americans frightened by worsening polio epidemics in the 1940s, and the message we're sharing now -- that by coming together, we can make a difference in the lives of others.
My family has been March of Dimes supporters since before Aidan's traumatic preterm birth, and we've become much more active since then. We are honored to be chosen as one of Mr. Anderson's successors. We're telling our story, just as he did, because we're hoping that we, too, can help the public better understand the most serious child health problem of our day. From our house to yours, Mr. Anderson, thank you for being such an inspiration.