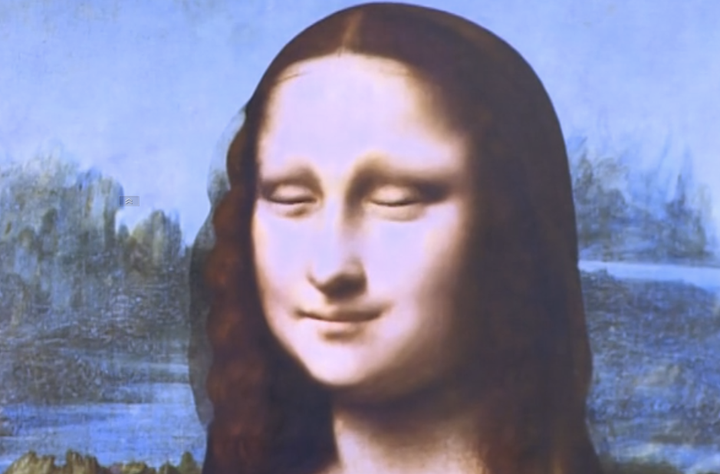 A lurching floorboard creaks. An ambient howl fills a stuffy hallway. Suddenly, you notice that the paintings on the walls seem to follow you with their eyes. Dusty trompe l'oeils come to life, creepily warding off meddling intruders.
It's a common, campy horror movie trope, and now, thanks to a team of French artists and technicians, it's a reality.
The "Living Mona Lisa" is a new product that uses motion sensors to make the well-known subject's eyes follow viewers, much like in the description above. And, her famous wry smile can turn into a frown when activated.
The team behind the project, helmed by Florent Aziosmanoff and the Paris Internet and Multimedia Institute, used Artificial Intelligence to create a remarkably responsive Mona Lisa. According to The Telegraph, she's able to, "sense changes in her surroundings." Although this technology was deployed to build and market a recognizable interactive painting, Aziosmanoff says he aims to create similar works using less well-known faces.
"One of the future objectives is to develop an emotional context that will take into account the past experiences and interactions of the system," Jean-Claude Heudin, the head of the Paris Internet and Multimedia Institute, added to The Telegraph.
In short: Aziosmanoff hopes to create more robotic subjects that learn and respond the way computers might. This raises a bevy of questions about the increasingly intertwined worlds of art and computer science. What is the benefit of AI systems that bring a subject to "life"? Does it dehumanize the creator, who's able to make subjects "move" without literally moving? And does it take the thrill of connecting with a lively, inanimate work away from the viewer?
Also, is the technology simply unnecessary? The phenomenon of feeling watched by a painting is nothing new -- researchers have determined that the way we interact with static images differs from how we view individuals. When we view a painting, our minds register the image as two-dimensional but the object as three-dimensional and go haywire, contributing to the effect of roaming eyes. 
So, a Mona Lisa whose eyes dart back and forth and whose smile can recede into a frown when a room clears may belabor the artist's intentions, and fail to ignite viewers' imaginations. But that doesn't mean it's any less fun to watch.  
PHOTO GALLERY
The 10 Worst Things That Happened to Mona Lisa
Calling all HuffPost superfans!
Sign up for membership to become a founding member and help shape HuffPost's next chapter