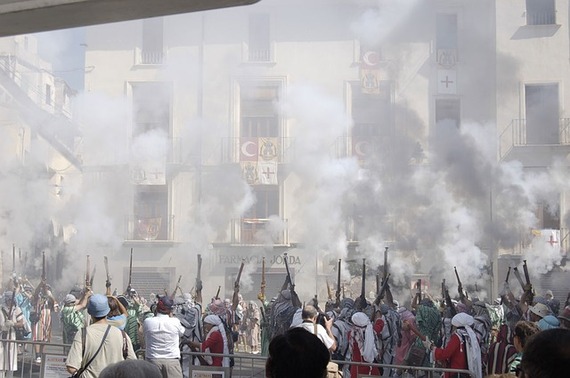 In the ongoing fight against terrorism, the West and its allies have repeatedly joined forces to counter ever-changing threats, devastating and global in scope. Their campaign against the Islamic State in Iraq and the Levant (ISIL), now almost a year old, has focused the air power of a broad international coalition against militants across the region, but has thus far shown no lasting results. Indeed, ISIL's continued activity, across borders and through cyberspace, demonstrates military might's limitations in halting the spread of extremist ideology. Ultimately, this fight must be won at home.
National governments increasingly acknowledge the need to address homegrown extremism within their own cities, towns, and neighborhoods, often far from the battlefield. In order to succeed in the fight against terror, governments must work locally, empowering communities to recognize and respond to radicalization. Developing effective local strategies and sharing lessons learned should be a priority for all governments, not just those on the front lines.
That security abroad requires stability at home is hardly a new idea. Still, never before has the threat of localized, individual radicalization posed such a serious global security risk. Indeed, over 20,000 foreign fighters are thought to have traveled from across the globe to Syria and Iraq to join the ranks of extremist groups. Harder to detect are homegrown terrorists who are radicalized online and seek to carry out violent plots without ever leaving their home countries, as seen in recent attacks in Copenhagen, Dallas, Ottawa, and Paris. The threat of extremism does not stop at national borders. A single strike can affect citizens from around the world, as last month's attack in Sousse, Tunisia, in which a gunman killed 38 at a beach resort, tragically demonstrated.
In February, the Obama Administration, recognizing the severity of this threat, convened a summit in Washington on Countering Violent Extremism (CVE). The summit, which brought together government and civil society leaders from around the world, produced broad agreement that efforts to counter violent extremism must go beyond military response. Large-scale surveillance programs and counter-messaging efforts have their place in the fight against extremism, but overreach and privacy concerns give rise to resentment and suspicion across target audiences.
The best course of action for addressing extremist threats is a local one, focused on building communities that are more resilient to radicalization. Naturally, this means empowering local law enforcement through community policing initiatives. More importantly, however, it engages local leaders, teachers, and parents in order to increase awareness of the signs of radicalization and build consensus around how to respond. It also requires outreach to marginalized populations and the creation of safe spaces in which those vulnerable to radicalization, particularly youth, can have their voices heard.
CVE scholars have been advocating such approaches for some time − and policymakers are finally beginning to take note. Australia is at the forefront of CVE efforts with its Living Safe Together initiative, one of the first examples of a nationwide program for community engagement. In the United States, scholars and policymakers alike have touted the successes of community-based pilot programs in Boston, Los Angeles, and Minneapolis. These and other programs engage with local communities to build resilience to violent extremism by helping to identify and support vulnerable individuals, implement youth support initiatives, build community cohesion, and encourage constructive civic participation.
If such efforts are to succeed, however, they must go beyond the handful of programs that currently exist in only a few countries. As the United States, Australia, and others continue to develop their own approaches, they will also need to share successful practices with international partners who are struggling to implement similar initiatives of their own. This includes countries in Central Asia, the Balkans, and elsewhere that have seen large numbers of their citizens leave to join the conflict in Iraq and Syria. Many are keen to act, but are hamstrung by a lack of resources and a limited understanding of extremism and its drivers.
The challenge, of course, will be to share best practices without compromising programs' local, bottom-up nature, which is crucial to their success. Community-based strategies' advantage is that they allow local actors to tailor their approach to CVE, which is not one-size-fits-all. While community engagement is essential across the board, the specific approaches that work in Boston may not apply in Bishkek. Countries advocating particular CVE techniques must not seek to impose a uniform approach on their partners. Instead, governments must engage in a dialogue so that countries without counter-radicalization programs can learn from CVE pioneers' successes and adapt lessons learned to their own unique contexts.
Given extremism's transnational nature, promoting community engagement efforts is essential, both at home and abroad. The White House's CVE Conference yielded broad consensus on a way forward. Although follow-on conferences in places like Kazakhstan and Kenya have proved excellent forums for continued dialogue, effectively sharing best practices in CVE will remain challenging given the varied contexts in which extremism thrives. Nonetheless, such efforts are essential. They present unique opportunities for countries of various stripes to cooperate and work toward common goals. Traditional military and intelligence actors will certainly continue to play a role in today's conflicts. In the end, however, the only way to suppress this global threat at its root will be through a collaborative, international effort to nurture individual, local solutions.
Brittney Lenard is a Young Professionals in Foreign Policy Fellow for the Changing Nature of Power program and a graduate student at Georgetown University's Master of Science in Foreign Service Program, specializing in Global Politics and Security. She was previously a member of the Europe and Eurasia practice at McLarty Associates, an international strategic advisory firm in Washington, D.C.
Calling all HuffPost superfans!
Sign up for membership to become a founding member and help shape HuffPost's next chapter