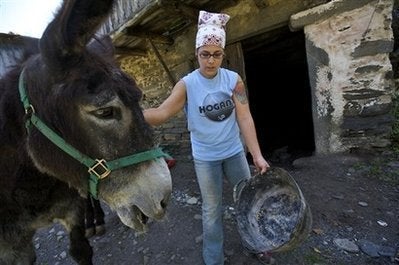 No doubt you've heard of the "locavore" movement -- the idea of eating food that is grown or raised close to home, sometimes within a 50 or 100 mile radius -- but have you heard of the Local Travel Movement? Despite its name, LTM is not, I repeat not, a staycation, the recently coined word designed to make us feel better about not venturing beyond our own cities while taking time off. (Don't get me wrong -- feel free to explore your own city but just don't call it a staycation -- call it a weekend.) No, LTM is similar to the locavore movement because its goal is to go back to an older, more natural way of travel -- before travel books galore that purport to share with us secret tips about places off the beaten path; before the internet let us find out absolutely everything about our destination, including the time of the sunset; before an entire television channel devoted to only travel, airing half-hour shows about Walt Disney World or eating challenges; and before travel was corporatized into the "tourism industrial complex," a multi-billion dollar industry.
LTM asks you simply to travel to learn and experience more about different places, people, and cultures. Sounds easy but with the rise of all-inclusive resorts, organized tours, satellite tv, and a Starbucks on every corner, traveling like a local is becoming more and more difficult.
But after all, why travel 7,000 miles across an ocean just to sit around and look at a beautiful yet dime a dozen beach? Why spend all your time in a museum when that same culture's current artists are right outside the door?
In addition to lounging on the beach, LTM encourages you to also walk down the beach and engage in conversation the local fisherman entrepreneur squirting lemon juice and Tabasco sauce onto a freshly caught oyster at a makeshift stand by the water. Along with touring the city's sculpture museum, stop by the hole-in-the-wall bar a few blocks away to sample the local beer and chat up workers on their lunch break.
One of my best travel experiences was when a Costa Rican farmer (who I met on a locally organized tour, I'll admit) asked me and my family to accompany him later that night to a typical Costa Rican rodeo where his father's bulls would be featured. In the farmer's pickup truck we traversed rural roads for over an hour talking about the Costa Rican government's stringent organic foods laws, the farmer's plan for his tilapia ponds, even his transformation from a young, heavy drinker to the family man he became. When we arrived at the small-town rodeo, we may have been the only foreigners ever to have stepped inside the small, muddy, crowded, and truly electric arena where our farmer seemed to know at least half the crowd. It was a wonderful night that no guide book could ever have directed us to. (In Costa Rican rodeos, no animals -- except humans sometimes -- are injured.)
Through that one experience, we educated and were educated on culture, contributed to the local economy, and connected with our fellow human beings in meaningful ways. It felt much richer than simply seeing the sights we many of us tend to do while traveling.
There are several organizations and websites now promoting LTM. The newish Local Travel Movement website does not aim to make money (no, really!) or to help its founders get farther with their own ambitions; rather, it's a way for travelers, local travel/responsible travel companies, tour operators and hotels, and the media to connect with each other, sharing information, tips, knowledge, and opinions. Before LTM, Spotted by Locals and WHL Travel had been promoting local travel in distinct and important ways.
Clearly, the increase in popularity of sites and ideas like Couchsurfing, Crashpadder, or even traveling by WWOOFing, demonstrate travelers' interest in seeing more than the inside of a Hilton in between your more standard tourist fare.
But anyone and everyone can participate in LTM. As you're planning your next trip, keep in mind these local travel values:
If you are mindful of the local people, you put yourself in the locals' shoes and discover what they really think.
If you are mindful of the local environment, you put yourself in the heart of it, feel its beauty and power, and do what you can to preserve it for the future.
If you are mindful of the local culture, you put yourself in the local mindset and share in activities and experiences as locals do.
If you are mindful of the local economy, you put your money into local business and ensure that your tourism benefits the right people.
Popular in the Community