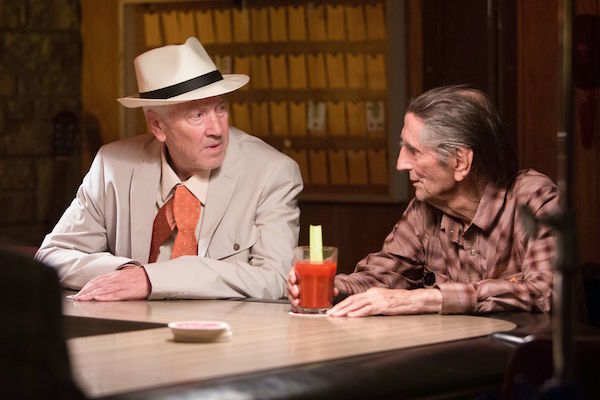 Locarno is a really pleasant surprise. While Cannes may be the glitziest, Venice the oldest and Berlinale the most packed with titles, the Locarno Film Festival is a rockstar among film fests. Starting from its frontman, Artistic Director Carlo Chatrian, to the stars attending and what they are wearing, from the films shown, to how those in the media can comfortably attend mostly everything on their wish lists, Locarno stands out as the hip, cool and happening event.
So my second day on the ground here included sitting inches from the icon that is Fanny Ardant while she answered questions in a beautiful Italian and truly left her audience of journalists breathless, experiencing the femininity of Nastassia Kinski on stage in the Piazza Grande accepting her honorary Pardo award, watching a film about a group of soft-hearted bodybuilders 'Ta peau si lisse' and experiencing the wonder that is Harry Dean Stanton in 'Lucky'.
It takes guts for a mature actress to play a transexual and do it with wondrous nuances that can transcend the absurdity of the casting, make its flamboyance intimately fit within the screen but also manage to infuse the story with layers of meaning and themes. Fanny Ardant as Lola, who used to be Farid, a married ballet dancer in the Opera d'Algiers whose son Zino (perfect to look at Tewfik Jallab plays him tenderly and believably) comes looking for... eh hum, him when his mother dies suddenly, is beyond brilliant. In fact I believe that in a perfect world where films get shown to all audiences regardless of distribution deals and actresses are handed awards on their worth and talent alone, Madame Ardant would win an Oscar.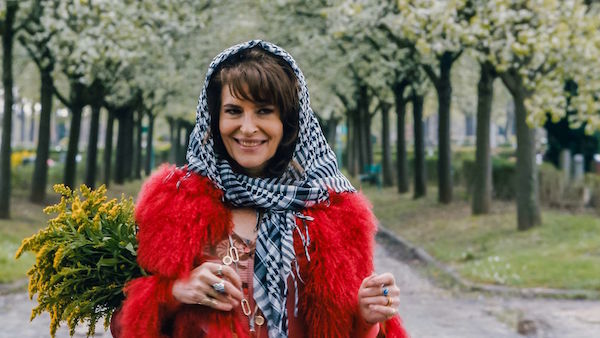 But back to reality, or rather, cinema reality which is always so much more interesting. Director Nadir Moknèche adds another strand of brilliance to 'Lola Pater' by making Farid/Lola and Zino, and the deceased Malika and her family, Algerian French. Thus infusing the story with themes that are as contemporary as they are cleverly, refreshingly unmentioned.
Ardant mentioned that she "read the script as you would drink a glass of water — all in one gulp," and that's how as an audience we receive 'Lola Pater'. As a refreshing glass of Prosecco perhaps, one that goes down easy to comprehend from a human angle but is also deeply refreshing in its treatment of the relationship between a flawed parent and a confused child. And haven't we all been there, sometime, somehow?
'Ta peau si lisse' ('A Skin So Soft')
I'll admit that Denis Côté's film about a group of Canadian bodybuilders with a tough exterior and a soft heart made me finally understand how my male movie companions feel when I drag them to watch documentaries like 'The September Issue'. Yet, just as I manage more often than not to open up my friends' viewpoint to a new landscape of filmmaking, albeit a chick flick about a group of women who put together a fashion magazine, chap flick 'A Skin So Soft' made me curious, kept me entertained and most importantly, left me wanting more. Kudos to Côté for a film that fills the screen with humanity and yet doesn't attack our senses with an unnecessary soundtrack. Yes, for the most part 'A Skin So Soft' is a silent ode to these heavyweights of discipline, using only the sound of their labored breath, the clinking of weights and the occasional car driving by on the road as "music".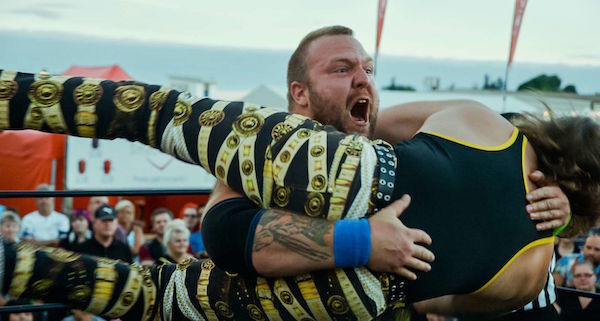 Dialogue is left at a minimum bare throughout as well, and the movie climaxes into a wonderful group shot of these athletes finally being men and enjoying themselves, utterly vulnerable and almost naked. If that sounds somewhat erotic, well, there is that aspect when you want to find it within Côté's quiet documentary masterpiece. Otherwise, it is a simple, well-told, beautifully shot story of humanity.
So 'Lucky' is the title of John Carroll Lynch's film starring Harry Dean Stanton in the role Variety called "his moment of triumph." But lucky is how I felt throughout the film, of having been able to sit in its wonderful company, swallowed by its subdued splendor for its one and a half hour duration. I didn't want the film to end, I yearned for my adoptive country, what is still the grand U.S. of A., and my own American dream which includes, you guessed it, a nice slice of apple pie and the perfect cup of coffee at a forsaken diner in a forgotten town of the West.
Stanton as Lucky — the 90-year old atheist, Mariachi music lover, milk drinking, chain smoking loner — who is suddenly awakened to the power of connections and inner spirituality, is splendid. When a character jumps off the screen and makes me yearn to have him as a friend, it's when I know cinematic magic is at its best. Lynch's cast of characters include David Lynch, Ron Livingston, Ed Begley, Jr., Beth Grant and Tom Skerritt, but even the supporting roles are neat, neighbors one would like to have instead of the garden variety boring kind we all live next to in real life.
Most brilliantly perhaps for this first time director — I know, it's unbelievable considering his masterful treatment of the story by Logan Sparks and Drago Sumonja — is how Lynch uses comedy and Stanton's perfectly crabby behavior to set us up, his audience, to feel as we've hardly ever felt before because our hearts were pried open by the comedy of the situation.
I cried tears of joy with and at 'Lucky' and his story will always stay with me. Oh, and the placement of Johnny Cash singing 'I See a Darkness' in the soundtrack of mostly Mariachi classics is sheer brilliance. There I've said it!
REAL LIFE. REAL NEWS. REAL VOICES.
Help us tell more of the stories that matter from voices that too often remain unheard.
This post was published on the now-closed HuffPost Contributor platform. Contributors control their own work and posted freely to our site. If you need to flag this entry as abusive,
send us an email
.