The month of December brings to mind the holidays... annual parties, family get-togethers, and for many across the country (and abroad) - a change in the weather. Visions of white...snowflakes, sleigh rides, and snow-covered sidewalks come to mind...along with iconic holiday images. However, here in Los Angeles a "White Christmas" is highly unlikely...but one can always dream.
On Friday, December 12, the Loft at Liz's celebrates the season with its annual themed group exhibition titled "HWĪT," derived from the old English/Germanic word for white. Organized by gallery owner and curator Liz Gordon, the exhibition will feature works of art with the color white as its highlight.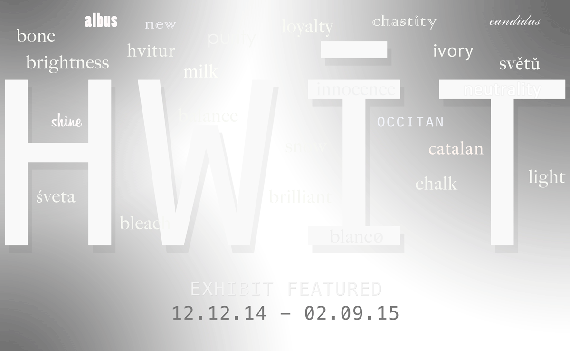 If you have never been to the Loft at Liz's, it's quite a unique venue in the Miracle Mile area. Situated above Liz's Hardware (an incredible store...deserving of its own article), the gallery is run by Gordon and her right hand man Randi Kreeft. Both curate exhibitions while also inviting guest curators to take their turn.
The non-traditional space makes for a cozy personal vibe. Gordon, a social butterfly with a vibrant personality, is partly responsible for the welcoming spirit of this gallery. Art lovers and artists alike flock to the often crowded and hip art parties to be personally greeted by Gordon, herself.
As a curator, Gordon does not look to stay within a certain medium, yet prefers to base most of her group shows on a specific theme. "I look at the gallery much like a painter looks at a blank canvas. I create shows that have continuity based on a theme...not necessarily a medium," remarked the gallerist.
Gordon has chosen to incorporate both the paintings of JJ L'Heureux as well as her photography. Probably best known for her photography, L'Heureux's art encompasses a variety of mediums including painting, collage, and mixed media. She is currently on expedition (during the opening of HWĪT) in the Falkland Islands where she is most certainly experiencing a WHITE and very chilly holiday season.


J. J. L'Heureux, Ross Ice Shelf 1, 2014 32" H x 108" W Photo


"She (L'Heureux) captures for all of us an opportunity to see what we cannot physically experience ourselves," said Gordon. A nine-foot photograph of the Ross Ice Shelf will be part of the exhibit. "The photograph is magnificent and I believe will draw the viewer in so they will feel the crisp cold air she felt," added Gordon. L'Heureux explained that the photograph shows just a tiny portion of the Ross Ice Shelf. The area that the image depicts is approximately 45 meters high and 800 kilometers long. "It is one of the elements of the spirit of the Southern Ocean and Antarctica. Wind and cold are its dominant messages because there are no sounds of industrial society here, just silences except for those wind and sea expressions punctuated by cracking-booming ice as it breaks off into the sea. It is a pristine place, seemingly overwhelming, but so fragile and changing."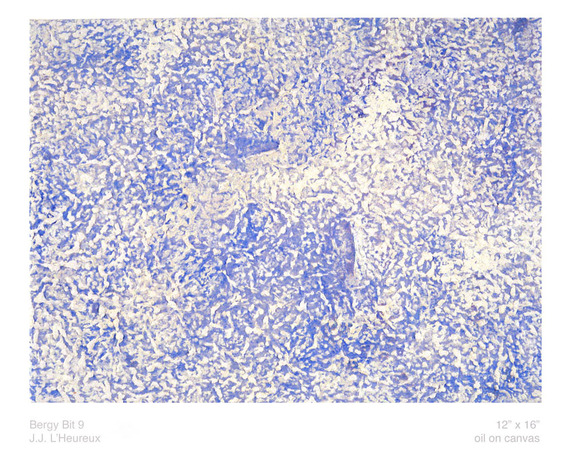 J.J. L'Heureux Bergy Bit 9 - 12 x 16, oil on canvas


Four of L'Heureux's paintings will also be on view. Inspired by her many expeditions (this will be her fourteenth), her Bergy Bit series was born through her fond memories of these extraordinary experiences.

L'Heureux has been featured in solo exhibitions at the Chicago Academy of Science Museum, the Fort Worth Museum of Science and History, Fernbank Museum (Altanta), and many more. http://www.jjlheureux.com/ http://www.penguinspirit.com
The art of Natalie Arnoldi (daughter of famed artist Charles Arnoldi) will also be part of the December show. "I am very interested in exploring the line between abstract and figurative work," said the artist. She explained that her desire was to combine the ambiguous evocativeness of abstract painting with enough figurative representation to place the viewer in a specific time and space.
"Part of why I choose such images is because they are almost universally relatable but at the same time non specific - a characteristic that makes them evocative in a very unique way," said Arnoldi. Five of her works will be on view, all from the same body of work. http://www.nataliearnoldi.com/
Sculptor Stuart Kusher has previously participated in several group shows at the gallery and said he was happy to be included once again. "I find Liz to be genuine...always with a smile on her face," said the artist. Kusher will offer two new works titled The Messenger and The Scribe to be included in "HWĪT." When asked what inspires him to create, Kusher replied, "I dance with the clay and whatever my imagination sees becomes my next piece." His work will be featured in a solo museum show at MOAH in 2015. http://www.stuartkusher.com/
At the opening reception, performance artist Amy Kaps will be performing a piece titled Unraveled (in White), where she will literally be unraveling over 1700 feet of flagging tape from her body. http://amykaps.com/
Additional artists featured are Carlos Grasso, Eric Johnson, Elizabeth Orleans, Diane Silver, Zadik Zadikian, as well as guest artists (from Art 1307) Marco Abbamondi and Amedeo Sanzone.
The opening reception for "HWĪT" takes place Friday, December 12, 2014 from 7:00pm - 10:00pm. The exhibit runs through February 9, 2015. The Loft at Liz's is located at 453 S. La Brea Avenue, (above Liz's Antique Hardware), Los Angeles, CA 90036; (323) 939-4403, ext 6; http://www.theloftatlizs.com/
Popular in the Community