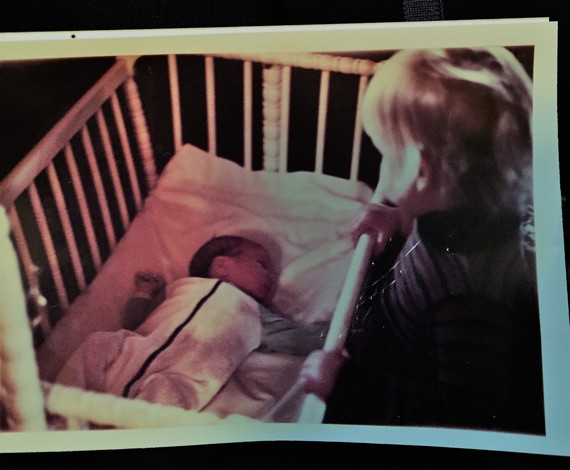 No one wants my family cradle. It's an ancient relic without colorful lights or streaming videos, replaced by infant seats that vibrate by remote control and by elaborate $2,500 structures that resemble miniature chariots. The sweet songs whispered from loving caregivers have been replaced with electronic programmed music controlled by a timer. I mourn the loss of intimacy.
Thirty years ago, my mother bought a $50 wooden cradle for my firstborn. We took turns gently pushing the cradle and offering soft lullabies as my daughter slept in heavenly peace in the swaying bed. Two years later, my son used the cradle, and then it was stored for 25 years.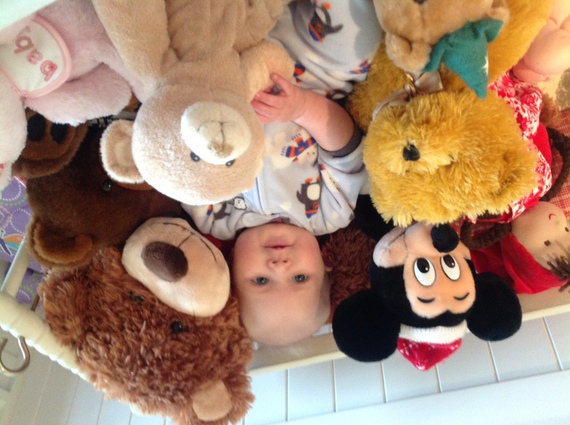 The cradle appeared again with a fresh coat of paint and secured bolts as it held three of my granddaughters. Now the grandkids are older, and I've downsized my home so we don't need it. I've tried to donate the cradle, but charities can't take it for liability reasons.
To overcome my sadness about the rejected baby bed, I researched the history of cradles to prove my assumption that hand-rocking was better than electronic baby tenders. Here are some interesting details.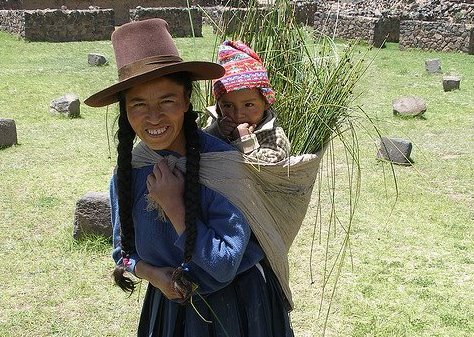 This photo by Thomas Quine shows a woman in the Andes carrying her baby on her back in a traditional style that has been used for generations. Studies of the cultural history indicate that centuries ago, babies were carried in shawls and packs on women's backs. Subsequent historical recordings note that infants were swaddled onto boards and hung in trees as the mothers gathered nuts and berries. The swaying bed known as a cradle appeared as early as 1710 but was used mostly by nobility. This illustration depicts the elaborate cradle of Louis XV, born in 1710.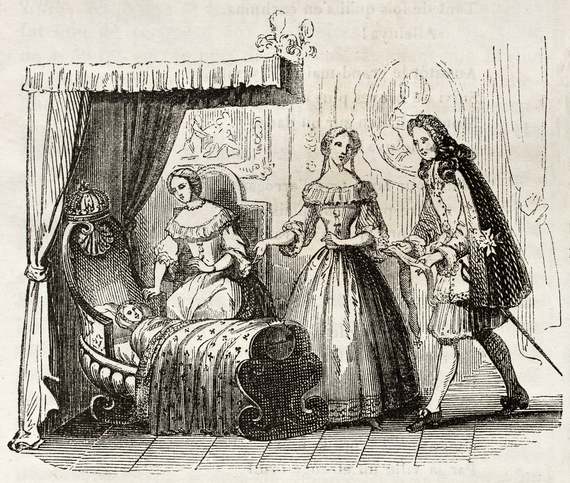 Lyrics for the famous lullaby Rock-a-bye Baby were first printed in 1765 in Mother Goose's Melody. Various legends attribute the words to political events in England or the fact that Native-American women rocked their babies in hollowed-out birch-bark cradles suspended in trees. "When the bough breaks, the cradle will fall, and down will come baby, cradle and all" isn't the sweetest sentiment, but the melody is enduring.
During the mid-1850s, poet William Ross Wallace wrote a famous poem titled, "The Hand that Rocks the Cradle is the Hand that Rules the World." This tribute to motherhood underlined the powerful influence mothers had over the way their children developed into adults. The cradle provided the foundation.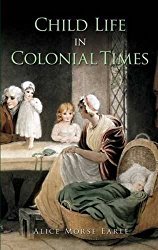 American Social Historian Alice Morse Earle had a passion for baby cradles. In her book, Life in Colonial Times, she wrote: "The seventeenth-century baby slept, as his nineteenth-century descendant does, in a cradle. Nothing could be prettier than the old cradles that have survived successive years of use with many generations of babies."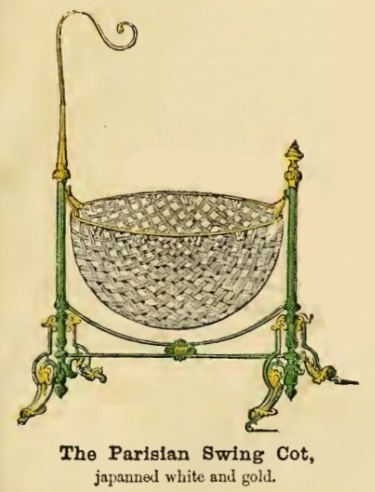 The Parisian Swing Cot in white and gold was an 1870 cradle suspended on iron supports with mesh bed. Cradles became less popular after 1960 as more women entered the work force and there wasn't time to rock and sing to babies.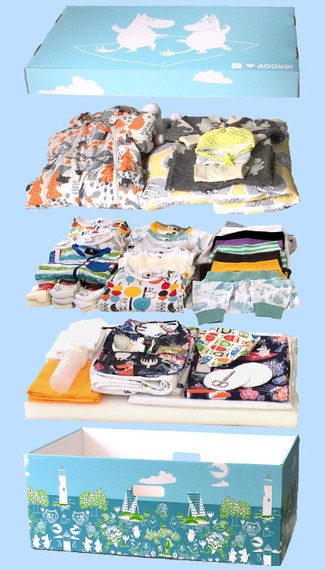 For the past 75 years, new parents in Finland have received a Baby Box complete with 50 necessary items for a newborn. The box serves as a bed for the first few months, so a cradle isn't necessary. The boxes retail outside Finland for between $400 and $600.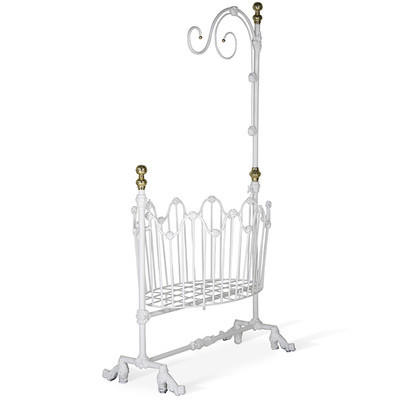 This Corsican-Dynasty Cradle sells for $2,400, and that price doesn't include bedding. I can't justify a baby bed that is used only six months and costs more than the mortgage.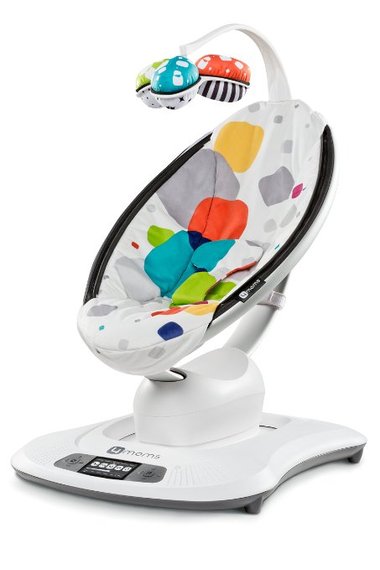 For $250, babies can be entertained in this 4moms mamaRoo infant seat. It bounces up and down and sways from side to side, similar to the old-fashioned cradle, but busy moms can control the motion through their cell phones. The magic chair comes in five colors and offers four recorded songs that repeat through speakers imbedded in the chair. I didn't own such a device, and my children matured into splendid young adults anyway.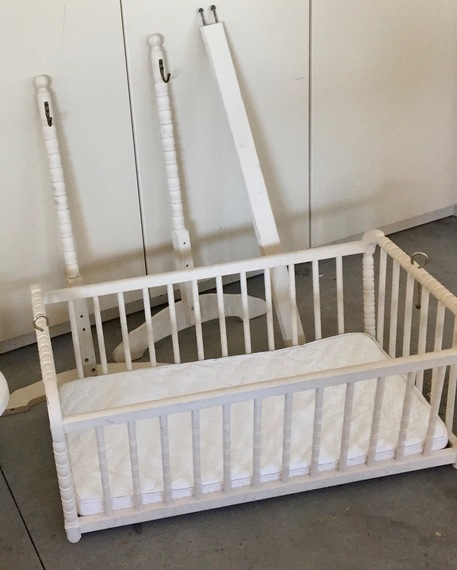 I quietly rocked the cradle that held my children and grandchildren as I sang, "Hush little baby, don't you cry." Now it rests in the garage, disassembled, waiting for an unknown destination. After two generations of soothing babies to sleep, it's no longer needed or wanted. The bough broke, and I wish I didn't care so much.
Related
Popular in the Community