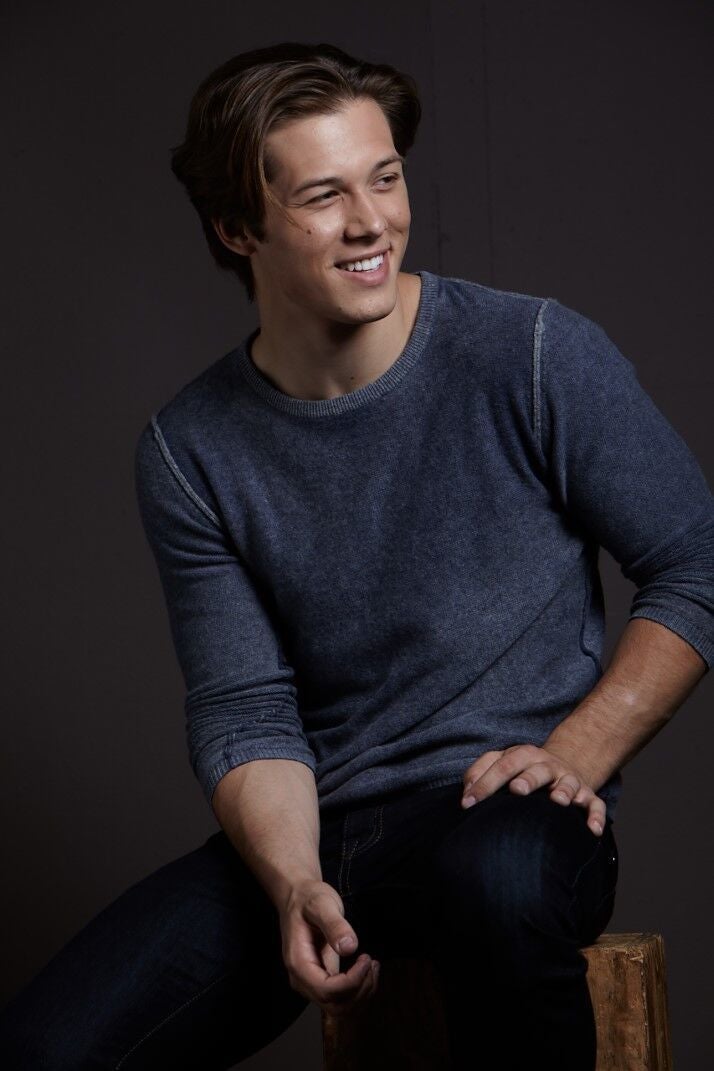 Leo Howard is not one to be taken lightly- and that's not only because the multi-talented star is practically a superhero when it comes to extreme martial arts, having been trained by world champion, Matt Mullins. In fact, by eight years old, Howard had already won three world championships himself, leading to his break-out starring role in The Disney Channel's hit show Kickin' It. But, Howard's talent's don't just rely on his swift kicks, charismatic screen presence and pretty face. By sixteen, the esteemed and diverse performer was already reaching new heights and raising the bar yet again as he was put in The Guinness Book Of World Records as the youngest person to ever direct an episode of television.
Howard isn't looking to skate by on some child star that caught lightning in a bottle. Now finished with Kickin' It, the multi-talented scene stealer has proven that even at nineteen years old he is equipped to be treated like an adult in the industry- with a vested interested in figuring out how all sides of the business works, and that clearly shows in how much passion he puts into his projects and how artistically committed he is. Howard isn't just some teen heartthrob that got lucky with a hit show and a chiseled jaw, but instead he is clearly one of the most promising talents and auteurs of the future, fiercely throwing himself into any of the work he does, and his latest labor of love, Arcanum, is no different.
Wise enough to see that the short film format is very much where the industry is headed, this innovative young thinker eagerly jumped right to the front of the train. Teaming up with former Kickin' It co-star Jason Earles, actor Louis Mandylor, and young director Mitch Gould, Howard and co. created a visually spectacular teaser short for what could very well be a full-fledged series or feature film. Arcanum is mystically enchanting, and the fact that they were able to pull it off with only their passion and without a major studio backing them makes it all the more incredible.
But, it seems like whenever Howard puts his mind to something he simply becomes unstoppable. Smashing down doors and always setting new highs with martial arts, acting, directing and whatever else he touches, this Hollywood hunk is already showing he is well worth all the acclaim.
Below, Howard found some time to take an interview about his hot new project Arcanum and gave the scoop on what it's about and where fans can see it, as well as what he would like to do in the future and what else he can't wait to conquer next!
Shorts really seem like the wave of the future. Actor Allen Maldonado has even started his own short app to get viewers acquainted with quality shorts. Can you talk a little bit about your short Arcanum, and how shorts might really be where entertainment is headed, even for quality viewing?
I think the short film market is kind of where the industry is going because it's a perfect proof of concept; you have a great idea, a company says they like it, and then you can go out and shoot exactly what you want it to be in a short form- and that's exactly what we did with Arcanum. We know we have a solid concept, and we would love for it to become a movie or miniseries, and basically we have this storyline that we would love to see continue.
And can you tell fans a little about the plot of Arcanum?
So, in this short, my character is in this sort of shady library and I talk to this librarian played by Louis Mandylor. The audience soon finds out that I'm looking for this artifact and the librarian is holding it, and that artifact will be the result of life or death for the rest of the world, and in order to get it I go through this pretty awesome battle with this knight that comes to life. It's pretty cool and mystical, and we think fans will really enjoy it. Think the mysticism of Stranger Things, combined with the action of a Marvel series. It's a great blend, and we're excited about it.
You currently hold the Guinness World Record for being the youngest ever TV director. Talk about your directing aspirations and what kind of films you're looking to direct. Who are your inspirations?
Well, I didn't direct this short, one of my best friends did, Mitch Gould- and he is extremely talented and great, but I was definitely along for the whole ride. As far as my career, I really love directing- not to say I don't love acting, and I definitely want to continue to do both. With directing, I'm influenced by greats like Quentin Tarantino, Oliver Stone and Martin Scorsese- just really great storytellers. And I think my friend Mitch [Gould] really has that as well; he's really talented with telling a story with both the camera and the script at the same time.
You are also a very advanced martial artist. Can you tell fans about what kind of martial arts you practice and how you got involved in your training?
Martial arts kind of found me when I was four years old and I fell in love with it, and I fully intend to never stop doing it. I started with Shōrin-ryū karate, and then in the later years of my career I started training in Brazilian jiu jitsu- and I've been doing that for about five years now. And I trained with people from Arcanum- Mitch Gould, the director, and Jason Earles, a member of the cast. When you don't see us working together like that, we're off punching each other in the face and choking each other out- so it's kind of a fun group.
And then, there's Kickin' It on Disney. Have you kept in touch with your cast from the show?
Absolutely! Jason Earles was on Kickin' It! He's in Arcanum! We train all the time! And I still talk to most of the cast. We were a really close group and still maintain friendships and we always stay connected.
You just filmed the movie You're Gonna Miss Me. Can you tell fans anything about that?
That was a really fun indie film that I did out in Arizona. It sort of plays into that Midwest, southern kind of country style. It has a country music vibe to the movie. It was a lot of fun, and I just finished that up. And I also just got off of a Hulu series called Freakish- and that should be coming up in October, so people should definitely look out for that one too!
And with Howard on board, there's no doubt that fans will definitely have their eyes peeled wide as he is sure to continue to make waves all over Tinsel Town.
To check out Arcanum, watch the video below!
Popular in the Community