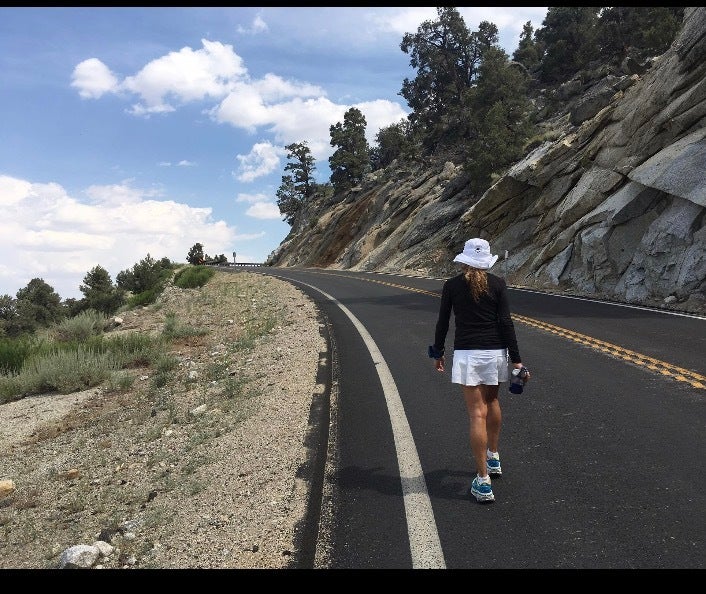 Once you get the Badwater 135 bug, July is never the same. It becomes Badwater time of year, and you reside in a Death Valley-dreaming state of mind. The desert landscape encapsulates you so that you can almost feel the furnace air on your skin and see the mirage of the surrounding mountains. Why STYR Labs Badwater 135? It's billed as the "world's toughest footrace," sure, but after your initial introduction to the 135 miles of heaven and hell traversing the route from Badwater Basin, at 282 feet below sea level, to Whitney Portal trail-head, at 8,360, it is about relationships. The race's aficionados return year after year to test their courage and grit, but also to reunite with dear friends. Camaraderie is ingrained in the race landscape, which is a mix of runners, crew, family, and staff, all of whom are high energy, motivated, can-do people. As those who toe the line know, when you are out in the desert, there is no free pass. There are miles that are less taxing than others, but overall, it is a journey and a battle to arrive at each milestone in pursuit of the finish line. Being in the company of comrades helps. There are no quitters among the Badwater 135 clan, regardless of what transpires come race day.
Who wants to run that far in 120 degree temps?
Badwater 135 is for those who are willing to go the distance physically, emotionally, and mentally to glimpse what they are made up of. Most racers have read endless articles about the event, watched videos, and spoken to whoever they can about the race long before they attempt their first ultramarathon, which is defined by any race beyond 26.2 miles. Badwater 135 is the long-range dream of most of us who have embarked on ultramarathons—the same way perhaps that elite swimmers aspire to be in the Olympics or devoted basketball players aspire to join the NBA. The race attracts a certain type of person: one who seeks challenge, adversity, and who is not afraid to train at the highest level. For there is no Badwater 135 attempt without adequate training, which often includes heavy weekly mileage on one's legs, sauna or appropriate heat training, and mental/emotional endurance training, which gives participants the edge and confidence they need to be out there in the elements for twenty to forty something hours.
The ability to accept, adapt, revise, and trust in one's crew is critical when it comes to participating in Badwater, because between that road and those looming Sierra Nevada mountains, racers live a whole life time of pain, love, joy, desire, transcendence, and continual adaptation to the elements, one's situation, and reality. There is no way to explain the journey other than to experience it. In the words of jazz musician Louis Armstrong, "If you have to ask what jazz is, you will never know." The same holds true for the allure of running Badwater 135.
Arriving at STYR Labs Badwater 135, much in the spirit of Chief Adventure Officer/Race Director Chris Kostman's other Badwater branded races—Badwater Cape Fear and Badwater Salton Sea—is an ultra in and of itself. There is the journey for most of us to Las Vegas airport, where racers and their crews rent minivans, and then the two-three hour drive out to Death Valley's hotels. Along the way, there are typically pit stops in Pahrump, Nevada, to fill up on supplies—endless gallons of water, food, ice, and race gear—and usually there's an additional ride back out to Pahrump to gather more supplies pre race day. Racers and crew tend to travel between Furnace Creek Ranch, mile 17.5 on the Badwater 135 course, to Stovepipe Wells, mile 42 on the course, for race meetings, and some opt to preview the course, traveling to Panamint Springs, mile 72 on the course, and on to Lone Pine, mile 122, upward to Whitney Portal trailhead, at mile 135. Then of course comes race day, in which runners and crew travel the course once again, by foot and by car, respectively. At the conclusion of the race, there's the five-hour drive back to Vegas from Lone Pine, and then flights heading back home. All in all, Badwater 135 is a buckle your seat beat, get ready to roll event for racers, crew, and staff.
The course is literally one of ups and downs, with gains and losses to comprise 14,6000 feet of cumulative vertical ascent, and 6,100 feet of cumulative descent. Then there's the heat that emanates off of the blacktop, which feels as if it is emitting flames that travel up one's legs. There is a magic to the course that happens for me during that first night (the race begins at 8, 9:30, and 11 pm depending on each racer's wave), when I am left to cover the first 42 miles with no pacer (pacers are not allowed to join runners until after 42 miles in, and they always remain behind racers, so that they are more of companions than pace setters). The moments in which there are no other runners around, no crew cars looming, when you look around, you experience complete and utter isolation. Although the majestic nature of Death Valley National Park has a way of making one feel small, experiencing it close up expands one's life. Perhaps the Badwater 135 course, with its twists and turns and plunges and climbs, is one of the greatest metaphors for the long and winding road of life. Knowing there is an end is what often keeps me engaged in the present. During the race, I remind myself that days later, when I am back in my life, I will miss being out there—the solitariness, the challenge, the beauty. In writing, we call forward projection prolepsis – it is the ability to jump ahead, and while it may take us out of the instant momentarily, it also helps us to reground and re-invest in the here and now of our lives.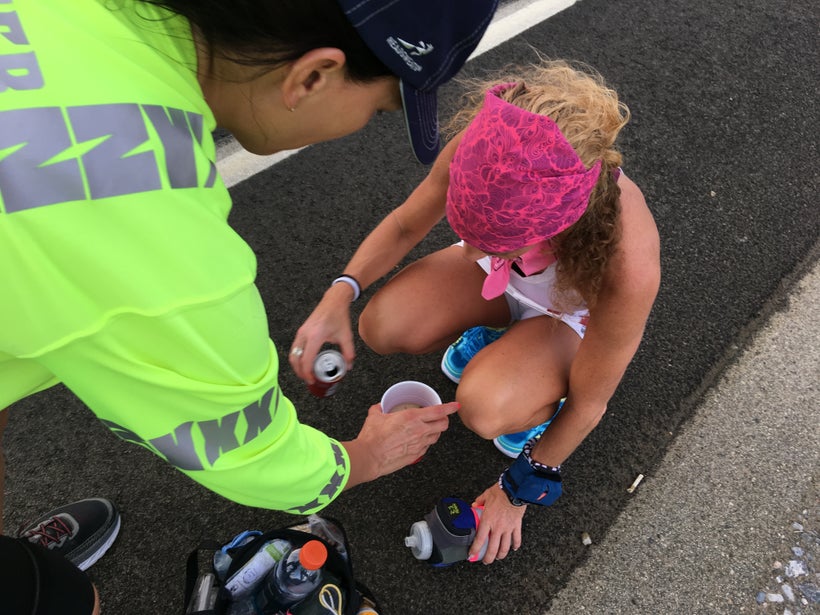 This year was different for me. In the months preceding the race, there were health issues. Unlike the past two years in which I ran and completed Badwater 135 and had started training in early February, this year my training was delayed until early May. There was also a move in progress to D.C. that had commenced the end of June and was to be completed the day following my return from Death Valley. There was a new job that I would be starting a day after my move. My life all seemed to be converging mid-July, with my late mother's birthday on July 15th—a date that will forever signify an ending and a beginning for me: the end of life as I knew it, and the beginning of the next chapters of my story. This year I knew it would be a rush to finish the race, and then I would be on to the next phase of my life.
The realist in me said that hustling to Death Valley to run the race was not the best idea; the dreamer in me said go for it. At the final hour before I left for the airport to head out to Vegas, there was another disruption: my dad, who has accompanied me to the majority of my thirty 100 mile races for the past six years, told me that he wouldn't be joining. He simply didn't feel up to it with the cold he had been battling for the past few weeks. I understood, and yet, I was crushed. I couldn't stop the tears. I cried over the change that was coming, over the pain of new beginnings, of loving my dad so much that I never wanted to leave him behind. Getting onto the plane that morning wore me down—I simply didn't believe I had to the strength to push forward. And yet, as the jet took off, what came to me was clear: it was never about leaving anyone behind, but taking them with me wherever I went. I had learned that lesson when I lost my mom, but when I cling to the tangible world, I forget it again and again. As we soared into the clouds and the plane riveted me up and away, it was clear to me that my dad was with me wherever I went, for all of who and what he was, was part of me. Sometimes we cling and cry and wish, but in the end, it is about accepting what is.
In the application for the race, which prospective racers complete early in the new year, we are asked what Badwater means to us. In January, with the race being so far away, there's a nostalgia that informs our relationship to Badwater 135. It seems a joyful thing, a time of celebration and fun and good times. If one is accepted into the race, as the months draw on, and the reality of the race looms closer, it becomes about hard work and commitment. Because it's a tough race, in a scorching place. By the time race week rolls around, there's a sense of dread, peace, and also respect. The brutal nature of the course and the sizzling, burn-the-inside-of-your-nostrils-heat becomes real. The recollection of the pain that one will encounter hangs over runners. We can all laugh about it and call ourselves crazy, but the concept of the long haul is beyond crazy. The knowledge that something so meaningful for each of us will rip us apart physically, mentally, and emotionally is more of pulse rushing through us.
Like many others out on the course, my journey this year was tumultuous. The humidity was in the 25% range, an anomaly for the desert, and the wind was gusting fierce at the onset of the race. I threw up from about mile 4 until about mile 14, making it impossible to do more than walk and throw up the first few hours. To say that I was grateful when my nausea passed is an understatement. Yes, like most others, I had body aches and pains, an outer hip pain in particular (later diagnosed as bursitis), which did not let me run for long stretches of the race, and yes I dealt with some inner turmoil and tantrum-like moments with myself. Yes, my crew gave me pep talks, and no, I didn't always listen. I took two 15 minute naps. One at 8:00 pm in our crew van, and one later in the night sitting in a chair outside of the van as I approached mile 100. After the nausea at the race start, I existed on mostly liquids—water, a bit of Gatorade, some coconut water, a lot of Coca Cola, an Endurolyte and Anti-Fatigue (potassium/magnesium) capsule every hour, a too sugary blueberry slushy at mile 72, and I did take a few acetaminophens, but not until about 14 hours in, and then about every six hours.
Along the way, there was the added stress this year of making the 50-mile cutoff, and the highs and lows that the intense heat and lack of sleep brings. My crew was prepared, patient, and kind. The pep talks I received along the way reminded me that quitting was not my best option, regardless of the chatter my mind told me. I often thought of my dad, and how he was likely at home, safe and comfortable, with my cat, and I thought of my mom as I always do when the going gets tough, and how she would cheer me on with her upbeat attitude when she was not busy panicking about my well-being.
There comes a point in these races when you are simply flat; when the race stop making sense, life stops making sense, and you question everything you thought you knew about yourself. The art is in letting it all go, in losing the noise, and finding that within you which persists; it is beyond your mind and emotions—it is something soul-like that lifts you up and carries you along when you are so sure there's not one more inch of give and go in your body. Within the past year, I only tend to find my higher power when I am alone in a race, focused and quiet, and with that in mind, around mile 99, when I had lost all meaning, I told my crew I was going to go it alone for a stretch pre-daylight. Within a few hours, I had found what it was I was in search of—that granite within me that knows, without a doubt, that I am going to endure, that it is who and what I am about, and with my new and improved attitude, I pushed forward.
In retrospect, I cannot process that I was able to complete the race this year. I experienced almost each and every inch of the course. Miles 99, 108, 126 stand out to me because when my crew shared with me where I was, it seemed impossible that I still had so far to go. Desperation gripped my being until I was able to quiet its roar with steadied inhales and exhales. This is the thing about life: when we are certain we cannot go on, if we can find the courage to put one foot in front of the other—or trust in the wisdom of others who direct us to keep going—so much more is possible. The magic answer to the question how do you keep going? is that you just do. It is not easy for anyone, but it's a choice. The options are clear: you quit or you keep going. It is not about injuries or stomach issues or anything in between. We can learn and witness this in history from the likes of so many brave and ordinary human beings who persisted. We must each decide to stop or to keep going, and whatever we choose, our minds and bodies adapt and take us there, or don't. In the end, our lives are comprised of our choices. How we react, adjust, and persist defines us, for better or worse. There is no good or bad linked to these choices, although our minds and emotions lead us to believe otherwise. And our choices are in no way static; we are constantly evolving and learning. Races do not define who and what we are about, they are just vehicles by which we can witness ourselves unfold at various here and now's of our lives. Running ultramarathons has brought me closer to my core, because it has stripped me of all of the excuses I clung to at different phases; although I am not always sure of what is ahead, I have learned that moving forward puts me in the path of my life.
What does Badwater mean to me? It means saying yes when it is so much easier to say no. It means persistence, drive, desire. It means heat that eradicates my fears and dreams alike. It means survival—not only along the course, but within myself and the highways my heart and mind travel, regardless of my physical locale. Badwater means committing to myself and trusting in my crew, all of whom put their lives on hold to share and enrich my journey.
At mile 72—Panamint Springs—my crew had let me in on the ice issue. There had been limited ice for sale at the Stove Pipe Wells 42-mile checkpoint, and now, at the Panamint Springs 72-mile checkpoint, the final and last one until we reached the second to last checkpoint at mile 122—the store was out of ice. To put that in perspective, we started out the race with 25 bags of ice, and typically, my crew would have replenished at least 10 bags at each of the three and only stores in Death Valley. They did so at the first store when we were 17.5 miles in, but were only able to purchase four bags at the second store, and now at the third, there was no more ice to buy. This was a crisis, as I tend to fill my water bottles with ice, use it under my hat, around my neck, and carry our famous ice babies (Ziploc bags filled with ice) close to my core. Not to mention that my crew of three needed to use ice as well when they paced me or spent prolonged time out in the 115 + degree temperature. We had decisions to make. Which is when famed endurance athlete Marshall Ulrich, who has completed Badwater 135 twenty times, winning it four times, in addition to climbing the Seven Summits, and running across America, shared that he was dropping out, and that we could have his left over ice and supplies. If not for his donation to our team, I don't know how we would have fared. In a race like Badwater, giving someone your ice is like donating a kidney—it helps one to survive. In the world of endurance sports, we often encounter athletes who possess incredible grit and prowess, and sometimes, we catch glimpses of their humility and immense compassion.
Although during the race, it does not seem like it will ever end, it does. The finish line somehow appears, and we cross it in our fragile, exuberant, and altered state. Within a few days, we go back to our lives, jobs, and the daily grind, and it seems impossible that we were out in that heat, on that road, with our crews being our lifelines to survive the elements. The juxtaposition of the version of me that can hack it out in Death Valley, with the version of me who enjoys her days at work, makes me smile. In the end, we are made up of all our parts, and perhaps knowing that I can go the distance—regardless of how brutal it may be—inspires me to keep going and exploring all there is out there in this great big world.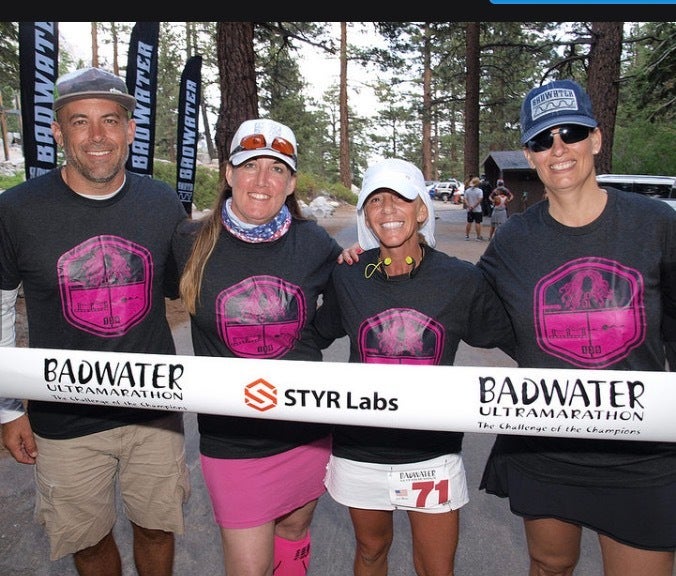 Calling all HuffPost superfans!
Sign up for membership to become a founding member and help shape HuffPost's next chapter
This post was published on the now-closed HuffPost Contributor platform. Contributors control their own work and posted freely to our site. If you need to flag this entry as abusive,
send us an email
.