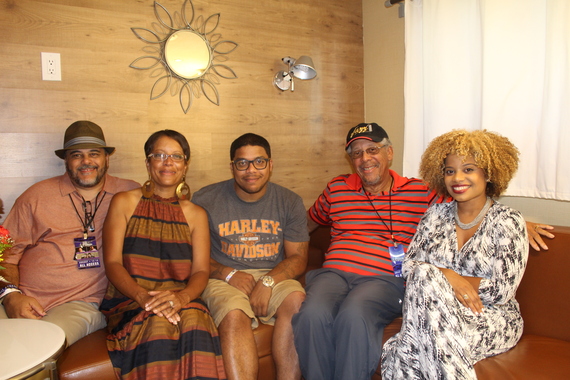 The Long Beach Jazz Festival is a Southern California summer staple known for serving up the best that So Cal Jazz has to offer. A world class affair for Neo Soul and Jazz lovers alike. The festival, in its 29th year, boasts an impressive legacy of ownership by a single Southern California family, currently passing on the torch to its next generation.
Al Williams, the founder and patriarch of the Festival, is a drummer, entrepreneur and promoter of jazz who earned his reputation as a mover and a shaker. [According to his biography] Williams was born in Pasadena California and his love affair with music began at the age of eight when he began studying the clarinet. The festival came about when as a young drummer, he and a fellow musician marveled that there were no local festivals and launched out on the Queen Mary where the rest became history.
"At that time the only two festivals in the United States were the Rhode Island Jazz Festival and Monterey Jazz Festival," says founder Al Williams.
A long held favorite on the summer music scene, the annual celebration is also a family affair with Al's daughter Kimberly Benoit taking over the reigns where her father left off. Her children Blair and Chris Benoit add a fresh take on the family business.
Grand Daughter Blair's contributions include incorporating innovative marketing strategies such as the introductions of social media platforms Snap Chat, Facebook Live and a myriad of interviews and original content featuring the festival's participating artists. While Christian Benoit focuses more on stacking the line up with both classic jazz aficionados and recruiting younger fresher faced artists like Melanie Fiona, Chrisette Michelle and Ledisi, to draw in a or millennial crowd. The combination of the two is sure to keep the summer festivities ablaze with both world class artists and crowds to boast.
Kimberly Benoit, the sitting president says, "Some years back the demographics were much older for jazz but now I have seen an evolution and a change in that. Now people in their early thirties are coming out to the jazz festival, which you didn't see 10 or 15 years ago. So I think once they are introduced, they love it.
I caught up with the family to discuss jazz, hip hop, the festivities and the business of music and discovered so much more... See my interview with the Benoit's below.
The Long Beach Jazz Festival takes place during the second weekend of August every year. It is more then worth your time and attention..
REAL LIFE. REAL NEWS. REAL VOICES.
Help us tell more of the stories that matter from voices that too often remain unheard.