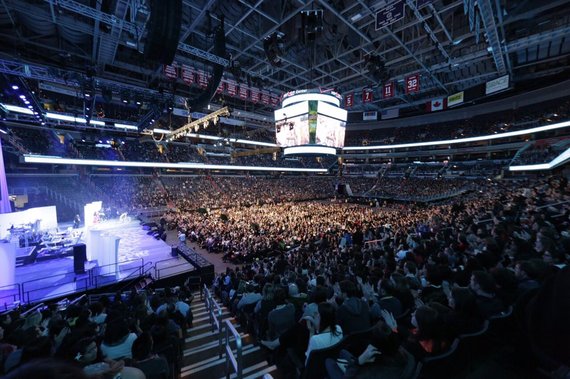 On Saturday, February 6, Teach For America founder and current CEO of Teach For All, Wendy Kopp, spoke to more than 15,000 Teach For America alumni, corps members, staff, and supporters at TFA's 25th Anniversary Summit in Washington, DC. The group convened for a weekend of celebration, reflection, and rejuvenation for the era ahead. The following is a transcript of her remarks adapted for publication.
In 1990, during the first summer institute, our charter corps members gathered each morning at 6 a.m. in USC's parking lot for bagels and Mexican pastries. Few of us imagined then that 25 years later we'd be here today, celebrating our community of 50,000 alumni and corps members.
Tonight is for the 50,000 people who have committed yourselves to our nation's most vulnerable children--almost all of you still working to ensure that they have the opportunities they deserve. We come from many different backgrounds and bring different experiences and different perspectives. This is such a strength--by disagreeing, struggling, and wrestling with how to do better by our children, we become stronger.
Twenty-five years in, though, there are many questions within our community and outside of it about whether we're really making any progress.
A couple of years ago, Elisa and I visited Oakland and brought together a group of corps members. We went around the circle and each of them told us about their schools and classes. Many shared that they were optimistic--they felt their students had a shot at making it through college and doing well. A few though were teaching at Fremont High School, a school with low achievement levels and a 53 percent graduation rate. These corps members spent much of their time outside the school managing persistent truancy, hopelessness, and trauma.
They were incredibly dispirited, and they asked us why we thought that Teach For America was working. Hadn't we been placing teachers in Oakland for more than 20 years?
It was a really good question from where they were sitting. But I was thinking--if I had done a similar roundtable back in 1991 when we started placing teachers in Oakland, all of the corps members would have sounded like those at Fremont High.
Until a couple of years ago, California ranked schools based on the Academic Performance Index--failing schools were red, struggling schools were orange and yellow, and as they got better they moved to green and then blue. Compare the map of Oakland in 1999 (58 schools were in the bottom two categories, and 11 were in the top two) to the map in 2013 (16 were in the bottom two categories, and 58 were in the top two).
And Teach For America has contributed a lot to this progress. Many people helped produce these gains. But if you took all the Teach For America alumni out of the picture, you would take away so much of the energy and leadership that is driving the change in deep partnership with others in the community.
Alumni are innovators and advocates from inside and outside the District--managing networks of schools; playing key roles in departments across the district; reinventing the way principals are recruited and developed; organizing the community to advocate for policy change; marshalling resources to ensure college is a real option for Oakland's students; demonstrating the power of culturally responsive pedagogy; advocating for children in the juvenile justice system; and much more.
There are more than 200 current alumni teachers in Oakland. Seventy alumni hold leadership roles across Oakland's 118 schools, including 21 school principals.
I could share the stories of other communities all across the country that are so similar to this one--from Los Angeles to Chicago to my own New York City, from communities in the Mississippi Delta to those in the Rio Grande Valley in Texas. In dozens and dozens of places, Teach For America people are contributing to substantial progress, even as so much remains to be done.
At the same time, we're learning, a lot.
We're learning more about the kind of education that truly empowers our children--one that goes far beyond academic skills.
We're learning just how complex it is to meet the needs of our students and about the nature of the changes necessary both inside and outside of schools.
We're learning, perhaps most importantly, about what it looks like to truly partner with the parents, students, educators, public servants, and advocates in our communities so that change is big and sustainable.
And now, we have the potential to learn so much more quickly because we have not only a national platform for learning and sharing, but a global platform. Incredibly, today there are 39 organizations in the Teach For All network--from Teach For India to Teach For Ghana to EnseñaPeru. These organizations are channeling the energy of their nation's most promising leaders towards expanding opportunity for their most marginalized children, and we're going to move so much faster now that all of us can learn from each other!
We live in an era that values quick fixes--an era where a technological innovation can change the way we communicate overnight.
But the problem we're addressing doesn't lend itself to quick fixes.
Many were working on the massive racial and economic injustices that hold our nation's children back long before we came on the scene, and there was never a chance that we would "solve" them overnight.
Success will require bold, urgent, sustained efforts, mistakes and steps backwards, and a whole lot of learning. I have come to think of this work of ours as the long game.
Given how long it will take, we are so privileged to have found our ways to it so early in our lives. With all of us in this work--treating ourselves and each other with generosity so that we have strength for the long game--we can make real progress in our lifetimes. I can't wait to see where the next 25 years take us!
REAL LIFE. REAL NEWS. REAL VOICES.
Help us tell more of the stories that matter from voices that too often remain unheard.