The most critical relationships in life are often those between parents and their children. Whenever such relationships are ruptured (or destroyed) by family tensions or an inability to communicate, it's easy to be haunted by film titles, song titles, and advertising slogans that evolve into angry ear worms. "Knock Three Times" (a song made popular by Tony Orlando and Dawn following its November 1970 release) and Stephen Sondheim's sardonically defiant "I'm Still Here" (from 1971's Follies) can take on new meanings for those whose wounded egos keep struggling with a darker interpretation of the words "The Parent Trap."
Death and/or dementia can leave the surviving party wrestling with unfinished personal business and years of emotional baggage. As a result, a wireless carrier's popular marketing tagline ("Can You Hear Me Now?") may take on the bitter irony of Lost Verizons.
Consider how this process works with an oft-overlooked song from 1964's Funny Girl. Sung by Fanny Brice as she weighs the power imbalance in her marriage to Nicky Arnstein, "Who Are You Now?" might seem like a pensive, troubled love song. But what happens when one examines Bob Merrill's lyrics through the soul of a person forced to watch a loved one disappear into the mental fog created by Alzheimer's disease?
"Who are you now, now that you're mine?
Are you something more than you were before?
Are you warmer in the rain? Are you stronger for my touch?
Am I giving too little by my loving you too much?

How is the view? Sunny and green?
How do you compare it to the views you've seen?
I know I am better, braver, and surer, too.
But you -- are you now? Who are you now?
Are you someone better for my love?"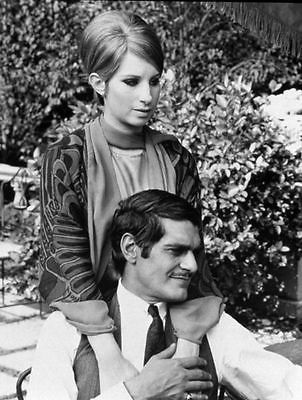 Barbra Streisand and Omar Sharif in a scene from Funny Girl
Although many women become caregivers for elderly parents battling dementia, their family situations rarely provoke as much laughter as Dame Edna's.
Royston Tan's new film, 3688, starts off as a perky musical in the spirit of 2002's Dutch musical comedy film, Yes Nurse! No Nurse! A crew of female parking attendants, led by the domineering Jenny Rahimah (Rahimah Rahim) are aggressively ticketing cars that have overstayed their welcome. As car owners rush to the parking lot begging for sympathy, they run up against the unforgiving Jenny's insistence on sticking to the rules.
One of Jenny's subordinates is the likeable Xia Fei Fei (Joi Chua), who is much more sympathetic to the car owners than her boss. Before going on her break, Fei Fei always places a call to give her order to her friend, Ah Luan ("Auntie Hai Xian,"), the owner of a neighborhood coffee shop who immediately warns all her customers that Fei Fei has left the parking lot.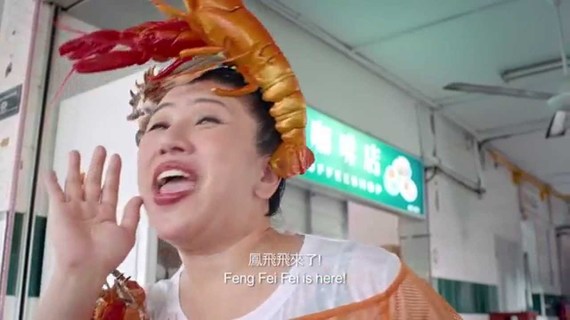 Liu Lingling as Singapore's Seafood Queen, "Lady Kaka" in 3688
The flamboyant Ah Luan (Liu Lingling) -- who dresses up as Singapore's Seafood Queen, "Lady Kaka" -- is a former entertainer who has been close to Fei Fei and her father, Uncle Radio (Michael Tan), for many years. Helping Ah Luan in her restaurant is her slacker son, YoYo (ShiGGa Shay).
Because Uncle Radio's wife died of cancer when Fei Fei was a little girl, he was forced to raise her as a single father. Forever single, the 38-year-old Fei Fei continues to live with her father, whose behavior has become increasingly eccentric. Uncle Radio used to sell subscriptions to Rediffusion (a cable radio service that has long since gone off the air). These days, not only does Uncle Radio wander around the neighborhood collecting broken radios and speakers to repair, he can't understand why no one wants to buy Rediffusion subscriptions from him.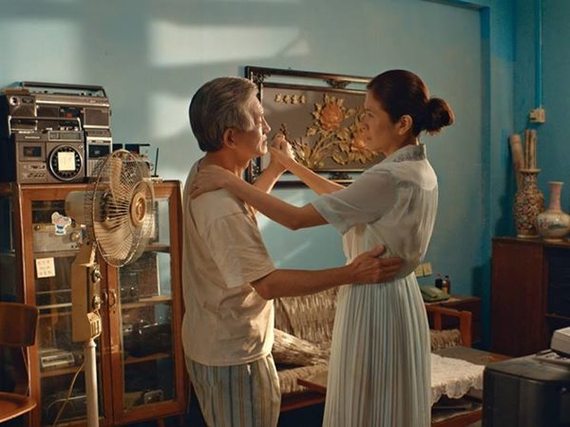 Lost in a fog of dementia, Uncle Radio (Michael Tan) imagines he is
dancing with his deceased wife (Lin Meijiao) in a scene from 3688
Soon after word spreads that the owners of the parking lot are planning to convert it into an automated car park (with no need for live attendants), Fei Fei and her colleagues suddenly find themselves unemployed. With encouragement from Ah Luan, Fei Fei enters a singing contest in the hope of winning first prize (the equivalent of two years' salary as a parking lot attendant).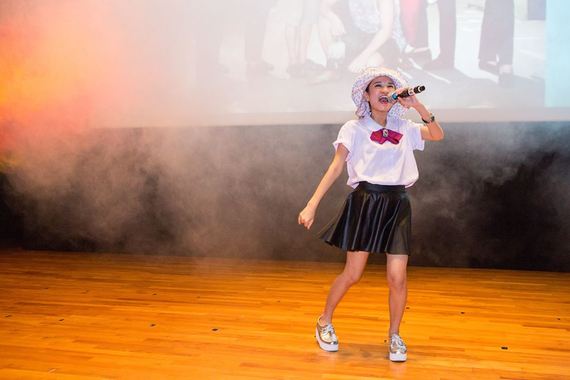 Xia Fei Fei (Joi Chua) performs in a singing contest in 3688
As soon as she arrives at the television station, it becomes obvious that the show's producer wants her to perform in her old parking lot attendant's uniform. To make matters worse, she is threatened by the fierce Anita (Tan Bee Keow), a power hungry vicious bitch who might also be transgender. Just as her rehearsal is about to begin, Fei Fei receives a frantic call from her childhood friend, Maoshan (Brandon Wong), informing her that Uncle Radio has gone missing.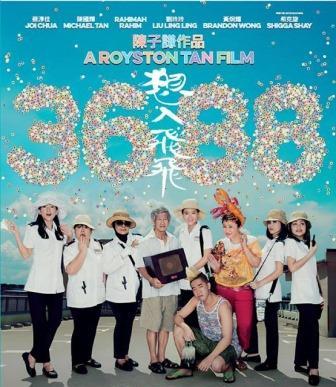 Poster art for Royston Tan's new film, 3688
One can't help but admire the meticulousness with which Royston Tan has steered this film from a giggly musical romp to a deeply moving story about a woman who, in rapid succession, loses her job and her father. The buildup to Fei Fei's triumphant moment in the competition (unaware that, as she sings, her father is watching her on a series of monitors in an appliance store without really understanding who she is) will tug at any viewer's heartstrings.
Joi Chua gives an appealing performance as Fei Fei, with Michael Tan's poignant portrayal of the confused Uncle Radio anchoring the more sober moments in the story. Much of the film, however, is delightfully comical, with mischievous performances coming from Rahimah Rahim, Liu Lingling, and ShiGGA Shay. Here's the trailer:
As part of its continuing artistic relationship with playwright Terrence McNally, New Conservatory Theatre Center recently presented the regional premiere of Mothers and Sons (a play originally written for the Bucks County Playhouse in New Hope, Pennsylvania as a vehicle for Tyne Daly). Mothers and Sons has had a long and curious gestation. It began in 1988 as an eight-minute play produced by the Manhattan Theatre Club as part of an evening of short works.
On March 4, 1990, McNally's television adaptation of Andre's Mother was broadcast over the PBS network as part of the American Playhouse series. The 50-minute film was subsequently released in DVD format on April 25, 2006 with a cast headed by Sada Thompson, Richard Thomas, and Sylvia Sidney.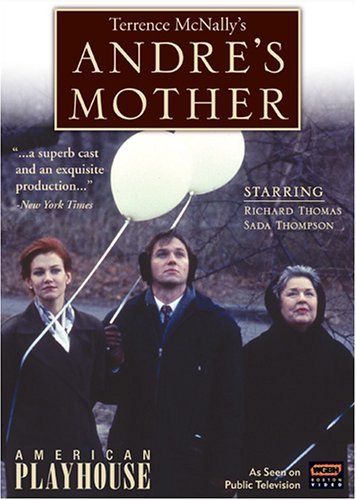 Poster art for Andre's Mother
Following its much-heralded world premiere at the Bucks County Playhouse, Mothers and Sons opened on Broadway on March 24, 2014 and ran for 104 performances at the John Golden Theatre. Looking back on the play's creation, McNally notes that:
"AIDS is not the only scourge that decimated generations of gay men and women. The wounds of homophobia are still raw, deadly, and tearing families apart. Mothers and Sons is a play I didn't know I was going to write when I sat down three years ago with a raging case of the flu, determined to write a play about what has happened to this country in my lifetime (especially our LBGTQ community). But time was not an option. I had a deadline to meet.

I thought about the young man who had come to New York to be the gay man he knew he already was. I was 17 years old -- too young to get into a gay bar but old enough to know where the men were. Like most people, I was looking for love (my story isn't much more complicated or interesting than that). Along the way, I found love often enough, but I lost the love of my family as well and we became strangers. It was both our loss. Since those many years ago, I have made my own family for myself and, by now, we are generations deep in happiness, sadness, and fulfilling relationships. The only people missing in my life are my parents. My husband's father was his best friend. How I envy him that. I was not with my father when he died. When my mother died, I was working on a show in Chicago. All I can do is live with her inability to love me as I truly am and try to remember the way she was and maybe even begin to understand us both a little. I adored her, you see. She was my mother."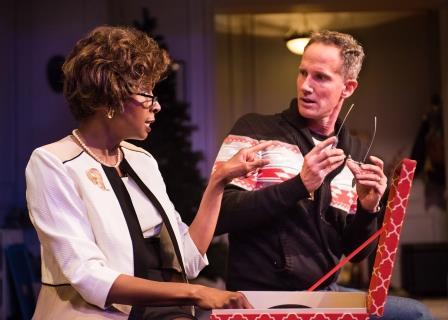 Velina Brown (Katherine) and Andrew Nance (Cal) in
a scene from Mothers and Sons (Photo by: Lois Tema)
Mothers and Sons takes place 25 years after Andre's death. During that period, AIDS has become a manageable disease, gay couples have been able to adopt children, same-sex marriage has become the law of the land, and the concept of "gay family" has gone mainstream. Although there are only four characters in McNally's play, there is still plenty of drama to be unleashed onstage.
The play begins with Andre's mother, Katherine Gerard (Velina Brown), standing in the living room of her son's former partner, Cal Porter (Andrew Nance). Katherine has taken advantage of a stopover en route from Dallas to Rome to surprise Cal with an unexpected visit (perhaps hoping to learn who gave her son AIDS). Because of her long-standing hostility toward Cal (and the ways in which she intimidated Cal and Andre when they were a couple), it's easy to sense the tension in the air.
In the eight years since Andre died of AIDS, Cal has abandoned his dreams of acting and become a successful financial manager of other people's money. Now living in the kind of spacious Central Park West apartment that he and Andre could never have afforded, he is married to Will Ogden (Daniel Redmond), an aspiring writer 15 years younger than himself. Together, they are raising a son, Bud Ogden-Porter (Aviv D. Drobey), who has become the apple of their gay eyes.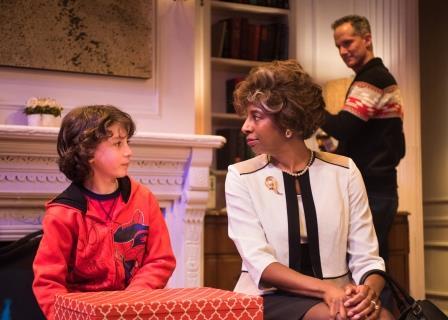 Dasshiel Ferrero (Bud), Velina Brown (Katherine) and Andrew Nance
(Cal) in a scene from Mothers and Sons (Photo by: Lois Tema)
While Cal has done his best to heal from the grief surrounding the deaths of Andre and so many of their friends, Katherine (who was never a particularly demonstrative or affectionate woman) has refused to move on with her life. Despite Cal's best efforts to put her at ease, following the death of her only child (and, more recently, her husband), Katherine has been transformed from a mourning mother into a ferocious old battle axe -- a bitter, lonely shrew who doesn't like most people and accepts that, for many years, she has been far from likeable, herself.
The following clip from the Broadway production (with Tyne Daly as Katherine and Bobby Steggert as Will) gives an excellent demonstration of the deep passion, wounded pride, and emotional scars which define McNally's characters.
Working on a handsome unit set designed by Kuo-Hao Lo, Arturo Catricala has directed NCTC's ensemble with care to frame McNally's arias of grief, anger, and hope as simply as possible. The playwright makes no bones about the fact that:
"If you think Andre is me in tonight's play, you're right. Cal is a survivor of our darkest years but if this play has a hero, it's Will. If it has a future, it's Bud. There are no villains, only a mother decimated by her inability to enter a new world, a world born of the tragedy of AIDS and now vibrant with new freedoms and infinite possibilities."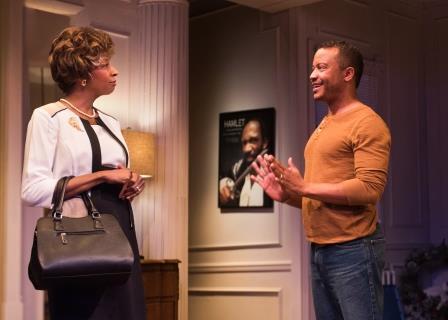 Velina Brown (Katherine) and Daniel Redmond (Will) in
a scene from Mothers and Sons (Photo by: Lois Tema)

It's not hard to recognize how the body language of Katherine, Cal, and Will reflects their varying levels of self-awareness, sophistication, self-pity, fear, and willingness to think positively (rather than shield themselves from the world with layers of emotional armor). As a result, I found myself rather conflicted about the performances by the three adults in the cast.
Andrew Nance's depiction of Cal was beautifully layered, offering the most nuance and depth throughout McNally's one-act play.
Daniel Redmond's aggressively loud portrayal of Will may have been on edge due to opening night nerves.
Although Velina Brown offered a terse portrait of Katherine, I often found myself thinking about how this role would fit Michaela Greeley like a glove.
If you have the time, the following segment of Theatre Talk features Terrence McNally and Tyne Daly discussing Mothers and Sons as well as what their personal experiences allowed them to bring to the play.
Calling all HuffPost superfans!
Sign up for membership to become a founding member and help shape HuffPost's next chapter