This is the second in a series of posts on the 2013 New York City mayor's race and the issues facing post-Bloomberg New York.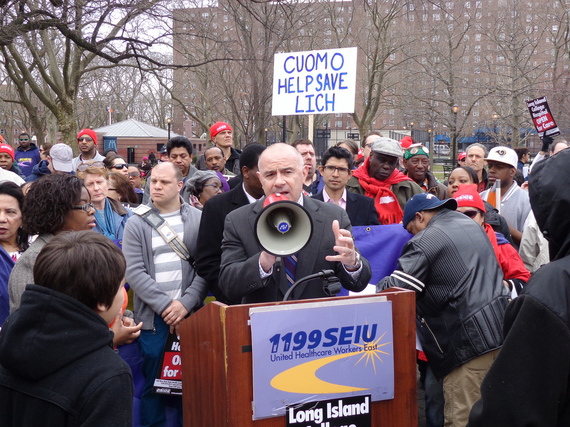 For years, Long Island College Hospital, a healthcare facility perched on prime Brooklyn real estate overlooking the harbor, has been the target of big developers who want to buy the property and transform it into luxury condos. Despite heroic community organizing efforts to save LICH and public outrage against its closure, the developers are winning the fight. But if you ask then-Public Advocate and now New York City Mayor Bill de Blasio, LICH has already been saved... at least three times:
July 29, 2013: De Blasio Announces Healthcare Plan to Save Brooklyn Hospitals - DNAInfo.com
September 13, 2013: Community members join Bill de Blasio to celebrate victory in fight to save Long Island College Hospital - News12 Brooklyn
February 20, 2014: De Blasio: LICH Deal 'A Truly Historic Moment' - NY1
These headlines were part of a brilliant campaign to cast de Blasio as the foremost progressive populist in the nation. Unfortunately for his team, the LICH spin machine sputtered to a halt last week:
June 16, 2014: LICH Finally has a new owner, will become condos - CurbedNY
De Blasio has been a Chicken Little in reverse: even when the sky is falling, he declares that all is well for LICH. But his rosy goggles cannot brighten last week's catastrophic news that the hospital, for all intents and purposes, will close, putting the health and safety of thousands of New Yorkers in jeopardy.
Rewind to early 2013, when the latest chapter in the years-long tug of war over LICH began. Nurses, staff, community members, and some local elected officials were organizing to save LICH from a sell-off. In mid-late January, the issue burst out of meeting rooms and onto the streets when SUNY officials announced their plans to close the facility.
It was just three weeks after I entered the race for Mayor, and I fired off a statement: "This is outrageous...Swaths of our city are becoming primary care deserts...With no plan to fill the gaps, punching huge holes in our primary care infrastructure is administrative malpractice."
Thank yous trickled in from rank-and-file nurses and activists. Apparently, we were the only mayoral campaign to have noticed their early protests. I was taken aback. After the outrage sparked by the closure of St. Vincent's Hospital in Manhattan, how was it that a group of current office-holders hoping to become mayor didn't have their fingers on the pulse of our healthcare system?
The answer wasn't hard to find. The closure of LICH was less about healthcare financing and more about a city that let developers run amok, buying public facilities, knocking them down, and putting up luxury buildings. The same trend could be seen in libraries and parks. This sweeping tide of neighborhood destruction was why I chose not to accept campaign contributions from developers.
In April, I called for a moratorium on hospital closings citywide, a demand that gained steam when it was echoed by the nurses. At LICH rallies, I would be greeted with genuine gratitude. I wasn't alone. Councilmembers Stephen Levin, Brad Lander, and Mathieu Eugene; State Senator Daniel Squadron; Assemblywoman Joan Millman; and Congresswoman Nydia Velazquez deserve credit for showing up before the cameras did.
While my mayoral opponents were starting to remove their heads from the sand, they had no idea how to broach the subject without irking their developer donors. De Blasio, who lived a few short subway stops from LICH, offered only passive support. It's no wonder: his campaign had received $1,000 from Fortis president Joel Kestenbaum, one of several developers vying for the property.
But Brooklynites didn't really need de Blasio or me or anyone else. In late April, after weeks of rainy marches and rallies, SUNY withdrew its plan to close LICH. For a moment at least, the community and workers had saved their hospital.
It was inspiring to see first hand, but no one close to the fight thought it was finished. We had seen this before. The powers that be back down from a public fight only to pull the plug in a backroom deal days later.
As summer rolled in, that is exactly what happened. SUNY Downstate refused to admit new patients to LICH. Their argument was that Brooklyn had too many hospital beds, and residents could safely find care elsewhere. But citizens like Josephine Musarella, who lives just four blocks from LICH, did not buy it. While ambulances were being diverted from the hospital, she had a choking incident and had to be transported 20 minutes to New York Methodist to receive treatment. "If I was having a heart attack, it would have taken three minutes for me to die," she told The Brooklyn Paper. Patients like her helped dismiss SUNY's version of the story.
Unfortunately, on July 10, community advocates lost control of the narrative, too. That is the day that Public Advocate Bill de Blasio jumped the shark and got arrested in one of the most disingenuous acts of "civil disobedience" in recent memory. Even Comptroller John Liu and former Congressman Tony Weiner tried to jump on the LICH bandwagon that day but found there was only room for one master of media manipulation.
In other words, when public housing residents in Red Hook and Gowanus, young families in Clinton Hill, or people in Carroll Gardens, Cobble Hill, and the rest of the area need a full service hospital, they will instead be served LICH leftovers. And the new residents of those multimillion dollar condos? How long will they tolerate emergency vehicles blaring at lobby level before they push the clinic out?
In a shift, the Mayor has been very quiet about this development, giving a cautious nod of approval. No big rally. No handcuffs. His former community allies are outraged and have gathered more than 50,000 signatures. But LICH already served its purpose as de Blasio's campaign prop. He has made clear that he will not devote another ounce of the enormous political capital that being mayor of New York City affords him to save it. In doing so, he has abandoned not just a public policy obligation, but a moral one.
Calling all HuffPost superfans!
Sign up for membership to become a founding member and help shape HuffPost's next chapter