It was in mid-June that we first started noticing the refugees in Serbia, the people filling up the parks, the bus and train stations, even shopping malls. You did not even have to talk to them to know that they were not tourists, that behind those faces were stories of desperation.
By mid-July there were more and more children and elderly among them. They did not want to stay in Serbia. They wanted to continue on their journey to the nations of Western Europe.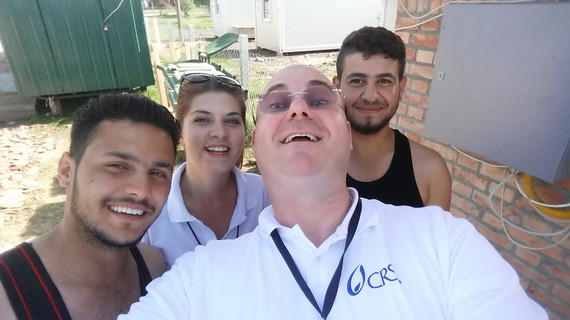 Catholic Relief Services (CRS) staffer Dino Mujanovic takes a selfie with a CRS translator and two Iraqi refugees near the Serbian and Hungarian border in September
They are, of course, still coming, by this and other routes, their presence now even more controversial following the events is Paris. But as I have talked with these refugees, mostly from Syria and Iraq, I have heard of the violence and devastation they are escaping, as well as the financial and emotional poverty of refugee camps. They are simply looking for something better, for themselves, for their families.
They told stories of paying smugglers to take them through the mountains and over the sea to the Greek islands, of being robbed, molested, beaten up, of what they were feeling now that they had made it this far and what they expected of their future. If they had anything, they had left it behind to start this unpredictable trip. Many thousands of kilometers were behind them; many more lay ahead.
For Serbians like me, their plight resonated with our memories of the wars in the 1990s that left our once peaceful and prosperous country in ruins; that left us caught up in a tragedy that was beyond our control. I had been a refugee myself during those years.
Now, two decades later, I could do something to help through my work with Catholic Relief Services. I had to temper my empathy, restrain my emotional involvement, so that I could be productive and efficient. But that was hard sometimes, to hear their stories and see their faces and then leave them in their camp and drive back to my home in Belgrade.
I knew they still had a long way to go and that what they hoped to find at the end of their journey was not necessarily what they would get. What would their trip will look like? Would they survive?
To understand their lives in Serbia, imagine you are in some huge airport transit zone, but not a nice one with many soft chairs and plenty of shops and restaurants; a dirty, dingy one with few places to sit, and with many, many, many people who are trying to get somewhere safe. They might need clothes and shoes. They might need a place to rest. They might need a decent bathroom, perhaps with a shower. They might be sick and need a doctor. They might need an interpreter simply to be understood.
This is where I could, along with my colleagues, help. We could provide many of those things. But we could not fundamentally alter their desperate situation.
One day I was in the southern part of Serbia at the refugee aid point in Preševo, a small sleepy border town that for months had been filled with refugees as it is their first stop in Serbia, where they get checked in and registered after crossing over from Macedonia.
Registration was taking place in what looked like a quickly-constructed airport building, just a big open space. While their luggage was going through scanners, people were queuing to get registered. That day I was invited to be a part of Serbian delegation to welcome high ranking officials from the United Nations High Commissioner for Refugees, other governments as well as the European Union. There were two visits scheduled, giving me a lot of time in between to spend with refugees, a full rainbow of people of various ages.

One woman, Hana, 50, used a wheelchair. As I wondered how she would make this journey - would friends and relatives carry her aboard trains and boats? -- Hana told me she was bound for Dortmund, Germany. Her two brothers were already there. She had used the wheelchair since 2011 when a bullet struck her spine. She will never walk again. Hana's two sons were traveling with her. Her husband was killed.
Hana worked as a history teacher in the college before the war. She said she would like to have stayed in the suburbs of Damascus where her family has lived and worked for the past 300 years. But there is nothing there, and even if war stops this second, they feel powerless to begin again from what is no more.

I talked to many other refugees, trying not to ask them about their past, only the present and future. I wanted to strengthen their hope in a vision of a better life somewhere, someday. We talked about music, clothes, hairstyles, beliefs, pride. I asked them the same questions I would ask any new friend. I wanted to reassure myself of their better future as much as I wanted to reassure them.
The smiles they gave me after our chats, or just after I smiled at them passing by, were an indicator that there is a hope and love for everybody in this planet, only some of us have to fight a bit harder to find it. But with the blessings of good people, with their generosity and open hearts, I know that everyone I met that day, as well as countless others, will find what they are looking for.

Dino Mujanovic is the program manager for Catholic Relief Services (CRS) in Serbia. CRS is the official international humanitarian agency of the Catholic community in the United States. The agency alleviates suffering and provides assistance to people in need in more than 100 countries.
Calling all HuffPost superfans!
Sign up for membership to become a founding member and help shape HuffPost's next chapter