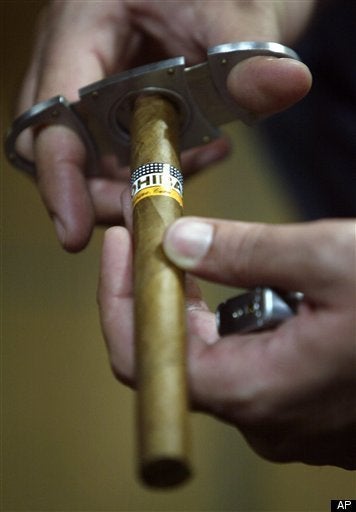 It is an accepted fact that any competitive environment is a natural breeding ground for rivalries. Bird/Johnson... Ali/Frazier... Palmer/Nicklaus... Navratilova/Graf... Joachim/Furman... wait, who? Joa-what? Hang on, are you saying you have never heard of Suresh Arulanantham Joachim, the record warrior from Canada who has held over fifty Guinness World Records, and Queens-native Ashrita Furman who is the most prolific record-breaker alive today? Where have you been!
The pursuit of excellence feeds one-and-all. We are all driven, professionally and personally. And the presence of a competitor hones the focus and sharpens the blade. There is an abundance of these in the Guinness World Records universe. A few years ago when I was working in London I found a large manila envelope waiting for me on my desk after returning from lunch. Such things were not uncommon, as many of us at London HQ would receive hoards of mail from all over the world from people interested in record-breaking in some shape or form. This was quite different, however. Upon opening it I found myself staring at some rather impressive letterhead from the British Embassy in Havana, Cuba, no less. I had always been interested in Cuba (who isn't?) having spent a week there in the late 90s when I lived in Mexico, so this immediately piqued my interest. It was a letter testifying to the fact that a gentleman by the name of Jose Castelar Cairo personally hand-rolled a cigar over nine days which measured 36 ft 2 in (11.04 m) long in 'La Triada,' Havana, Cuba on April 18, 2001. The longest hand-rolled cigar in the world.
What an absolutely awesome record, I thought. Ah, to go one day and personally adjudicate this one, that would be something. Stepping off the plane at Jose Marti Airport in my linen suit, checking into a hotel overlooking the malecon as the sea breezed through the palm trees, regaling the locals with tales of my GWR exploits in La Bodeguita del Medio , à la Graham Greene. After reading through the paperwork I reluctantly placed it back into the envelope and handed it to my colleague. "You handle big stuff don't you?", I asked. "Yes", she replied through a mouthful of fries. Oh well, I thought to myself, something else that will never happen.
Ten years and another city later and I once again found myself at my desk when an email appeared in my inbox. Would anyone be interested in travelling down to Ybor City, Tampa Bay, Florida to judge an attempt on the longest cigar record? Husband-and-wife Wallace and Margarita Reyes were aiming to beat Mr. Cairo's record-breaking cigar which by 2008 had evolved in to a 148 ft 11 in (45.38 m) behemoth. Oh joy of joys, and a few weeks later I was on the plane heading south to sunny Florida reading up on the history of cigar making and looking forward to my dream coming true.
For over a decade the Guinness World Record for the longest hand-rolled cigar has gone back and forth between only three locations:
Jose Castelar Cairo in Havana, Cuba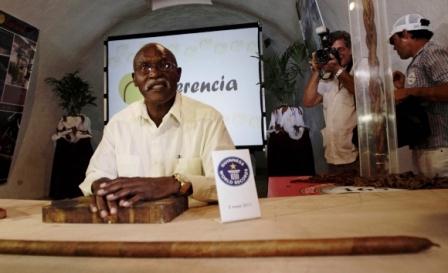 Patricio Peña in San Juan, Puerto Rico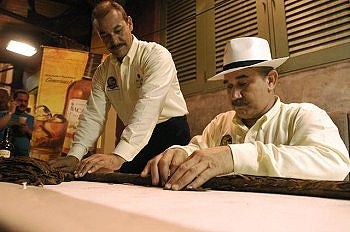 and Wallace and Margarita Reyes in Ybor City, Florida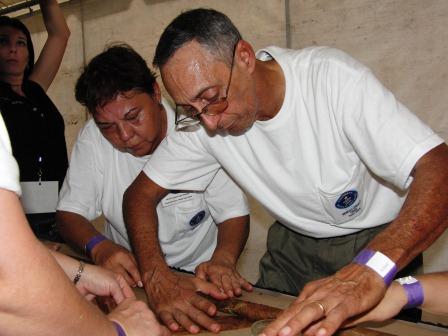 It has actually been quite an epic battle as the rigors involving rolling hundreds of cigar leaves are quite unimaginable, covering literally days of labor and all you can work with is this: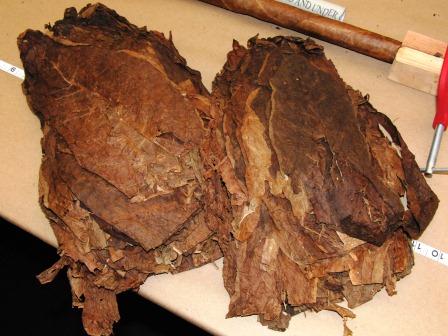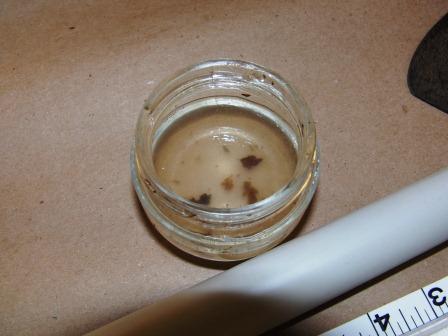 3) And a chabeta or, erm, 'sharp-piece-of-metal-for-cutting-leaves'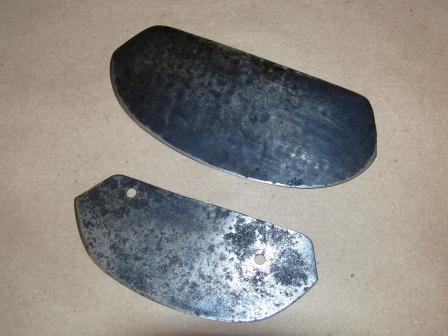 Cairo first took hold of the record in 2001 and never looked back, breaking the record an amazing four times (2001, 2003, 2005 and 2008). In the midst of all that, Peña and Reyes have jumped in and tried to wrestle the record away from him. Peña in 2005/2007 and Reyes in 2006/2009.
But Cairo was not to be defeated, and two years after my jaunt to Ybor City we recently recognized his fifth successful assault on the record. When I went down to Florida the record set by Wallace and Margarita stood at 196 ft 3 in (59.81 m) and it took them a week to do it. Cairo's latest effort, however, now puts the world's longest hand rolled cigar at an officially jaw-dropping 268 ft 4 in (81.78 m). That is almost the length of an NFL football field.
The art of cigar smoking is almost like a rite of passage. It's like getting your first car, going to your first concert, or having your first beer. It's something you remember for years. And so it should be. There's nothing more grown up than unwrapping a cigar, smelling it, listening to it as you roll it between your fingers and then lighting it up carefully for a precise, even burn. Cigars make you feel like a big shot, like you're not to be messed with. From Groucho Marx to Winston Churchill, if you smoke a cigar you're making a statement. We salute Jose, Patricio, Margarita and Wallace -- masters who are keeping this tradition alive and adding to Guinness World Records lore.
It all just leaves me wondering... who will be next?
Calling all HuffPost superfans!
Sign up for membership to become a founding member and help shape HuffPost's next chapter