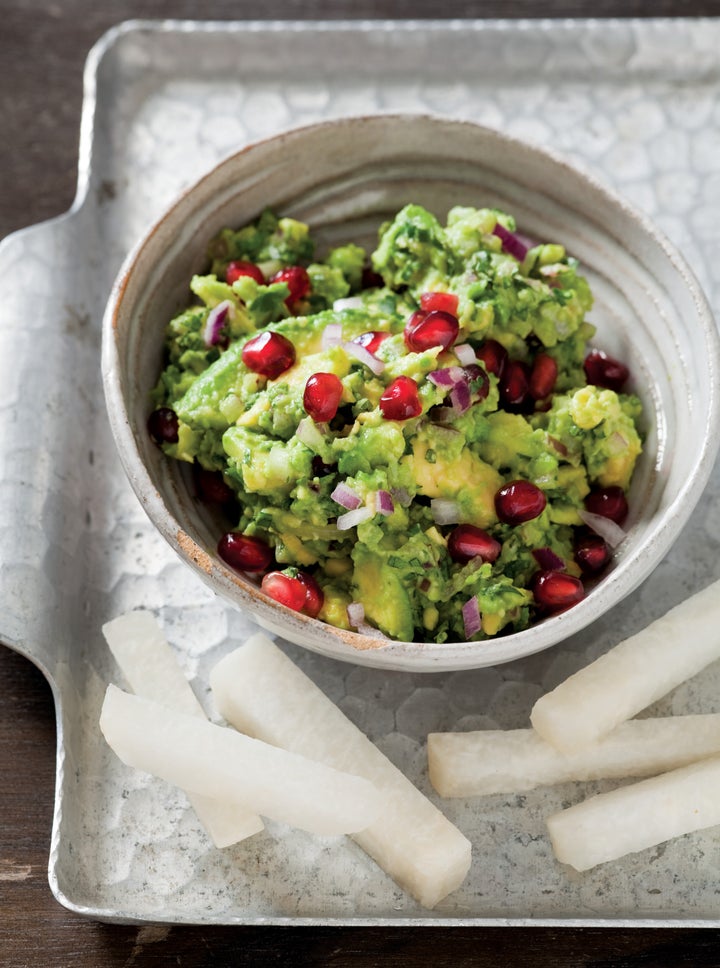 "As a society, we're embracing -- or at least really curious about -- living not just long lives, but long healthy lives, and doing so at least in part through the foods we eat," the authors write. "...It's as though scientists all over the world have confimed that Grandma instinctively knew when she said, 'Eat this. It's good for you.'"
The book includes over 100 recipes "for vitality and optimal health," as well as tips for healthy eating. Check out some of the recipes below and our slideshow of the top 16 age-busting power foods.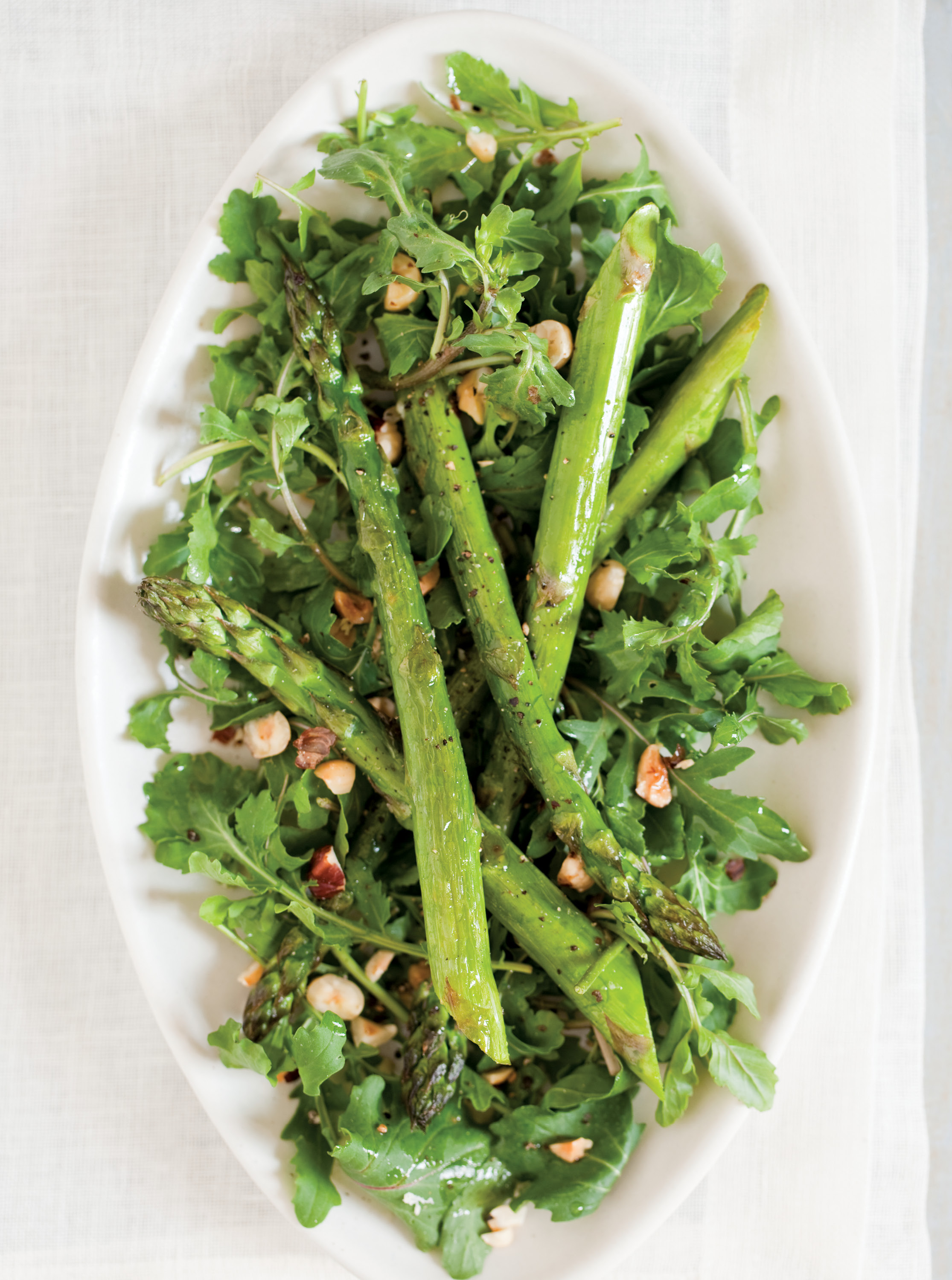 Roasted Asparagus Salad with Arugula and Hazelnuts
Makes 4 servings

1/3 cup hazelnuts
2 bunches asparagus (about 2 pounds), tough ends snapped off and discarded, then peeled (see note)
2 tablespoons plus 2 teaspoons extra-virgin olive oil
Sea salt
2 tablespoons freshly squeezed lemon juice
Freshly ground pepper
4 cups loosely packed arugula

Cook's Note: Peeling the asparagus gets rid of the stringy, sometimes tough outer layer and exposes the sweet flesh underneath. To peel it, use a regular vegetable peeler with a light touch to shave off just the skin. This technique is not necessary with thin asparagus spears.

Preheat the oven to 400°F.

Put the hazelnuts on a rimmed baking sheet. Put them in the oven for 5 to 7 minutes as it preheats, until aromatic and browned. Transfer to a plate or, if you'd like to remove the skins for a more refined texture and appearance, wrap them in a towel and give them a good rub. The majority of the skins will come right off. Coarsely chop the hazelnuts.

Put the asparagus on the same baking sheet in a single layer. Drizzle with the 2 teaspoons of olive oil and generously sprinkle with salt. Toss gently to evenly coat the asparagus. Bake for 8 minutes, until just barely tender.

Put the lemon juice, the 2 tablespoons of olive oil, 1/4 teaspoon of salt, and a few grinds of pepper in a small bowl and mix well with a small whisk.

Put the arugula in a large bowl. Drizzle with half of the dressing and toss until evenly coated. Mound the arugula on individual plates or a platter and arrange the asparagus on top. Drizzle with the remaining dressing and sprinkle the hazelnuts on top.

Variation: Substitute toasted pistachios or walnuts for the hazelnuts.

Prep Time: 15 minutes Cook Time: 10 minutes
Storage: Store in an airtight container in the refrigerator for up to 5 days.

PER SERVING: Calories: 190; Total Fat: 15.5 g (2 g saturated, 12 g monounsaturated); Carbohydrates: 12 g; Protein: 7 g; Fiber: 6 g; Sodium: 210 mg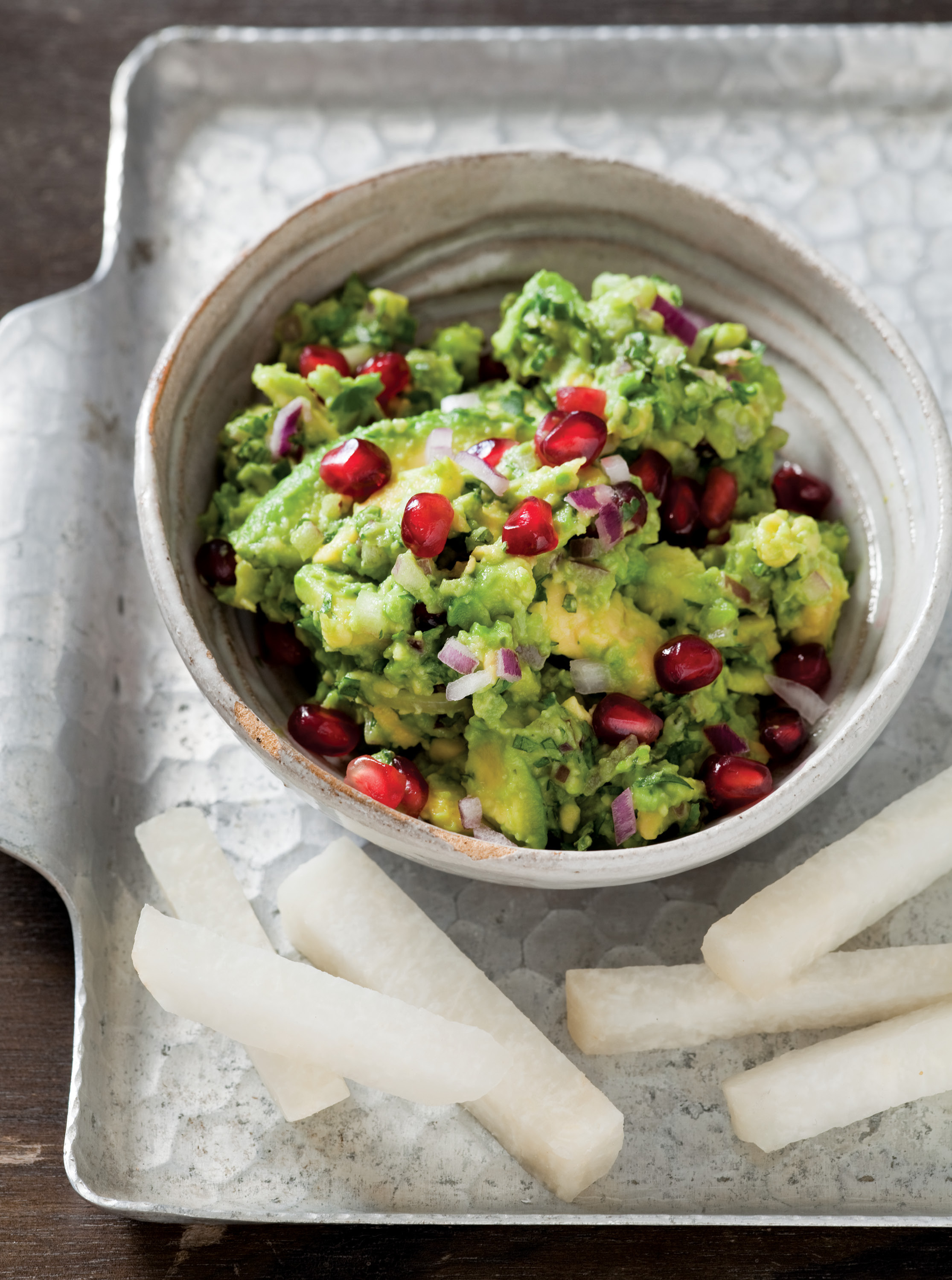 Minted Guacamole with Pomegranate Seeds
Makes 1 cup

2 avocados, halved and flesh scooped out
2 tablespoons finely diced red onion
1 tablespoon finely chopped fresh cilantro
1 tablespoon finely chopped fresh mint
1 tablespoon freshly squeezed lime juice
1/4 teaspoon sea salt
Pinch of cayenne
3 tablespoons pomegranate seeds (see note)

Put the avocado in a bowl and mash with a fork until mostly smooth. Add the onion, cilantro, mint, lime juice, salt, and cayenne and stir until well combined. Stir in 2 tablespoons of the pomegranate seeds and garnish with the remaining tablespoon of pomegranate seeds.

Prep Time: 10 minutes
Storage: Store in an airtight container in the refrigerator for up to 3 days.
PER SERVING: (2 tablespoons per serving) Calories: 85; Total Fat: 7.5 g (1 g saturated, 5 g monounsaturated); Carbohydrates: 5.5 g; Protein: 1 g; Fiber: 4 g; Sodium: 57 mg

Cook's Notes: Here's a quick trick for removing pomegranate seeds from the fruit. Cut the pomegranate in half crosswise. Then, working over a large bowl, hold one half with the cut side facing down, into the bowl. Give the uncut side of the fruit a few good whacks with the back of a large wooden spoon to release the seeds. When pomegranates are in season, I buy several and store the seeds in an airtight container in the freezer to use throughout the year. They make any dish pop with color and flavor.

I like to serve this guacamole with jicama sticks. Take a vegetable peeler to the jicama, then cut it in half with a sharp knife. Cut the halves into 1/2-inch-wide strips, then turn the strips onto their side and repeat the process, cutting them into 1/2-inch-wide strips. To store the jicama strips, put them in a bowl, add cold water to cover, and mix in the juice of 1 lime or lemon. Cover and store in the refrigerator for up to 3 days.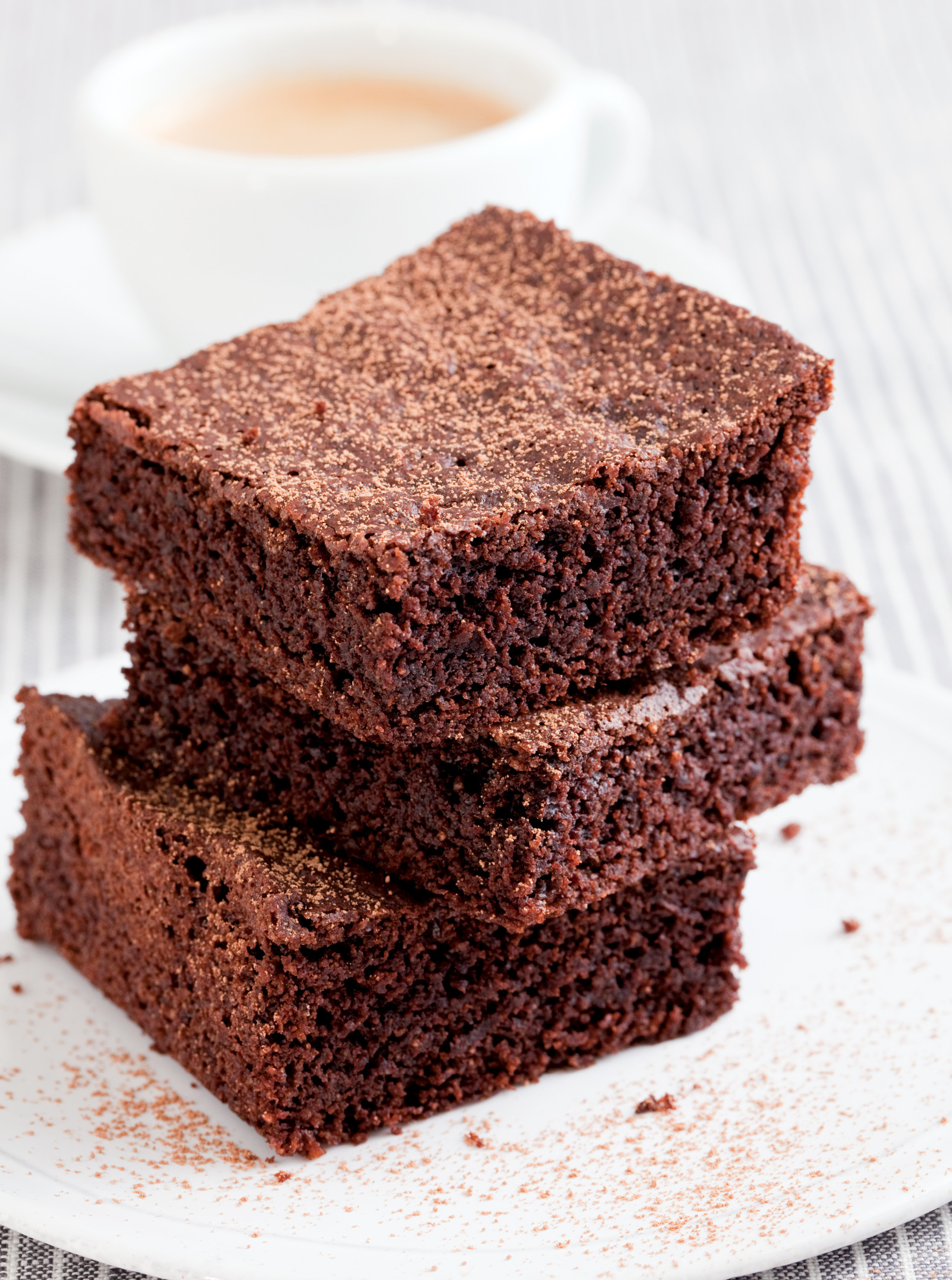 Insanely Good Chocolate Brownies
Makes 16 brownies

1/3 cup almond flour, homemade or store-bought
1/3 cup brown rice flour
2 tablespoons natural unsweetened cocoa powder
1/2 teaspoon ground cinnamon
1/2 teaspoon baking soda
1/8 teaspoon sea salt
8 ounces dark chocolate (68 to 72 percent cacao content), chopped
1/3 cup extra-virgin olive oil
2 organic eggs
1/3 cup Grade B maple syrup
1/3 cup maple sugar
1 teaspoon vanilla extract
1/2 cup coarsely chopped walnuts (optional), toasted

Cook's Note: You can also use a 9 by 6-inch baking pan. If you do, the baking time will be only about 25 minutes.

Who Knew? Cacao content is the amount of pure cacao products (chocolate liquor, cocoa butter and cocoa powder) used in the chocolate; the higher the percentage, the more antioxidants the chocolate contains. And if you're into addition by subtraction, higher cacao percentages mean lower sugar content.

Preheat the oven to 350°F. Line an 8-inch square baking pan (see note) with two pieces of foil long enough to overlap on all four sides. Lightly oil the foil.

Put the almond flour, brown rice flour, cocoa powder, cinnamon, baking soda and salt in a bowl and stir with a whisk to combine.

Put half of the chocolate in a heatproof bowl and set the bowl over a saucepan of simmering water. Heat, stirring often, just until the chocolate is melted and smooth. Remove from the heat and whisk in the olive oil.

Crack the eggs into a large bowl and whisk until frothy. Slowly add the maple syrup and maple sugar, whisking all the while, and continue whisking until the mixture is smooth. Add the vanilla extract, then gradually add the chocolate, whisking vigorously all the while, and continue whisking until smooth and glossy.

Add the flour mixture and beat for about 1 minute. Stir in the remaining chocolate and the walnuts. Scrape the mixture into the prepared pan and smooth the top with a spatula.

Bake for 30 minutes or until a toothpick inserted in the center comes out clean. Let cool to room temperature in the pan, then cover and refrigerate for at least 1 hour before cutting into 16 brownies.

Variation: For brownies that are more fudgy, replace the rice flour with another 1/3 cup of almond flour.

Prep Time: 20 minutes Cook Time: 30 minutes
Storage: Store in an airtight container in the refrigerator for up to 5 days or in the freezer for up to 3 months.

PER SERVING: (1 brownie per serving) Calories: 130; Total Fat: 9 g (2.5 g saturated, 5 g monounsaturated); Carbohydrates: 10 g; Protein: 2 g; Fiber: 1 g; Sodium: 64
Reprinted with permission from "The Longevity Kitchen: Satisfying, Big-Flavor Recipes Featuring the Top 16 Age-Busting Power Foods" by Rebecca Katz with Mat Edelson, copyright © 2013. Published by Ten Speed Press, an imprint of the Crown Publishing Group. Photo Credit: Leo Gong.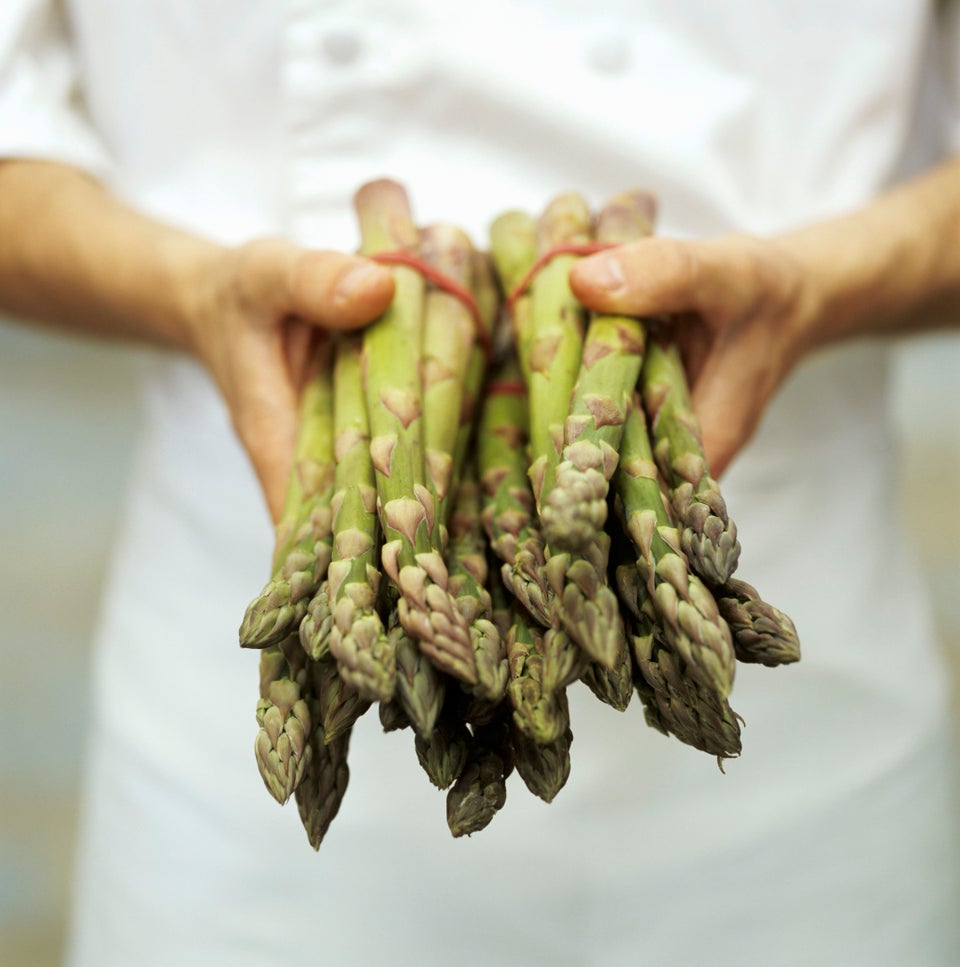 16 Foods Good For Longevity