China Adams, known as a smart, conceptual artist who also happens to possess a highly evolved skill set, has curated her first exhibition titled The Loop Show. This is a not-to-be-missed group exhibition that spans two floors of the Beacon Arts Building in Inglewood, California and involves eighteen artists, including the artist/curator herself.
There is a two-fold premise operating in this exhibition -- one is the existence of vast quantities of discarded materials found in the world and the other is that of the nearly limitless amount of available human, physical labor. Simply stated, combine these two ideas and you have The Loop Show. Not so fast.
I've seen numerous exhibitions over the past decades based on similar ideas -- repurpose all sorts of used materials (trash) and make something new out of it. Plastic bags are always a favorite because of their mutable nature and endless availability. Invite children to participate and use trash as a teaching tool about the environment. It's all good and it's all important, but I've never seen anything quite like The Loop Show.
For the most part, The Loop Show artists share one overarching sensibility in common -- high skill in crafting their chosen materials and attention to detail. Add a labor intensive time element to this foundation and the results are transcending. The let's-make-something-new-out-of-discarded-materials idea has been taken to a new high level, an intense level that is palpable throughout the exhibition.
However, my biggest surprise was how amazingly beautiful the work is and I don't mean in a kitschy, tawdry or pathetic looking way, I mean flat out beautiful in a formal sense.
What I take away from the exhibition is first a sense of beauty and then to discover that all this beauty is generated from discarded materials or trash is thrilling. For me, it's a demonstration of the highest ability in art making -- the ultimate transformation in the hands of artists.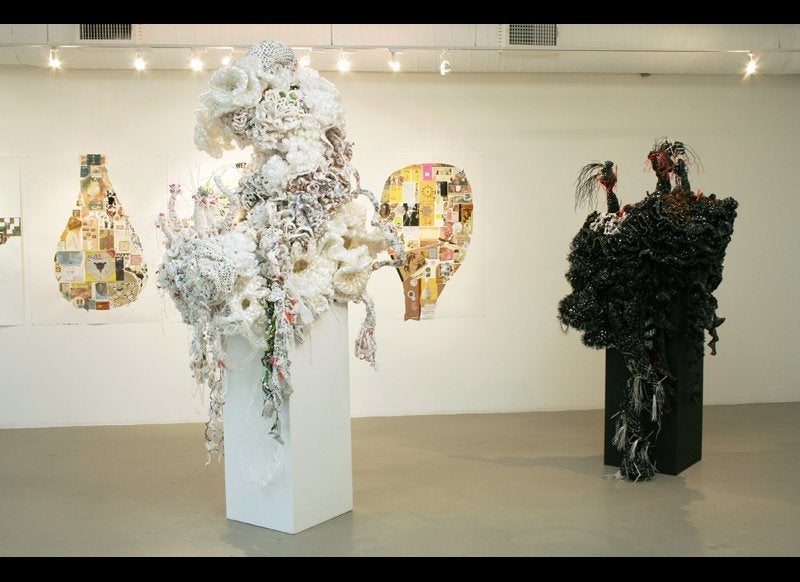 The Loop Show at the Beacon Arts Building, Inglewood, Californina
Popular in the Community