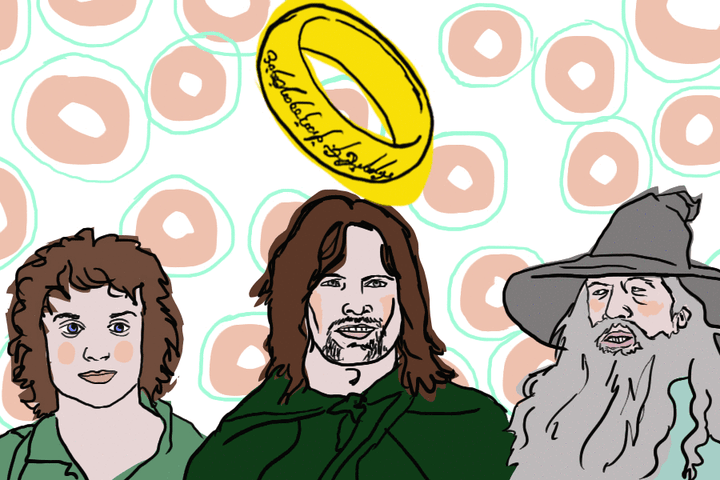 Fifteen years ago, Hollywood was abuzz as director Peter Jackson geared up to release the first installment of his screen adaptation of J.R.R. Tolkien's fantasy novel The Lord of the Rings. The film series was the talk of the town, considering Tolkien fans were chomping at the bit to see Jackson's cinematic imagining of Middle-earth. The somewhat unknown filmmaker took on one of the most expensive and ambitious projects in cinema history, and many worried he would flounder in bringing the beloved epic to life.
Well, Jackson delivered something far more incredible than what anyone was expecting.
"The Lord of the Rings: The Fellowship of the Ring" debuted in 2001 to rave reviews, from critics and fans alike. It earned over $47 million domestically during its opening weekend and over $313 million in total. All in all, it was a megahit, and the future installments, "The Two Towers" (2002) and "The Return of the King," (2003) were equally as successful, with all three titles earning a combined $3 billion worldwide in box-office sales and the final nabbing an Oscar for Best Picture. (Not to mention, at this point, the trilogy has earned billions in DVD and digital sales.)
""The Middle-earth movies are classics now, and they will survive, I think, just as the books have survived.""
Prior to its success, "LOTR" was surrounded by a pre-production bargaining campaign, as Harvey Weinstein and Miramax battled with Jackson to lower his budget to fit in the company's usual $40 million cap. Jackson, however, would not budge, refusing to squeeze the book's content into two "LOTR" films. Instead, he forced Weinstein to relinquish the rights to Tolkien's story and was able to get New Line Cinema to agree to produce three costly films.
"I wanted the project desperately," Weinstein said during a Tribeca Film Festival discussion last year, admitting that "Fellowship" was his No. 1 biggest disappointment "with a bullet." "I know [Peter] was hurt — I'm hurt, too — and we've had a pretty good relationship since, 'cause ... New Line, Bob Shaye, really had the vision, [and] went for it."
Despite the trilogy's nearly $300 million budget, according to the cast and crew, the atmosphere on set in New Zealand was reminiscent of an indie production.
"It really felt like we were making the world's largest independent film, in spirit, embarking on a journey that we could anticipate to a certain degree what that would entail and would feel like, but we didn't really know," Elijah Wood, who was only 18 when production began, told The Huffington Post leading up to the 15-year anniversary of the release of "Fellowship." "I remember being there two months out from shooting and just being surrounded by this positive energy of, 'We're a part of something really special.'"
Wood took on the daunting lead role of Frodo Baggins, the young, lovable hobbit who comes to bear the seemingly impossible burden of destroying The One Ring To Rule Them All. His magical spiritual guide, Gandalf, was portrayed by Ian McKellen, while Viggo Mortensen played Frodo's human protector Aragorn, who possessed an unwavering desire to help the halfling bring down the wrath of Sauron.
"Really, had it not been for the amazing stroke of good luck ― Peter Jackson called and he trusted me with that role ― I wouldn't have had so many opportunities," Mortensen told HuffPost during an interview this summer. "I'm eternally grateful to him and, when I look back, I think of family, in a sense."
McKellen shared similar sentiments about his beloved character, which he revived in Jackson's recent "Hobbit" trilogy.
"It's not in my past, it's in my daily life," he told HuffPost earlier this year. "Every time I go out, somebody wants to say hello to the actor who played Gandalf."
"The Middle-earth movies are classics now," he added, "and they will survive, I think, just as the books have survived."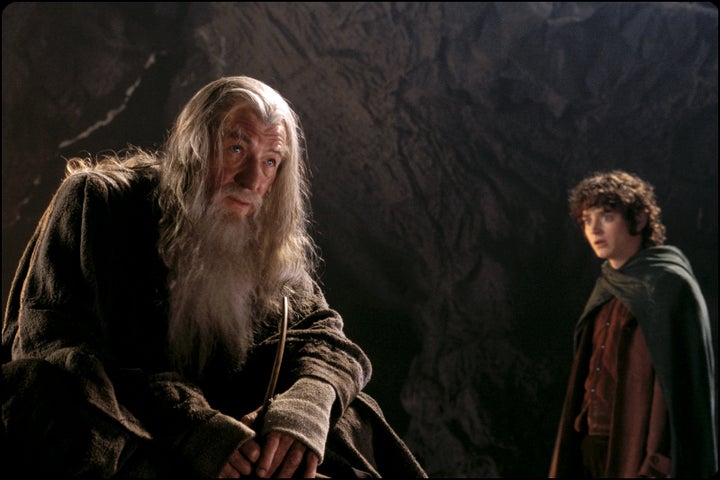 New Zealand native Jackson not only stunned moviegoers with his take on Tolkien's world, but he amazed moviemakers as well, experimenting with new film practices and digital technologies that had never been developed before. Throughout the course of 16 months and in over 150 locations in New Zealand, Jackson and his unit directors shot principal photography for all three "LOTR" films, back-to-back. Then, pick-up shoots were completed annually from 2001 to 2003 to finish up each production. The director was also considered the king of coverage, constantly requesting multiple takes and different angles in order to make sure every scene was captured perfectly.
"I think it was extraordinary what Peter Jackson accomplished. I don't know if they'll ever shoot a movie quite that way again," Mortensen said. The actor, like many, was blown away by Jackson's attention to detail and his early usage of computer enhancement technology and digital special effects.
"He invented new ways of shooting things," Mortensen continued. "There was a giant laboratory for filmmaking and a New Zealand crew of 700 people. There were Australians, English and Americans also, but it was largely New Zealanders who hadn't had much experience making movies, period, much less a huge movie like that. So they kind of learned on the job and, by the end of the shoot, they had this industry now thanks to Peter Jackson."
"We saw a lot of people, and we wrote some incredibly celebrated theater actors to see if they might be willing to come in and audition, and we thought that would be the route," casting director Amy Hubbard told HuffPost of the challenging task of finding the right actor to play Gollum. "But, in fact, it was my mom who said, 'Everybody knows Andy Serkis is the most talented actor in London,' and in he came and bounced off the walls."
Hubbard said Serkis "used every fiber of his being" during his audition, which led to his immediate casting. "It was electrifying," she said, "One of the most exciting performances, let alone auditions, that I've ever seen."
Instead of just providing the voiceover for Gollum, Jackson eventually asked Serkis to physically perform the role, making the actor, Jackson and his visual effects company, Weta Digital, pioneers of motion capture technology.
(Watch Serkis' audition at the 3:49 mark in the video below.)
Casting this trilogy is something Hubbard will always be "enormously proud" of, since she sees the significance the franchise still carries today.
"Even now, 15 years on, it's still culturally referenced constantly in everything we look at," she said. "Sometimes I think my daughter can't even believe that I was a part of that, but it's overwhelming and it stays with you. It gives you the innate sense of 'I did that,' no matter what happens in my career."
"It was the most extraordinary experience of my life," Wood added. "It's a wild thing to look back on. I feel like I kind of grew into being a man throughout that experience and had more responsibility than I've ever had and lived away from home longer than I've ever had — fully living as an adult within the most extraordinary, creative group of people. It was unbelievable. Hardest job in the world. Totally. But I would do it all over again."
As for the whereabouts of the One Ring, Wood said it's well-kept.
"It is secret. And it is safe. It's locked away," he told HuffPost last year. "I don't have it out. I think it's in a box somewhere. I just moved house, so I don't actually know where it is, which is making me nervous, but I'm sure it's in a box somewhere."
Hit Backspace for a regular dose of pop culture.
Before You Go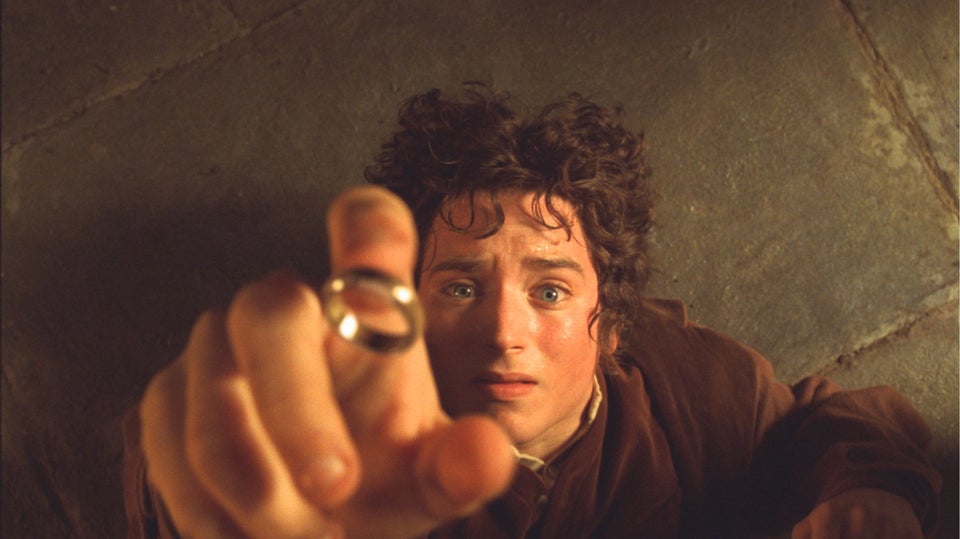 'Lord Of The Rings': Where Are They Now?
Popular in the Community