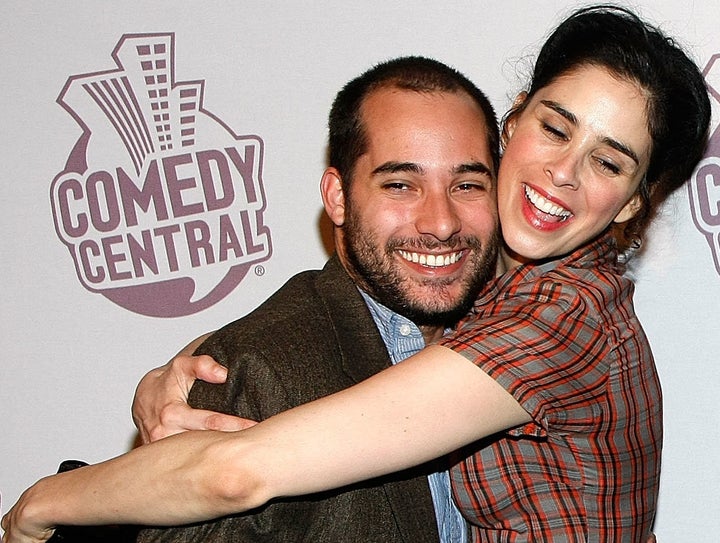 Harris Lee Wittels died on February 19, 2015 of a heroin overdose alone in his Los Angeles home. He was 30 years young.
He was my son. He was the world's comedian. My son grew up in an affluent, white suburban neighborhood. He was a "nice Jewish boy." His dad is a physician and I am a retired teacher. My son would never, ever take that drug called heroin! These kinds of kids don't do such a thing! I am sharing this story because I want other families to hopefully know what we did not know.
Harris accomplished more in his 30 years than most can accomplish in a lifetime. At his Bar Mitzvah speech, the Rabbi stood up and said to watch out for this kid. He would be at the Laff Stop one day. At just 18, he won third place in Houston's funniest comedian contest at the Laff Stop! He attended the Houston High School for the Performing and Visual Arts and graduated from Emerson College with a degree in TV/ Video production.
At 22, he was discovered by Sarah Silverman in a club, doing standup. She asked for him to submit some of his writing to her for her upcoming TV series on Comedy Central. The rest is history. He climbed the ladder of success quickly.
He wrote many Hollywood scripts. He invented the word "humblebrag" that now resides in the Oxford Dictionary and authored a book about it, Humblebrag, the Art of False Modesty. On the book jacket he wrote: "Humblebrag, the Art of False Modesty, by Harris Wittels, who would love some free time but has been too busy writing for 'Parks and Recreation,' 'Eastbound & Down,' and a bunch of other stuff!"
He performed standup with Louis C.K., Aziz Ansari and Sarah Silverman. He died as co-executive producer of the acclaimed television series, "Parks and Recreation" and was seen on the show occasionally as the animal control guy.
"All Harris ever longed to do was make people laugh. However, on the inside, he was not laughing."
He was the go-to joke guy. Aziz said that Harris was the comedian's comedian. He even wrote a joke for President Obama.
He loved leftovers and McDonald's as much as he loved gourmet restaurants. He worshiped the jam band Phish. He began attending their concerts at age 15 and saw well over 300 concerts. When Sarah Silverman hired him, he informed her that part of his contract would have to include time off for these concerts. He told her it was his religion! Who does that?!
He did many hilarious podcasts with Scott Aukerman of "Comedy Bang Bang" fame and he did one very serious podcast with Pete Holmes in 2014 about his heroin addiction. It is well worth a listen about the reality of chasing heroin. He was also a drummer in the band, "Don't Stop or We'll Die." His last project was writing for and co-producing the Netflix series "Master of None" and he was going to star in it as Aziz Ansari's best friend but he died instead. The show was up for four Emmys and it won in one category.
All Harris ever longed to do was make people laugh. However, on the inside, he was not laughing. He admitted to doing recreational drugs since 12 years of age. How could we not know?! We did not bury our heads and we were not stupid people. We were great parents. He would tell you that himself as he told therapist after therapist. We were very involved in his life. He made straight As, had tons of friends, and was very driven and straightforward about what he wanted to do with his life. He was a total self-starter. We never had to beg him to do his homework. He got a scholarship to college.
Once he tried cocaine in high school and stayed home from school for three days because it made him so sick. He swore from that time on that he was never going to be a drug user. During the last few years of his life, we would visit him in Los Angeles and he always acted like we were intruding. We finally decided not to visit and we attributed this to his hectic life he lived in Hollywood land. He came home for fewer and fewer holidays and special occasions and, if truth be told, I saw the light literally go out of his eyes and suspected nothing. Why? Because he was busy being so successful! Harris had become a very successful high-functioning drug addict.
I knew he was seeing a therapist and was happy about it. He finally told his sister three days before her wedding and two years before his death that he was hooked on OxyContin but his therapist was going to help him get off. He forbid her to tell us about it. He was her best friend and she was his biggest confidante. The drug was stealing his brain. The old Harris (free of opioids) who adored his sister would never have chosen to place sadness on one of the happiest days of her life. When her daughter was born a year later, Harris decided to enter rehab and he had to tell us what was going on. He entered a very cushy rehab for a month in Malibu and began to have some very meaningful interactions with us again.
Once he got out, we were thinking that was the end of that nonsense. Six months later, I was with his sister who received a text from Harris, which said, "I am headed to Oregon to Hazelden because I am addicted to heroin." I saw her face turn ashen and she showed me the text. I fell on the floor in a fetal position and wailed. When I finally stopped, I called him and he said, "Mom, I caught this in time. I am nipping it in the bud. Stop worrying so much."
"I saw the light literally go out of his eyes and suspected nothing. Why? Because ... Harris had become a very successful high-functioning drug addict."
I decided to visit him for family week. He was there for a month. I was so annoyed at the end of my week there because I was only allowed to see him for one hour a day, and the very last day, I was allowed a 10-minute session with him and his therapist. I felt like I had so much more to say to him and so much more to learn about how his treatment should progress after his release.
He entered one more rehab two months after leaving Hazelden and then their sober living home. It would have been nice to know that he had checked himself out a week early. He died during that week. Perhaps I could have stayed more in touch with him, given that information, and his outcome might have been different. There is a serious disconnect that exists between the families and the rehabs.
I received an email from Harris the night before he died. He was speaking about the finale of "Parks and Recreation" and his future life in Manhattan. It said:
harris wittels Feb 19

There's only one more episode left and its the big farewell episode that will make you cry. i found a cool place to live in Manhattan. I feel good!! I am feeling very fortunate. Love you
I was flying high from that connection with him. He worked so hard to land the part in "Master of None" and I hadn't heard that kind of excitement in his voice for a very long time. I was totally convinced that he was finally getting his life on track.
My world fell apart the next day as TMZ got hold of the story of his death and leaked it to the world. I found out in a text from a friend after the world found out! I was in total shock. As his mom, I really believed this time was different. We never lose hope. It will never make sense to me. I adored my son and wish I could have found some way to make that love heal him. I did all I could with the tools that I had at the time. He would never have chosen to leave this devastation behind. I lost half of my future: my daughter-in-law, my grandchildren, and the carrying on of the Wittels name for many generations to come.
I firmly believe that the current model of treatment is not working. Overdose deaths are the number one cause of accidental death in the United States. It is officially an epidemic. In addition to starting the first Houston, Texas support chapter of GRASP (Grief Recovery After a Substance Passing), I have made it my business to learn as much as possible about addiction and advocate for changes. Here is what I wish I had known before I lost my precious son:
1. Our current drug laws must change, and the way we treat this epidemic must change.
First and foremost, substance misuse must be treated as and called a health issue. Why can some people pick up that first drink or smoke that first joint and then put them down with no addiction issues? Some of us have addictive personalities and can't put them down. I personally feel like it takes a minimum of six months to rewire the brain from the physical effects of opioid use but insurance is very expensive and most only allow for a thirty day stay and then these people are expected to leave and attend meetings and be good and sober from then on.
2. Medically assisted treatment (MAT) using Methadone, Buprenorphine, Vivitrol, or Suboxone should all be offered as a means of maintenance.
If people need to be on maintenance drugs for a lifetime, then so be it! It's about treating the individual so that they may live and function as close to normal as possible. In some cases, it might just be about buying some time until they can figure it out. At some point they may finally have the desire to totally quit and get treatment without maintenance drugs. The stigma associated with addiction must be obliterated. People who struggle with addiction should be able to ask for help without feeling afraid or embarrassed. When they do ask for help, their loved ones must get involved and help them find the best method of treatment.
3. There must be total availability of Naloxone, the drug that reverses an overdose if given in time.
It should be available to people who use drugs and their families and friends, and to every first responder. 911 should be called without fear of consequences with the law if someone is with someone who has overdosed. Good Samaritan laws should be instated everywhere.
Overdoses can be controlled if people can use in a safe environment, when other methods fail.
5. Doctors writing prescriptions for opioids must be better regulated.
Many addictions start there and they move on to heroin as it is cheaper and easier to get, and problems occur because street drugs can be laced with too many unknowns.
6. Rehabs must be better regulated.
They need to be up to date with the most current trends for treatment – not just relying on the 12 steps to fix the problem.
7. Relapses occur frequently right after leaving rehabs.
The families rely on what the professionals are telling them and people who struggle with addiction often lie. Each person must be treated on an individual basis and families must be better informed of what kind of treatment might be necessary. Outpatient care and follow-ups are crucial. AA and Nar-Anon should be offered as part of the whole process, and people need to be offered safe medical options as well if that is not working for them.
8. People who struggle with addiction should not be treated as criminals.
Drug charges for getting caught with a small amount that is obviously not for resale are too harsh. We need drug courts that put these people into beneficial treatment instead of jail. Hospitals need to have a way in place to send these people into treatment. When an addict is open to treatment, it must be made available immediately.
9. The drug epidemic has spread to middle and high schools and into all walks of society.
There must be more truthful information about drugs and treatment offered in every school. Family members who have lost their loved ones to overdoses need to tell their stories to these kids whenever possible. I have beat the pavement in Houston, trying to do just that with very little success. I wish my son had heard a parent tell this story to him when he was twelve and started using recreational drugs!
"[Heroin] stole our son, brother, uncle, friend, writer, comedian, actor and drummer. It stole too many pieces of our hearts."
Harris worked very hard to achieve his dreams. He fought valiantly to beat his demons. When he died, we received so many testimonials of just how kind he was to everyone no matter who they were. One of his most famous Harris-isms was, "Let's stop burning the witch of the week. We are all wonderful and horrible and figuring it out." He gave everyone the benefit of the doubt. Something else he would say was, "Stop future-tripping. All we have is today."
I have become a warrior mom, trying to live a new life without my hero in it and trying to make some sense out of his death by attempting to save others from this nightmare. All I have is today, and I am trying really hard to make it count, for him.
He had so much more love, laughter and talent left to give this world, but heroin took his life. It won. It stole our son, brother, uncle, friend, writer, comedian, actor and drummer. It stole too many pieces of our hearts.
A few months before his death, he said something on a podcast that is worth sharing:
Hey, it's Harris callin' from heaven. Ahh it's pretty great up here. Ahh it's beautiful for starters. Hitler's up here, however, for the vegetarianism thing so callin' bullshit on that. But other than that it's pretty cloudy. You sit on them so that's cool. Oops gotta' go, ice cream buffet!
So how's that ice cream, son?
Maureen Wittels is a retired elementary school teacher and founder of the Houston, TX chapter of GRASP (Grief Recovery After a Substance Passing).
Need help with substance abuse or mental health issues? In the U.S., call 800-662-HELP (4357) for the SAMHSA National Helpline.
Support HuffPost
A No-B.S. Guide To Life
Popular in the Community