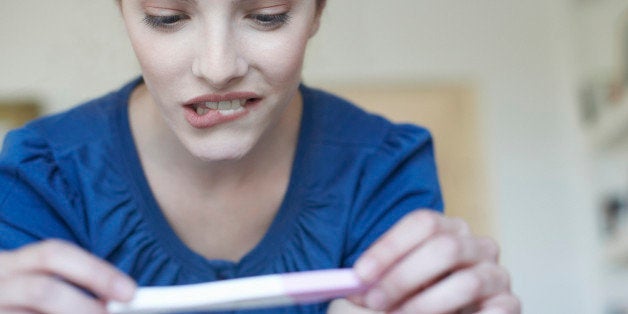 It was a sunny upstate New York morning and I was sitting in a tiny, orange room in a fertility clinic with a nurse and my boyfriend, Jeff. The nurse asked, "What are you hoping we can do for you?" I almost burst into tears. The weight of the past two years was in the room with me. Two years of acupuncture, medical exams and sex had resulted in one miscarriage and a lot of heartache. It had been two years of hope, loss and learning.
Rewind two years, Jeff and I were sitting on a couch in a therapist's office arguing about having kids. My argument went like this: "It's very important to me. Think of how you'll feel the first time you see the baby smile. We'll figure out money and childcare as we get closer to it." His argument was a bit different: "We don't have enough money. I've never been certain that I wanted to have kids. Convince me that it can work." It was frustrating and deflating to have to fight so hard for something that seemed to me so clear.
Rather than getting him to agree to kids, I gave myself anxiety. I was attached to having a baby. So attached, in fact, that I had created a timeline in my head about when it was going to happen -- "July 2012" -- and how we would handle it -- "with lots of help." Unconsciously, I believed that I could want it enough for both of us and once the baby was born, Jeff would be into it. What really happened was growing discord in our relationship.
Month after month went by and still, no pregnancy. We stayed with the therapy. It helped us learn to communicate in each other's language. He likes goals and tasks; I like feelings and resolution. These changes allowed us to see possibility where previously we'd only seen frustration. Jeff decided that he did want to have kids. Interestingly, his decision came around the same time I let go of the urgency of "making him want a baby."
Eight months later, in April, we found out that I was pregnant. I was only five weeks along, but we celebrated by telling everyone. Life was full of a new, exciting unknown. Five days later, I started to cramp and bleed. I knew what it meant. We were losing what we had quickly become attached to. Suddenly, there was a new life with all that meant for us, and just as suddenly it disappeared.
A few months after going through this experience with Jeff, I realized an unspoken question of trust had been answered. Before I got pregnant, I asked myself, Can I trust Jeff to be there when it gets tough? Was he someone I could rely on? During the miscarriage, Jeff stayed with me for hours and hours. He hugged me lots, told me he loved me, held the faith that we would eventually have what we wanted. He put his clients' needs on hold to be with me. Through him stepping up at a difficult time, he answered my question with a resounding, "Yes." The experience had revealed the inherent resilience of us.
Now, he was certain he wanted to be a father. I was wavering. The disappointing negative pregnancy tests month after month and the knowledge that miscarriage was a possible reality all weighed on me. The anxiety of wanting something so badly had now shifted into sadness and frustration. I was constantly focused on what I didn't have.
I realized that if I was going to live a good life it was going to require more than getting what I wanted. I needed to detach from outcomes. I could still want and work toward having a baby, but I had to let go of when it was "supposed to happen." I couldn't play the role of God. I needed to participate at the highest level in my life and accept the details that I couldn't control. It was time for gratitude. I gave myself back to my life by appreciating everything that I already had: a loving boyfriend, sunny apartment, good health, the best friends. I focused on giving more love and more energy at work. Contributing to another person has always been my greatest tool in getting out of my own way.
Two years later, we still don't have a baby. We do have a lot of other things that we needed more. Jeff has a new full-time job that he enjoys. My professional success coaching business is booming and there is something to be grateful for every day. I've learned how to want the life I already have, rather than lamenting the one I don't. We continue to do our part in trying to have a baby. I learned that detachment isn't about giving up, It's about giving over. Giving it over to God, the universe, whatever you believe in. Play your part and release the details that aren't yours to dictate. When you give over the details, it gives you space within yourself and the energy to give back to the world.