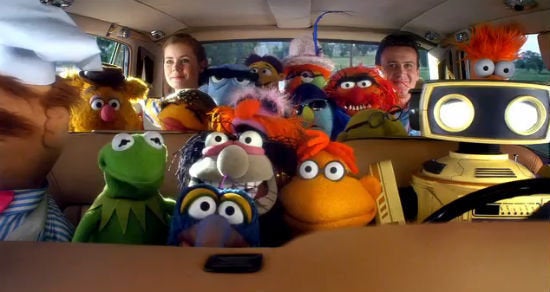 "The Lost Amazings" is a new hybrid media feature from Storm Cellar Creative. An epic fantasy adventure inspired by classic Henson features like "The Dark Crystal" and "Labyrinth," this feature-length film plans on taking moviegoers to a variety of magical locations that are familiar, but seen in unique and hilarious new ways. Which is very much in the tradition of that classic Henson holiday special about the secret life of toys, "The Christmas Toy."
"The film is a hybrid of live puppetry, stop-motion, CG and other animation techniques, a decision driven by the unique nature of our story," explained Zane Jensch, the author / director of "The Lost Amazings." "This movie is directly inspired by the work of Jim Henson, who constantly pushed the envelope. Mixing live-action with a wide spectrum of puppetry from the simple hand-operated Muppets to the high-tech animatronics seen on his 'The Storyteller' series."
"With their work on 'The Lost Amazings,' our crew is endeavoring to restore a sense of wonder to the movies," Jensch continued. "And by mixing puppetry with CG, stop-motion and other media as we tell our story, our goal is to entertain the audience by always keeping them slightly off-balance. Constantly keeping them guessing about how we pulled off a particular effect or character moment. Just like Jim Henson did when he had Kermit the Frog riding that bicycle in 'The Muppet Movie.' "
Of course, that's the real challenge in pulling off a project like "The Lost Amazings." Finding new ways to wow today's audiences. But producer Rob Saunders seems confident that his team is up to the task. Mostly because they seem to have embraced the inventive, pioneering spirit that the founding Muppeteers had.
"We're fortunate that so many people throughout the industry have responded to 'The Lost Amazings' and fallen in love with our characters. Which is why it's really become everyone's passion project," Saunders explained. "That's what all of these Hollywood vets really see in this project. Not the innovative uses of technologies and mix of film techniques. But -- rather -- just like people did with the Muppets, they're responding to the characters."
Mind you, passion often isn't enough when it comes to film production. Witness The Jim Henson Company's 3-year-effort to get a "Fraggle Rock" movie made. After struggling to come up with a script that would satisfy Harvey and Bob Weinstein (who had agreed to produce and then distribute this feature-length fantasy. But only if "Fraggle Rock" had an edgy story), Henson walked away from the Weinstein Company in May. But given that -- back in June of this year -- The Company signed the Scissor Sisters to come write music for this forthcoming film ... Well, it looks like a feature-length "Fraggle Rock" movie may eventually get made.
Henson's been dealing with the exact same sort of issues when it comes to its six-year-effort to get a sequel to Jim's epic 1982 fantasy, "The Dark Crystal" produced. Late last year, the Company announced that "The Power of the Dark Crystal" would soon begin shooting in Australia with brothers Peter and Michael Spierig serving as this movie's directors. But just last month, at a "Jim Henson: Friends and Family" panel, Cheryl Henson revealed that this project - which was to be released in 2013 -- had been placed on hold yet again.
But at least in the case of "The Dark Crystal," the Company's struggles to get a sequel made haven't actually interfered with Henson's plans to get these memorable fantasy characters out in front of the public again. From the "Dark Crystal" role-playing game that Archaia Entertainment currently has in the works to the "Dark Crystal: Creation Myths" graphic novel (which will be published next month and features a storyline developed by fantasy artist Brian Froud), Gelflings and Skeksis fans will soon have plenty to celebrate.
Henson history buffs will also enjoy "Jim Henson's Tale of Sand." Which is a long dormant Henson Company project that Archaia Entertainment just turned into a graphic novel.
"'Tale of Sand' is actually a screenplay that my Dad and Jerry Juhl wrote back in the 1960s. It was supposed to be this feature-length live action film, something would have been very different from all the Muppet stuff that my Dad was doing at that time," Lisa Henson explained. "But for one reason or another, Dad never got around to making 'Tale of Sand.' Which is why it's so thrilling that Archaia Entertainment has taken this unproduced screenplay and -- thanks to Ramón Peréz's amazing illustrations -- given this story new life as a graphic novel."
Mind you, if you'd like to get a sneak preview of "Tale of Sand" out ahead of its December 6 publication date, this graphic novel will be one of the items discussed at the "Early Works of Jim Henson" panel which Archaia Entertainment and The Jim Henson Company will be presenting this coming Sunday at NYC's Jacob Javits Center as part of New York Comic Con.
And speaking of the Big Apple ... Next Sunday's "Early Works" panel isn't the only Henson-related fun to be found in NYC. From that "Jim Henson's Fantastic World" exhibit (which continues at the Museum of the Moving Image now through January 16, 2012) right through that "Jim Henson's Musical World" concert that the New York Pops will be presenting at Carnegie Hall on April 14, 2012, the celebration of the 75th anniversary of Jim Henson's birth will continue in this city for many months yet to come.
Likewise down in Philly, the Philadelphia Zoo is paying tribute to the man who taught the world that "It's Not Easy Bein' Green" by presenting X•tink•shun: A Wild Puppet X•perience. Which is this new interactive exhibit which features endangered species puppets like Didi the Dodo & Iggle the Eaglet that The Jim Henson Company created for this educational program.
And speaking of education programs ... With "Jim Henson's Dinosaur Train" now starting its second season on PBS Kids (More importantly, with "Dinosaur Train" ranking in the top 5 children's programs among kids ages 2 to 5), it's a genuinely interesting time at The Jim Henson Company. As they try and honor their past (EX: That "Doodling with Jim Henson" paperback that was released to store last week. Which - for the first time - gathers together some of Lisa's Dad's more inspired scribbling) as well as fully capitalize on some of the Company's more recent successes (i.e. that "Farscape: The Complete Series" se that A & E Entertainment will be releasing on Blu-ray November 15th). Not to mention broadening Henson's horizons for the future (Just this past weekend, Henson Alternative's live stage show, "Stuffed and Unstrung" completed a brief tour of Florida with stops in Gainesville, Mebourne and Miami. And the Company hopes to announce additional performance dates for this improv puppet show very soon).
And striking just the right balance between pleasing Henson's older fans (EX: That "Labyrinth" 25th anniversary screening & celebration that the Company held at San Francisco's Castro Theatre which was hosted by Adam Savage of "MythBusters" fame back in August) as well as bringing new fans into the fold (having the characters from "Jim Henson's Dinosaur Train" help celebrate National Train Day by making an appearance at the Los Angeles Live Steamers Railroad Museum back in April) can sometimes be tricky. But Lisa and the rest of the Henson organization seem to be up to the challenge of both honoring & extending her Dad's legacy.
"The real key to doing this -- I feel -- is to do what Dad did. Be among the first to embrace and then experiment with new technologies. Take -- for example -- 3D. Given what my Dad was doing with Disney back in the 1990s with that Muppetvision attraction for the theme parks, I have no doubt that he'd have been among the first to use 3D to do full-length films for theatrical release," Lisa concluded. "The challenge is to recognize those opportunities as they come along. Not to mention finding creative partners that you can work with."
And given that Guillermo del Toro has supposedly been working with Henson to develop a dark new film version of Pinocchio ... Well, this is one puppet-based production company whose string has clearly not run out yet.
Which -- I'm hoping -- would have been something that Jim Henson himself would have approved of.
Jim Hill is an award-winning entertainment writer who lives in New Boston, N.H. Over the past 30 years, he has interviewed hundreds of veterans of the animation and themed entertainment industry and written extensively about The Walt Disney Company.
Jim is currently working on a behind-the-scenes history of the development and construction of Disneyland. For his more immediate musings on movies, TV shows, books and theme parks, please check out his blog, jimhillmedia.com.
Calling all HuffPost superfans!
Sign up for membership to become a founding member and help shape HuffPost's next chapter