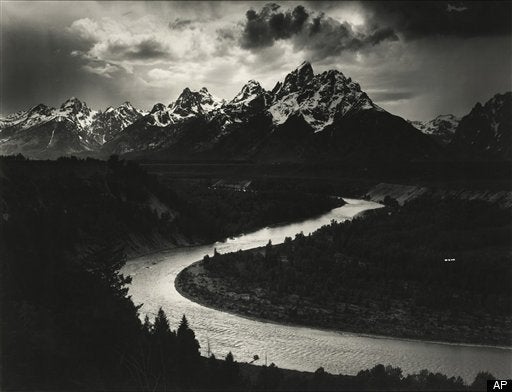 I suppose everyone is still pretty excited about those "lost" glass-plate negatives that perhaps were made by Ansel Adams back in the day. You are still excited, right?
I ask, because the story has taken a number of twists and turns over the past few months, and most of the people I know have lost track of it. The one thing we remember is that the man who found the negatives, Rick Norsigian, paid next to nothing for them and now stands to make millions of dollars.
That is nugget of drama at the heart of the story, of course. Since Norsigian's coup was announced at a press conference in Beverly Hills last July, there has been only one real point of interest in the matter. And it isn't art history. Robert Louis Stevenson knew the narrative value off lost treasure, and its appeal has not escaped modern journalists.
"Experts: Ansel Adams photos found at garage sale worth $200 million," reported CNN after the announcement.

"California man paid $45 for glass negatives which may fetch $200 million," said the Today website.

"$200 million Ansel Adams negatives found at garage sale," said the website of trade publication Photo District News.

The Catholic Online website actually did add historical perspective: "The items are the missing link in legendary photographer Ansel Adams' career--and they're worth $200 million," it explained.
Photo critic and historian A.D. Coleman is still awfully interested in the story, that's for sure. His blog has become a kind of independent clearing house for information on the Norsigian drama, and he has been taking a lead in parsing out the truth about the glass plates, "snapping and snarling," as he puts it, over all the claims and counter-claims that have contributed to the "deepening mystery" (as per Britain's Mail Online) surrounding them.

Did Adams really take the images on the glass plates? Or were they taken by a man named Earl Brooks, as Brooks's 87-year-old niece has claimed? Were the glass plates authenticated before the July announcement was made? Or is it just better to think of the whole thing as a ripping yarn?
I talked with Coleman recently, and he graciously walked me through those various complexities. Then he told me that the story might soon be getting even more complex. What if, he asked rhetorically, the negative were made by neither Adams or Earl Brooks?
"It might be someone else entirely," he said. "I'm working on it now. There's another contender out there who may be the creator of these negatives."
At this point, it might be useful to summarize the tale of the glass plates, as it stands so far, without the third photographer. If you have been following the saga closely in the news, you can skip over this.
Ten years ago, Rick Norsigian, a painter working for the maintenance department of a school district in California, is shopping at a garage sale when he finds two boxes containing glass-plate negatives. The owner tells Norsigian that he acquired them in the 1940s at a warehouse salvage sale in Los Angeles. Norsigian talks the man down from $70 to $45 and takes the boxes home.
Some time later, Norsigian is looking at a biography of Ansel Adams and begins to wonder if his negatives were made by the famed photographer during the 1920s. He notes that his plates show evidence of fire damage, and that in 1937 Adams lost a number of negatives in a fire that swept through his studio in Yosemite National Park. Coincidence? Norsigian doesn't think so.
He takes the plates to the Adams family, only to have them dispute his claim.
In 2007, Arnold Peter, the Los Angeles entertainment lawyer now representing Norsigian, organizes a team of experts to authenticate the plates. (The New York Times later notes that the team included a former FBI agent, a former U.S. attorney, handwriting experts, meteorologists, a curator of sculpture and decorative arts from the Boston Museum of Fine Arts, and a landscape photographer familiar with the use of large-format cameras.) The experts conclude that the negatives were, beyond a reasonable doubt, taken by Adams.
David Streets, owner of a Beverly Hills art gallery, is chosen to market the Norsigian material. Streets appraises the value of the glass plates at $200 million, and then, in July, the Norsigian group announces it all at a press conference in Streets's gallery. "This truly is a missing link of Ansel Adams and history and his career," notes Streets. "This is going to show the world the evolution of his eye, of his skill, his gift, but also his legacy."
The Ansel Adams Publishing Rights Trust announces that the Norsigian claim is false. Shortly after that, Miriam Walton, 87, of Oakland, California, says that she has a photograph identical to one published by the Norsigian group; it was taken, she says, by her uncle, Earl Brooks, in the 1920s. The Adams Trust likes the Uncle Earl theory.
Questions are raised about Norsigian's experts. On August 13, the New York Times reports that gallery owner David Streets is "a convicted felon with a criminal record for petty theft and fraud in Louisiana and Kentucky." Streets at first denies the charge but later blames his prior bad decisions on "untreated manic-depression."
John Sexton, a widely respected photographer familiar with Adams's work, announces in his newsletter that after looking at the Norsigian images he could find "no proof" that they were made by Adams.
On September 1, the Los Angeles Times reports that one of the Norsigian experts, Robert Moeller III, has changed his mind, in part because of Sexton's opinion.
The Norsigian website carries a "Final Report" containing the findings of its experts, as well as a "Revealing Report" about Uncle Earl. There is also trailer for a planned documentary about the plates that features urgent music and unexplained shots of crime-scene tape.
As for A.D. Coleman's notion that the negatives were made by a third party, we'll all just have to wait. "I'm not prepared to say who it might have been right now," he told me. "But I'm pretty close to being convinced that it wasn't Uncle Earl. It might have been someone else whose negatives were lost in a fire. I'm going to be working on that for the next month."
For most doubters, the fundamental problem with the Norsigian team's claims is the lack of forensic evidence that could back them up definitively.
The entire Adams archive, which resides at the Center for Creative Photography in Tucson, Arizona, is open to qualified researchers. Yet, says Coleman, no meaningful comparisons have been made between the Norsigian material and known Adams work from the 1920s. No chemical analysis of the emulsions on the glass plates. No checking to see if the apparent fire damage on the Norsigian plates is actually fire damage and not damage from mold, which can appear similar. No comparison of the distinctive marks left on the Norsigian and Adams negatives by camera plate holders.
Instead, Norsigian's claim seems to have been based mostly on visual similarities and an analysis of handwriting on the envelopes in which the lost plates were found.

Even if the negatives were proven to be by Adams, Coleman and others have questioned whether they would offer historians important new insights into the photographer's career. "We already have plenty of his young work from the 1920s to look at," says Coleman. "We know Ansel lost 5,000 negatives in a studio fire in 1937, so in that sense there's interest in that lost material. But he also salvaged 10,000-plus negatives. And from what I've read, he didn't feel that he'd lost anything of great importance."
There is yet another buzz-kill: The name "Ansel Adams" is trademarked, and the trademark is held by the fiercely protective Ansel Adams Publishing Rights Trust, which has sued the Norsigian group. Even if Adams did make the negatives, Rick Norsigian might not be able to sell prints made from them under the Adams name. And print sales accounted for a sizable part of the $200-million value put on the plates.
"They could try to sell prints and say they were made by an anonymous photographer," said Coleman, "but then who would want to buy the prints?"
If Adams did indeed make the negatives, says Coleman, Rick Norsigian could publish the images in a catalog of his collection, or sell the plates outright to a museum. "He would probably make a pretty penny," Coleman says. But not $200 million.

And in that case, will we still care? A treasure story isn't much of a story without a treasure.
Despite all this, the Norsigian website is offering digital prints made from the lost negatives. A 16-inch by 20-inch print costs $1,500, but before adding it to your cart you have to approve a disclaimer that the prints have not been authenticated by the Ansel Adams Publishing Trust. The print "is sold as is."
Related
Popular in the Community