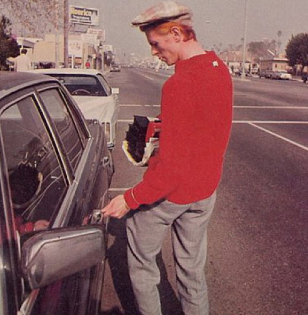 The Runaways, Robert Plant, Gene Simmons, and Freddie Mercury are just a fraction of legends that iconic photographer Brad Elterman has photographed. When you think paparazzo, running across streets, jumping on hoods of cars, and ambushing celebrities may be what comes to mind. But not during Elterman's days. He was a teenager with a camera getting into exclusive clubs and given access by legendary managers like Kim Fowley. Elterman received recognition from record company publicists and publications and was sought after for his stories and photographs.
When it came to big stars like John Lennon and Robert Plant, he would receive tips from his peers. "My journalist pals and my friend Michelle Meyer, the Queen Bee of the sunset strip," Elterman said, explaining some of the people who help him out along the way. But Brad was, as is, much more than just a member of the paparazzi. His take on photography is unique and he has captured moments in music history that will forever be remembered.
He was 18 and had gotten word David Bowie was recording at Cherokee Recording Studios on Fairfax Ave. It was a school day but that didn't matter. "I cut school and got there very early in the morning and around 6:45 a.m. he emerged holding recording masters and smoking a cigarette, a cool cap and a brilliant red sweater that was turned inside out," Brad said. He was using his brother's film camera at the time and snapped off eight frames. "Since I only had a few color slide photos and there were no means of scanning the images to archive, I sent out the originals to magazines like Creem, Circus and, Music Life in Japan." But that's how it was before the digital age, Elterman explains. There was a risk of sending out the slides because it was possible that they would never be returned.
This past week, Elterman received an Instagram notification on his phone, asking him if a certain photograph was his. After reviewing it, he realized it was one of his lost slides of Bowie during his shoot. The thought of it actually unsettled him. "A bit sick," he says, describing how he felt. "But there is nothing that I can do except that someone out there has it and I would love to make a drum scan of the image."
The photograph was posted by "DavidBowieSmoking" on Instagram and he has yet been able to track down the original slide. "Today all of those magazines are closed and their files looted," he said. So, where is this slide? In the hands of a fan? A landfill? Someone's closet? Well, he's looking for it and there's a finder's fee. "I had no idea that anyone would care about that event some almost 40 years later," Elterman says. It's not about making money, it's about preserving history, something that slips through the cracks in music photography these days. Have you seen this photograph? Do you have this slide?
Brad Elterman is currently finishing up his next book entitled "Dog Dance" which is curated and designed by Sandy Kim. Damiani is publishing it with a fall release and looking to put this photograph as a great ending. Additionally, thank you to Rhiannon Zielinski for editing help with this article.
REAL LIFE. REAL NEWS. REAL VOICES.
Help us tell more of the stories that matter from voices that too often remain unheard.