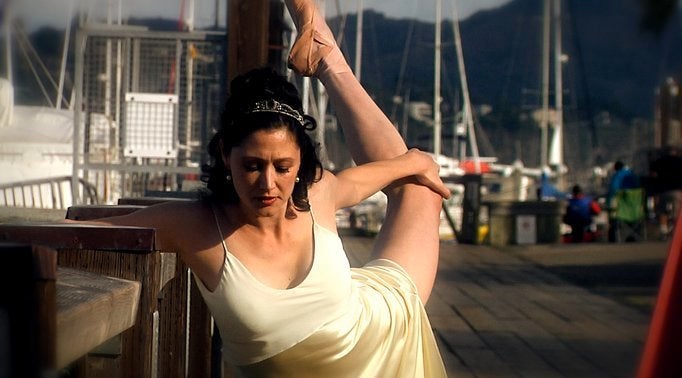 In 1967, Margot Fonteyn and Rudolph Nureyev were arrested in San Francisco after attending a party where allegedly there was marijuana. The story made the front page all over the world. At the height of their popularity, people would sleep outside Covent Garden to get any ticket they could to see this pair dance. Gelsey Kirkland was on the cover of Time Magazine in 1978, and her tell-all book Dancing on My Grave exposed the many pressures of the dance world to a wide audience for the first time. Mikhail Baryshnikov was seen and photographed dancing at Studio 54, alongside Mick Jagger, Liza Minnelli, and other celebrities of the day. It was to my great horror that someone recently said to me, "Oh, I have heard of Baryshnikov, that was Carrie Bradshaw's Russian boyfriend on Sex and the City!" How did one of the greatest examples of male dancing in history fade from our collective consciousness?
A simple answer is that dancers today just aren't what they used to be. Not only is that insulting, it simply isn't true. Others have argued that dance is a dying art form -- also not true. So You Think You Can Dance is one of the most popular television series (already going on it's 10th season), Black Swan earned Natalie Portman an Oscar in 2011, and good luck trying to get a seat to see The Nutcracker almost anywhere across the country. But where is the audience for a Christopher Wheeldon triple bill? How many people on the street know the difference between Natalia Osipova and Alvin Ailey? What is the legacy of George Balanchine, and ultimately, 'Who Cares?'
The AIDS epidemic in the 1970s and 1980s wiped out a generation of engaged and educated audience members. They fought over who was better, Maria Callas or Joan Sutherland. They heard the difference when Leonard Bernstein conducted. They resented the Iron Curtain for keeping Ekaterina Maximova and Vladimir Vasiliev in and cheered for defectors like Natalia Makarova who got out. These audience members were from all age groups, and collectively realized the importance of the arts, educating themselves on the specifics in order to have a deeper understanding. In turn, the arts showed them something about themselves and their humanity, a sublime mirror for the soul. That excitement and appreciation that normally would have been passed on to the current generation died with the community that supported it.
It is our responsibility in the field to continue to push the art form to exciting new levels, and to also offer educational opportunities to the next generation. Having recently led classroom lecture demonstrations with high school students, I found that many did not feel like they had access to the arts: "The ballet is for the cultural elite." "I can't afford an opera ticket." "I don't understand why people go to the symphony." "Even if I could go, I wouldn't know what to wear or how to appreciate it."
We live in the 21st century, the digital age where almost everything is available on the internet. While not a substitute for a live performance, getting audible gasps from high school students watching Sylvie Guillem is a step in the right direction. Getting Gen Xers to not just bring their families to performances but also to donate to their local arts organization, and nurturing that culture of giving to the arts again is another positive step. Convincing our politicians who annually threaten to cut arts funding in the face of multiple studies that show the overwhelming and dramatic benefits to young people who have been exposed to the arts in all areas of their development is critical. We need to diversify our audiences of all ages and demographics and honor the curiosity of the lost generation, and ensure we don't lose another one. We have our work cut out for us.
REAL LIFE. REAL NEWS. REAL VOICES.
Help us tell more of the stories that matter from voices that too often remain unheard.