Life in Siem Reap runs at a slow pace. The streets have less vehicles and more bicycles, yet there is a distinct energy in the aura -- an energy that is created by the infusion of locals with travelers who have begun exploring Cambodia. I am in search of the world's largest preindustrial city, Angkor, which began in 8th century and suddenly ended in the 15th century. I want to be in conversation with the craftsmen of Khmer Kingdom who speak through the stone from which the city of Angkor was carved.
Angkor was not built in a day. It was assembled piece by piece with sandstone brought from Mt. Kulen. These stones were carved and placed by the craftsmen like jewels in a necklace. The city flourished for centuries before it was sacked by the Kingdom of Ayutthaya. Angkor's makers are gone but their creation has marked its place in history. Although Angkor Wat steals all the limelight, I hop on a bicycle to explore some of Angkor's lesser known jewels:
Bayon: Gods and Demons (Asuras in Sanskrit) on either side hold Vasuki (Lord Shiva's great king of snakes that was used to churn the sea of milk) as I walk north of Angkor Wat towards Bayon. King Jayavarman VII, the first Khmer King to convert to Buddhism, built Bayon as their state temple in 12th century.
It looks like a forest of towers with gigantic smiling faces, one each on the four sides of every tower. The number of towers has always been disputed. Scholars say that originally there were 54. However, today only 37 are left.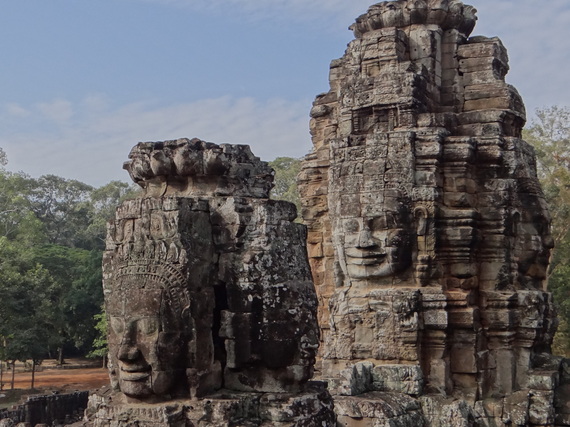 I walk through layers of walls inside the main complex. Bayon is a structure that was build incrementally over decades by various kings. The cold and narrow alleys inside the temple meander like a maze. I wonder if I could go back in time when Bayon stood in all its grandeur. I discover numerous phallus stones (Shiva Lingas) and court dancers with their alluring features carved on walls as Bas Relief. While I stand in silence watching this Apsara, I wonder if the next moment she would start swaying on the 12th century Khmer music.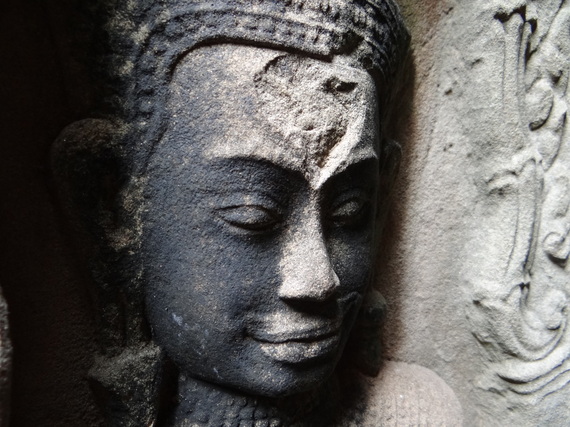 Built in: 12th and 13th century
Reign: Jayavarman VII to Jayavarman VIII
Ta Prohm (Old Brahma in Khmer): I witness the force of nature engulf a man made structure over centuries. ASI (Archaeological Survey of India) has worked extensively with L'Ecole Francaise d'Extreme Orient (a French institute dedicated to the study of Asian societies) and the government of Cambodia to restore Ta Prohm. One of the unique ways of this restoration is that the degradation is stopped wherever it was. The trees of silk-cotton and strangler fig that were once tearing through the structure towards the sky are treated to stop further growth. This gives Ta Prohm a mysterious aura. It seems like time has paused in this 12th century monastery.
Ta Prohm was built by King Jayavarman VII with the principal deity as "Prajnaparamita" (personification of the Perfection of Wisdom). Jayavarman VIII associated "Prajnaparamita" with his mother. Ta Prohm has the romantic appeal of a place that is partially overgrown but gently declining.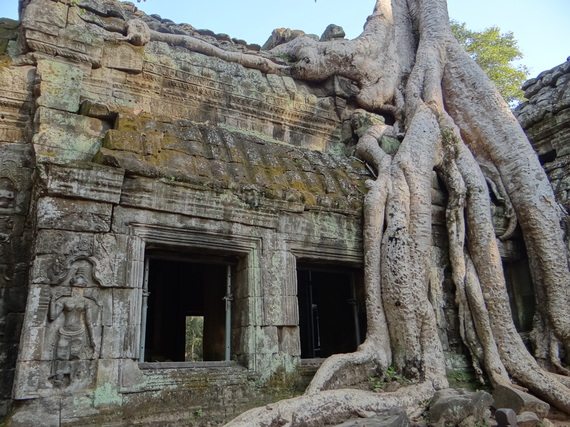 Built in: late 12th century
Reign: Jayavarman VII and Indravarman II
Visit time: 1 hour (early morning)
Preah Khan: On the similar ideology as Ta Prohm, Preah Khan was built five years later by Jayavarman VII. Preah Khan is bigger in size as compared to Ta Prohm and its principal deity is Bodhisattava Lokesvara with whom Jayavarman associated his father Dharanindravarman.
The entrance greets me with Gods on the left and Demons on the right holding Vasuki. However, due to the remote location of Preah Khan, their heads have been stolen.
While I walk across the silent corridors of this 12th century Buddhist University and a city that once echoed with the teachings of a 1000 teachers, I see bas reliefs of Lord Vishnu and his carrier Garuda (a giant creature with limbs like that of a human and, beak and wings of a bird). The corridors are lined with Shiva Lingas showing considerable presence of Shaivism and the whole structure itself has an upper level with no staircase to climb.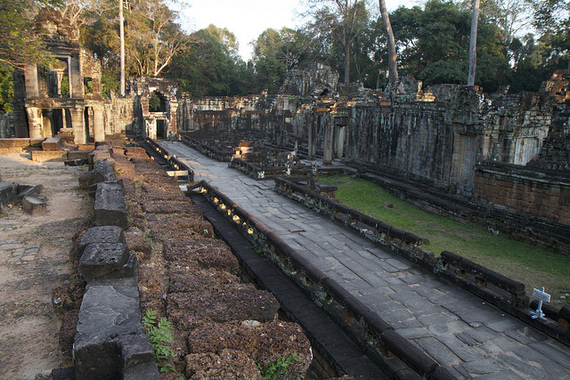 Built in: late 12th century
Kbal Spean: Deep in the mountains of Mt. Kulen lie Sahasralinga (thousand Lingas in Sanskrit) carved right on the bed of Stung Kbal Spean (Kbal Spean river in Khmer). Stung Kbal Spean is one of the tributaries of Siem Reap river and flows into it from an outlying hill, the Phnom Kbal Spean. Images of Gods are carved along a 150m stretch. I see Lord Vishnu reclining in an eternal rest over naga Ananta over an endless sea of milk. The presence of Brahma and Shiva complete the Hindu trinity.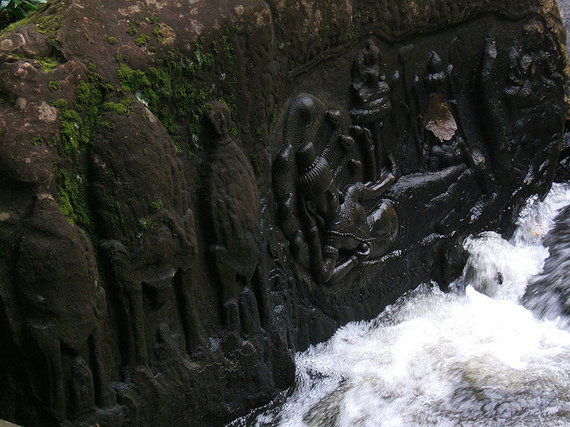 These carvings were lost in the mountains for centuries and are visited by few curious travelers. How could I miss the charm of trekking through the forest to discover a hidden jewel away from the crowd of Angkor Wat?
Built in: early 11th century
Reign: Udayadityavarman II
The author, Gaurav Bhatnagar is a travel writer who blogs at The Spunky Traveler, shares at Facebook, and specializes in off-beat/rural travel stories