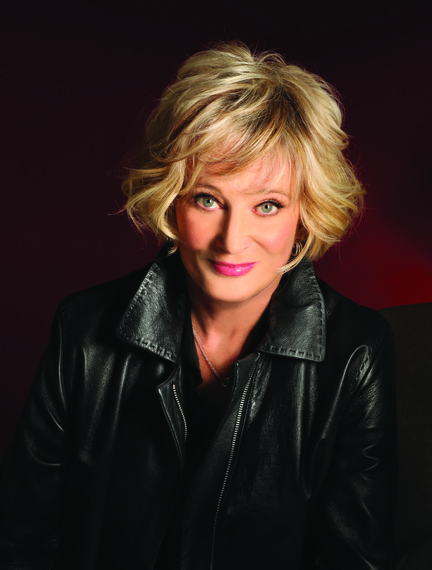 Catherine Coulter has written 73 novels in various genres and has topped the New York Times bestseller list 67 times. She's written historical romance novels, contemporary romance, and FBI suspense thrillers. Her new series, "A Brit in the FBI," features Nicholas Drummond, a British citizen who works with the FBI. The second installment in this series is The Lost Key, coauthored with J.T. Ellison.
In The Lost Key, during Nicholas Drummond's first hours as a newly-minted FBI agent, Nicholas and his partner, Michaela (Mike) Caine, are called to investigate a stabbing death on Wall Street. The victim, John Pearce, was much more than he at first seemed. He was known as the "Messenger" for a secret organization. Drummond and Caine must navigate a maze of deadly secrets, dating back to World War I, and as far back as discovering a 1903 Nobel Prize winner's potentially deadly secret. The fate of the world could be at stake.
There's a fascinating story about how you came to write your first novel. Will you share it with us?
My husband was in medical school and I was working as a speechwriter on Wall Street. I was reading about ten books a week because my husband was so busy, I'd see him at dinner and that would be it. One night, I was reading this awful book. I got so bored, I just threw it across the room and said to my husband, 'I could do better.' He picked up the book and said, 'Why not go for it?'
So, I began writing. It was a Regency romance novel. I picked that genre because I grew up reading Georgette Heyer, and just loved those books. My Masters degree was in the Napoleonic era of England and France. Novel-writing was new for me, and I figured by picking a setting and time period I knew very well, I would limit the unknowns. Instinctively, I knew to write what I would love to read. I hired a free-lance editor and we plotted the book.
The editor had connections to the three top publishing houses doing Regency romance novels. I submitted the manuscript, and after three days, an editor called me, took me to lunch and offered me a three book contract. I was extraordinarily lucky.
I must say, the years during which I've written were the golden age for publishers. But, the publishing world has changed. It's wonderful for writers because there are so many more options than there were in those days. There were no choices at that time. Everything was focused on paperbacks and hardcovers, and there was a big audience out there starving for books. Book tours were fun back then, but now, wearing three inch heels eight hours a day gets to be a bit much. (Laughter). Besides, that's all in the past. Now, social media is what's driving book sales.
After having written so many novels, what made you and J.T. Ellison decide to collaborate on the Nicholas Drummond series?
By February 2012, I realized I was getting bored. It was the same old, same old. I thought of my friend, Clive Cussler, so I called him and said I'd like to write a book with somebody. He told me exactly what he did to get a co-writer. I basically followed his model. My husband and I each read about twenty suspense-thrillers, trying to see which potential co-writer would work well with me. We took our time because I knew this person would become very important in my life. Of all the people we read, we both independently picked J.T. Ellison. I did not know who she was, and I'd never read her before. I had no idea how the collaboration would work out.
I called J.T. and went through the same process Clive did. It turned out so well because both J.T. and I are Type-As. We're both very disciplined, and she's got a wonderful personality. You know, you have to have a bus driver, and she knew I drove the bus. I had the idea for the first Nicholas Drummond book, The Final Cut. We were able to get on the same page about the characters and the novel's direction. In this series, I always write the scenes about Lacey Sherlock and Dillon Savich, because these are two characters from my earlier books, and I know them very well. It was really interesting because I'm very heavy on dialogue, whereas J.T. calls herself 'an introspective navel-gazer.' So, J.T. had to make lots of writing style changes in the Nicolas Drummond books to copy my style of writing. But every sentence in both The Final Cut and The Lost Key has my toes, fingers and feet on it.
There seems to be plenty of attraction between Nicholas Drummond and his FBI partner, Michaela Caine. Do you have plans for them as a couple?
Probably down the road. You know, The Lost Key takes place over a mere two days. That makes it difficult for things to happen. But, we'll see.
The Lost Key is filled with compelling details about nanotechnology, biotechnology, computers, FBI procedures, and history. Tell us about your research.
The fact of the matter is that J.T. is a technological wunderkind. Did I luck out on this? It was a total shot-in-the-dark picking a co-author, and I ended up with this incredible woman. She loves to do research. She's the technophile and a wiz on the computer. What each of us brings to the table makes for more than the sum of its parts. I could never find anyone else as wonderful to work with as J.T.
You've written novels in many genres. How do you manage to shift from one to another?
Until a couple of years ago, I was writing one FBI thriller and one historical romance each year. I'll tell you, it really keeps you from getting writer's block because it unconstipates your brain. (Laughter). They're two such disparate genres, and now, doing two FBI thrillers each year is not as much fun. So, I'm writing my very first novella. It's a historical story and it's getting my synapses hopping around again.
After 73 novels, what has been your biggest surprise about writing?
I must preface this by saying, I've always written without an outline. I've flown by the proverbial seat of the pants. J.T. has always written that way, too. We sat down across from each other when we began working on The Final Cut, and we realized that when collaborating, we had to do things differently because when it came to devising a plot, we were wandering all over the place. We were forced to become more organized to get to a more cohesive narrative thread. So, we went chapter by chapter and plotted each one in the book. It turned out very well.
I always thought that if you outline a novel, you lose the spontaneity. But no, to my surprise, that didn't happen. By outlining, we could see for instance, that we needed another character here; or an action scene there. I was amazed to see that outlining a novel opened up a whole different part of my brain. Outlining was very different and it worked for both of us doing a Nicholas Drummond book. It was a huge surprise for me, but I'm not sure it would work when I'm writing without a co-author. The other big surprise for me about writing over all these years is that it doesn't get easier. Each book is so different from every other one. And each one presents a new challenge.
What do you love most about being a writer?
I love the fact that there's always a reason to put your feet on the floor in the morning. Because there's something you're going to do. I also love that you don't have a jerk-face of a boss, because if you're a jerk-face, you're your own boss, so who cares? And there's something else I recognized from the very beginning: no other person except a writer has this--you never know what's coming in the mail. It could be a new contract for an audio book, or a letter from a reader forwarded to you by the publisher. You have this strange relationship with the postman. (Laughter).

If you could have dinner with any five people, living or dead, from any walk of life, who would they be?
Georgette Heyer, a British author who died in 1972. She's the one who invented a sub-genre called the Regency romance. She was an absolutely brilliant writer. Then, I'd love to have Agatha Christie for dinner. I would love to have dinner with Charles II. And I'd want to meet the modern Plato--the same philosopher, but brought into contemporary times. And then, maybe Edward I. He's very much alive in my books--he's a character for me--and I'd just love to ask him questions about how he deals with my other characters. He lives on in my own private little realm of ideas.
What advice would you give to writers starting out today?
Read everything you can get your hands on. Memorize Strunk and White's Elements of Style. Buy two copies of it, one for under your pillow, and one to sit by your computer. And, plant your butt in your chair every day at the same time. If you're not disciplined, hang it up. If it's a hobby, you're not a real writer. You've got to have these basic attributes to be a success in anything.
What's coming next for Nicholas Drummond and Mike Caine?
J.T. and I are mulling over four or five titles for the next one. It's going involve a character who's very much like Carlos, the Jackal. There will be plenty of action with very high stakes.
Congratulations on penning The Lost Key, a thriller that takes the reader on a roller-coaster ride from Wall Street, to England, Scotland and Paris, and touches on the history of the early 20th century.
Mark Rubinstein
Author of Mad Dog House, Mad Dog Justice and Love Gone Mad
REAL LIFE. REAL NEWS. REAL VOICES.
Help us tell more of the stories that matter from voices that too often remain unheard.