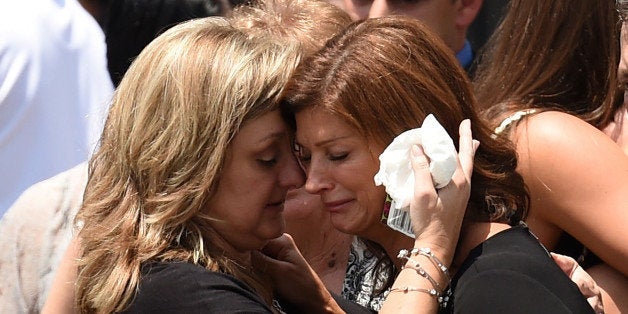 Last week, Attorney General Loretta Lynch announced Charleston church shooter Dylann Roof had been charged with federal hate crimes for targeting victims "because of their race and in order to interfere with their exercise of their religion.'' Roof faces a 33-count indictment, including nine counts of murder and three counts of attempted murder, following his June 17th massacre at the Emanuel African Methodist Episcopal Church.

Almost as terrifying as the shooting itself: the ensuing debate over whether Roof's heinous act constitutes a hate crime against African Americans. Even after photographs of Roof clad in pro-Apartheid patches and waving the Confederate flag surfaced, "Fox & Friends" co-host Steve Doocy remained unconvinced the murders were racially motivated, though he did concede they might possibly amount to an attack on Christianity.

Doocy's apathy was echoed nationwide by people determined to believe the difference between murder and murder by systemic hate is just a matter of minutia.

Nothing could be further from the truth.

One reason it's so important to classify hate crimes as such is because the "lone wolf" never acts alone. His violence simply erupts a societal boil that's festered for hundreds, if not thousands of years. How big is America's hate abscess? It's as large as the masses that refuse to identify hate crimes, even at their most undeniably blatant.

Another reason it's important to recognize hate crimes is the need to differentiate between systemic hatred and individual mental illness.

Last Thursday, 59-year-old John Russell Houser, a self-professed anti-feminist Christian extremist, killed two women and injured nine other people when he opened fire on a packed theater screening Amy Schumer's Trainwreck. Since the gunman also took his own life, America was left to wonder: what could have possibly motivated a man to commit such an abhorrent act?

The Los Angeles Times proclaims, "Lafayette movie theater shooter 'had hate in his heart'" for "taxes, liberals, newspapers, gays, and the United States" and notes his "expressed interest in white power groups and neo-Nazis," in addition to his "anti-Semitic and anti-gay views." Houser's history of domestic violence against his wife and daughter, however, have been described as acts of "family violence," attributed to a "history of mental health issues, i.e manic depression and/or bi-polar disorder," according to court documents.

Police officials are flummoxed as to Houser's potential motive. "We're trying to put the pieces together to figure out why," said Louisiana State Police Superintendent Colonel Michael D. Edmonson during a televised press conference, though he expressed doubt that a clear motive might ever be ascertained. "We may not find a motive," Edmonson admitted.

CBS correspondent Kenneth Craig reported from the crime scene, "The bullets hit and killed two women," as if it were simply incidental Houser's most meticulously targeted victims so happened to be female.

For now, as it stands for Roof and other white, male mass shooters who were perfectly capable of unleashing premeditated acts of violence on predetermined victims, Houser's motive is generally understood to be either obscured or offset by insanity.

"Who knows what this deranged man's intentions were if he had gotten out? Who knows what he would have done? Fortunately that didn't happen," said Governor Bobby Jindal.

Dylann Roof is a byproduct of the ethos that waved the Confederate flag under pretense of "history" and "culture"; his victims were its casualties. Westboro Baptist Church defender John Russell Houser was a side-effect of Christian extremism, which is at war, not only with women's reproductive rights, but also with life saving health care services -- even breast cancer funding -- under the guise of "morality."

It goes without saying: a man such as Houser would vehemently oppose a mainstream movie written by and starring one of America's most famous and unapologetic feminists.

When such a man, a noted "radical Republican," who is "anti-abortion and anti-feminist," shoots up a theater full of women at an Amy Schumer movie, his motive should hardly remain a mystery.

Houser's insistence on making public statements regarding his hatred of women is well-documented. The Washington Post reported Houser's history with calling a string of televised talk shows to vent his frustrations over "high taxes and the growing power of women."

Former host of Georgia talk show "Rise and Shine" Calvin Floyd told The Washington Post he'd taken calls from Houser on "15 or 20 episodes," because Houser "was radical, and when you're looking for a person on a live show, taking calls, that's what you want."

"He was anti-abortion. The best I can recall, Rusty had an issue with feminine rights. He was opposed to women having a say in anything," said Floyd.

In the aftermath of the Charleston church shooting, USA Today published a breakdown of recent FBI hate crime statistics with context regarding the history and constitution of hate crime laws in the United States:

"A hate crime is an offense such as murder, arson or vandalism with an added element of bias. Forty-five states and the District of Columbia have hate crimes statutes. A federal hate crimes law enacted after the assassination of Martin Luther King in 1968 centered on crimes on race, color, religion or national origin.
The law was expanded in 2009 to include crimes based on gender, sexual orientation, gender identity or disability -- but not without much debate."
According to the FBI, 48.5 percent of US hate crimes in 2013 were committed on basis of race; 20.8 percent were committed on basis of sexual orientation, and 17.4 percent were committed on basis of religious affiliation, while just .3 percent were committed on basis of gender.

How accurate are these statistics?

While it's undeniable that all hate crimes are largely underreported/acknowledged, there's reason to believe this is particularly true of hate crimes motivated by gender.

Just three weeks before the Louisiana shooting, Dabney Evans addressed rape and femicide, or "the hate crime[s] you've never heard of" for The Hill. Evans notes that, according to the CDC, 35.6 percent of American women have "experienced rape, physical violence or stalking by an intimate partner."
Thousands more women are raped and murdered each year by attackers they don't know. Perpetrators who do not personally know their victims are even more likely to inflict violence on the basis of gender alone. Evans writes that crimes "committed on the basis of gender" are "inherently discriminatory." Yet, there is a gaping hole in US legislation when it comes to punishing hate crimes against women.

In Louisiana, for example, "statues for first-degree murder provide protections for specific groups like police officers, youths and the elderly as well as individuals who have existing protection or restraining orders. Yet there is no specific mention of murder prosecution for intimate partners or the role of gender in the crime of murder."

Evans argues "the US needs federal law prohibiting femicide." Yet there's currently little incentive to conceive of such legislation when hate crimes against women are so prolific they're considered the status quo. If we're to learn anything from the Louisiana shooting, let it shed light on America's epidemic of gender driven violence. It's a problem we'll never even begin to solve, so long as we refuse to call a hate crime by its name.
Related
Popular in the Community