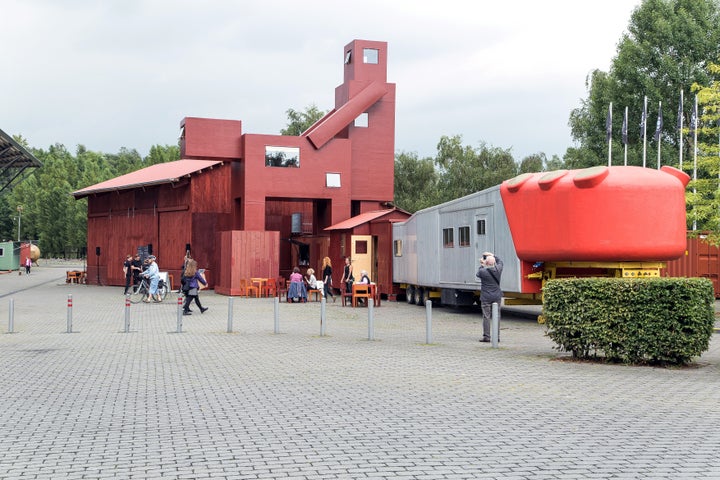 Museums are often thought to be sanctuaries for free expression, where otherwise unseemly or taboo topics can be addressed in peace. In actuality, however, the institutions are often more conservative than their reputations suggest.
Case in point: a sculpture called "Domestikator," by the collective Atelier Van Lieshout, was just pulled from an upcoming exhibition at The Louvre in Paris for being "sexually explicit," according to The New York Times.
The piece, slated to go on view in the Louvre's Tuileries Gardens as part of a public art program, is a 40-foot-tall sculpture of one orange, blocky building mounting another orange, blocky building from behind. A statement describing the work explains that the bottom building is an abstracted animal form, making the sexual encounter between them an act of bestiality. It's sexual, sure, but very nonrepresentational. It's no more NSFW than a raunchy doodle of two stick figures or a mischievous arrangement of Legos.
Joep van Lieshout, the founder of Atelier Van Lieshout, was similarly befuddled by the museum's decision. "The piece itself, it's not really very explicit," he told the Times. "It's a very abstracted shape. There are no genitals; it's pretty innocent."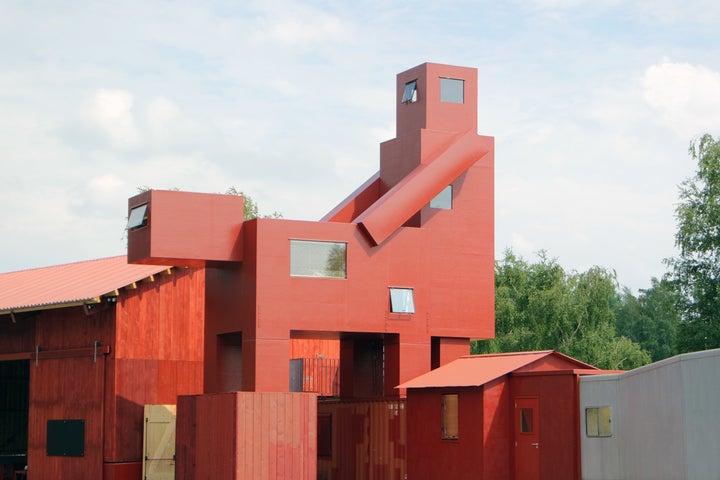 The sculpture, originally erected in 2015 in Bochum, Germany, without much controversy, deals with themes of power, love, dystopia and reproduction. Specifically, the sculpture symbolizes the way humanity has "domesticated" the natural environment, and overstepped boundaries of decency in the process.
″'The Domestikator' is about the hypocrisy of our current society towards our natural environment," Joep van Lieshout told HuffPost. "A lot of the visitors are actually part of this. It is therefore vital that they are confronted with the impact of our actions in order to be able to change this. For their own good and their children's future." Adding:
The sculpture can be seen as a humorous and thought-provoking statement about humans domesticating the world. The artwork symbolizes the power of humanity over the world and its hypocritical approach to nature. It pays tribute to the ingenuity, the sophistication and the capacities of humanity, to the power of organization, and to the use of this power to dominate, domesticate the natural environment. Man constantly invents new solutions for challenges on the field of energy, food, climate, robotics, genetics, big data and statistics. In this process a clear view is obstructed, and ethical borders are pushed to the extreme while certain taboos seem to stay intact. The act of domestication, however, often leads to boundaries being sought or even crossed. It is this difficult balance that Atelier Van Lieshout seeks to address.
Van Lieshout is concerned about the larger ramifications of a major museum censoring art in 2017. "I strongly feel that artists and museums should make a stand for the freedom of expression," he said. "Freedom of expression is one of the main things art is about. If we limit artists by censoring their work, we are giving in to fear and giving up on our cultural standards and the core values of the civilized world."
Jean-Luc Martinez, The Louvre's president, explained his rationale in a letter published in part by French newspaper Le Monde.
"It risks being misunderstood by visitors to the gardens," Martinez wrote, adding that the piece's proximity to a children's playground yielded additional worry.
"This is total hypocrisy," van Lieshout said in response. "In Bochum, whole classes came to see the 'Domestikator.′ People saw something funny but not decadent. And if children see something sexual, it is because they are old enough to see it."
HuffPost has reached out to The Louvre and Atelier Van Lieshout for comment and will update accordingly.
At a time when the limits of free expression are being critically examined on college campuses and football fields, it is interesting to note that museums are leaning toward conservatism over controversy. At least, that is, when it comes to buildings getting busy.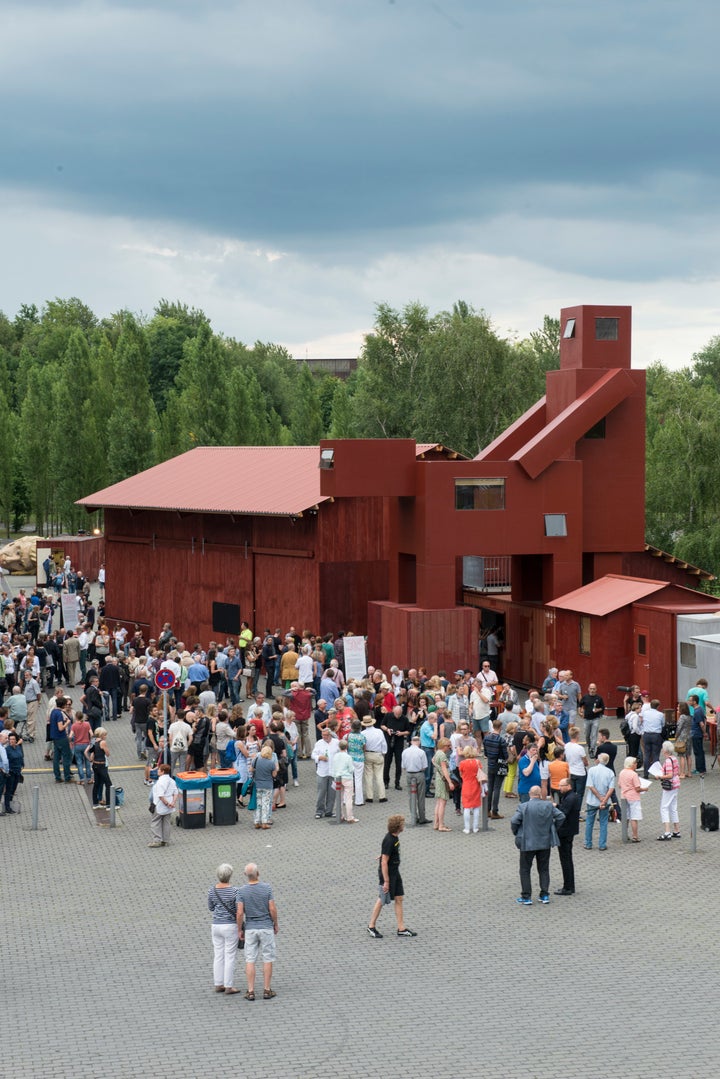 Popular in the Community