For many seekers of balance, bliss and beauty, partaking in an Ayahuasca ceremony is part of the journey. Drinking the famed, potent brew brings forth soulful revelations – and vomiting. For me, the mission became 'rebirth without the regurgitation', so that required a Medicine Reading from Deborah Hanekamp. "All the messages that Ayahuasca provides are within yourself," the 34-year old seeress says. Known as fashion's favorite healer, Hanekamp sings medicinal lyrics from the Peruvian Amazon during the 1.5 hour ceremony.
1. Q: Was that a crystal bed I was lying on?
It was a bed of Jade, Tourmaline and Amethyst crystals.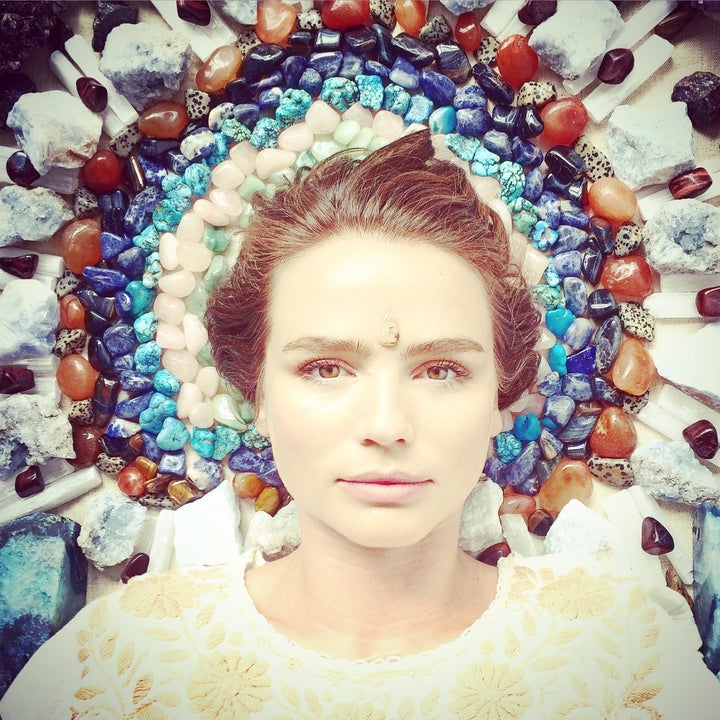 2. Tell me about the other significant ceremonial elements you use for a spiritual cleansing.
Each Medicine Reading utilizes a channeled formula specifically tailored to each individual client. In your Medicine Reading, you were holding Nirvana Quartz to ground you in your bliss; as a scent, I was using a blend of rose and rosemary to usher in an energy of self-mothering; and I was burning palo santo and sage around you. You were being brushed with a leaf rattle made from bamboo, but I often use other local plants, as well, such as oak leaves and white pine.
3. Q: You were singing Icaros in the native Peruvian language of Quecha. It took you eight years to learn and recite the healing language properly. What do the songs/language transmit?
A: Yes, I was singing Icaros to call in your plant and animal spirit guides, and offer comfort and kindness during the healing process.
4. Q: What happens during a Medicine Reading?
A. When we sit together at the beginning of your Medicine Reading, I look at your aura in depth and tell you what I see coming up, in a way that is relevant to the intentions of your Medicine Reading. At that time, I will see if you need a cleansing, a healing or a blessing, and this will affect the way I translate the colors and shapes I see around you into the English language. For example, I may speak softly with someone who needs healing or fiery with someone who needs cleansing. When we move into the ceremony part of your Medicine Reading, I am able to see more clearly what needs to be cleansed, blessed or healed.
You did need a cleansing! Many times, when we feel abnormally overwhelmed or tired, it means we need a spiritual cleansing.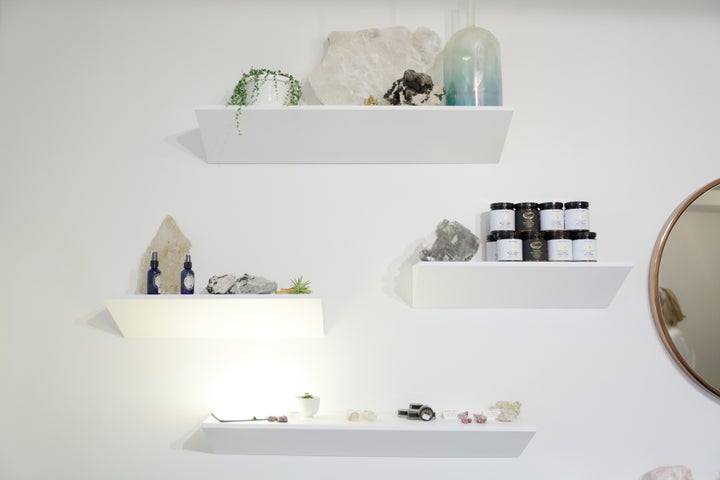 5. Apart from your custom ritual baths, what are the top three self-care practices you recommend to maintain good vibrations?
Rather than shy away from confrontation, say what you must to the people who need to hear these words, but come from a place of compassion for yourself and the other person. Our emotions need a place to go, and if we don't speak up we may try to smoke, eat, drink or work away our feelings. Saying what you feel, when you feel it, is always sweet medicine.
Your prayer can be a song, a movement or a practice. Try to set aside time each day to pray, and instead of prayers of wanting, offer prayers of gratitude. Truly being grateful for what we have is like jumping on the express train toward Confidence County.
Use those two words as a Mantra: "Give More". Maybe it's lending a hand to someone in need, donating to a charity or volunteering. The more we give the better we feel. In order to give from a place of true generosity, we must make sure our own well of energy is full. So that means we must also give to ourselves. Ritual Baths are a great way to do so!
A: Mostly women between ages 20-60 who are experiencing a life transition or are looking to feel more centered.
7. How often do you see clients per year?
A: Some clients come once a week, some come once a month, and some come once a year. If I think someone needs to come back I will let them know; but if I think that they need time to process just the one reading, I won't mention anything about coming back.
8. How did you acquire these healing gifts?
A: For as long as I can remember I've been energetically sensitive and able to see auras. In my late teens, after a tumultuous upbringing, I realized that I could either let my past become future and self destruct, or I could let my sensitivity become my strength. Letting go of eating meat and practicing zen meditation, yoga, Reiki and herbalism were my medicine beginnings. I then integrated into an eight year apprenticeship, where I traveled back and forth from the Peruvian Amazon learning how to heal with the local medicinal songs and plants. The integration of all of these traditions, combined with my natural sensitivities, lead me to birth Medicine Readings™
9. Space by Mama Medicine opens March in SoHo. What can clients expect from your modality that stands apart from the other healers in the city?
A: Space by Mama Medicine is a way for me to offer my clients an experience where I can make them feel special as soon as they enter the door. I will be offering Medicine Readings and Medicine Reading Ceremonies, as well as having an incredibly talented holistic esthetician, Britta Plug offering her facials.
People from the healing community offering something unique and magical will be invited to share their workshops. For example, my friend Stefani Padilla of La Tierra Sagrada Hair offers a Hairemony which is a sweet simple way of integrating ritual into your hair care.
I'm so happy that I found such a lovely space right in the heart of Soho!