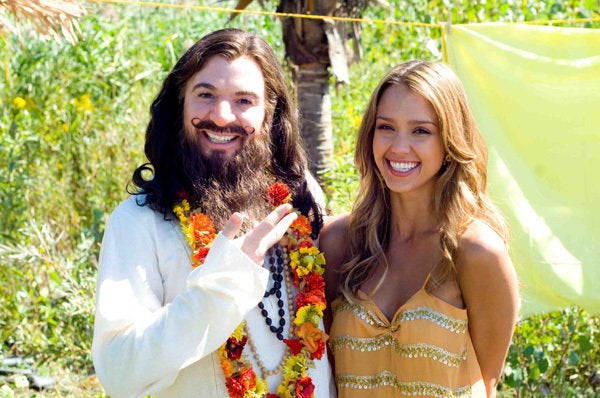 "The Love Guru", starring Mike Myers's prosthetic nose, Justin Timberlake's washboard abs, and Jessica Alba's breasts, opens Friday. And the critics have been unanimous: this movie sucks! The Love Guru reviews scored an almost inconceivably low 9 percent rating on Rotten Tomatoes.
Here's a sample of some of the reviews:
"The Love Guru" is downright antifunny, an experience that makes you wonder if you will ever laugh again.
"The Love Guru" is so relentlessly juvenile as to merit a new twist on the PG-13 rating -- one that strongly cautions not only those under 13 but anyone much above it, too.
'The Love Guru" is even funnier than "Wayne's World" or "Austin Powers." Not. If this movie were a president, it would be Tedious Roosevelt.
The LA Times Love Guru review calls it "a comedy of low blows and elephantine misfires."
The Hollywood Reporter lays some of the blame at the feet of director Marco Schabel in its "The Love Guru" review:
Oddly, Myers entrusted his first film with a new character to a rookie director, Marco Schnabel, who directed second unit on all three "Austin Powers" films. Schnabel not only lacks visual flair and the ability to pull together a style to link the skits, but he is probably too young and inexperienced to help Myers edit himself. When, say, one in four gags hit with any force, there is a need for serious editing.
In "The Love Guru," Mike Myers must come to love himself before he can love others. From the credits of this scattershot comedy sketch stretched and strained to movie length, Myers clearly loved himself to the point of narcissism going in.

Besides starring, Myers is a producer and co-writer. He's in the cast list four times -- three times for the same character (Guru Pitka, Young Pitka and Teenage Pitka) and for a two-second cameo as himself.
But we're talking 15 or 20 minutes of decent material. The movie runs a little longer than that.
Myers' unappealing, potty-mouthed guru should have his own yoga position: The Flop.
REAL LIFE. REAL NEWS. REAL VOICES.
Help us tell more of the stories that matter from voices that too often remain unheard.