February can be a bleak month for me. In our family, we roll right out of the holidays and roll right into the birthdays. But as soon as Martin Luther King, Jr. Day passes and we enter into late January, I'm already bracing myself for the next few dreaded weeks.
It's cold, it's winter, it's Chicago. But beyond that, it's February. And for me, February has tragic significance because it was on Valentine's Day, that we found out that the baby I had been carrying for 38 and a half weeks died inside of me unexpectedly and without reason, just a week before her scheduled delivery.
And so in this season, even years later, memories of our baby's death and delivery can be easily triggered as we continue to grieve the child who we love deeply, yet never had the chance to meet. I often think about who our child would be at age 8, and every Valentine's decoration is a reminder of a day that is filled with both aching loss and abundant love.
In a conscious effort to stay afloat on what might otherwise be an emotional drift, I employ strategies to insist on not just survival, but happiness. Fiercely struggling and fighting, I call upon a reserve of gratitude and joy that I've spent the last eleven months building in preparation for just how depleted I might feel at this time of the year.
Within that reserve are a few key lifelines working against this impossible loss. Among them is the strange sense of empowerment that comes with the death of a child. It is difficult to explain, but somewhere within that grief, I realized that this was bad, really bad, but I was surviving. Albeit barely, I was making it and that was powerful, and continues to be.
Tied up in that sense of empowerment is the ability to shape my own story. While I can't reverse this terrible thing that has happened, the one tiny bit of control I have is the vantage point from which I process it all. While some of the major events of life are beyond my control, it is up to me to set the tone and to tell my own story in a way that best suits me.
And when I say me, I mean the entire me. Not just the grieving me, or the me who was pregnant and then wasn't, but doesn't have a baby in her arms. But the me in The Before and the me in The After. The me who is filled with rage and the me who is filled with joy. The me who laughs heartily and the me who can't find her laugh at times. In order to be authentic, my story must be inclusive of the entire me.
A year ago I discovered that within me there was a story so powerful and so prominent that it made it difficult to identify the entire me. I've heard writers say that there is usually a story you need to tell first, before you can find the other stories in yourself. I was still operating in self-preservation mode, this story was guarding other aspects of me. The story I needed to share is our family love story.
Within the first year, after our baby was stillborn, my husband and I decided that it wasn't fair to our daughter for our story to be shrouded in darkness and despair because of her death. And so every year on February 14, we take a vacation or do something special together as a family. We call it her "birthday trip" and use the time to celebrate her and to celebrate our family. We shaped our story of loss into a love story complete with tragedy and triumph.
With our family love story always in my heart, when last February, The Huffington Post put out a call for photographs that reminded their readers of love, a personal photograph immediately came to my mind. Without thought or deliberation, I moved as if on instinct and found the picture of my husband and I in the hours immediately following our still born daughter's delivery and taken by a bereavement photographer who was provided by the hospital.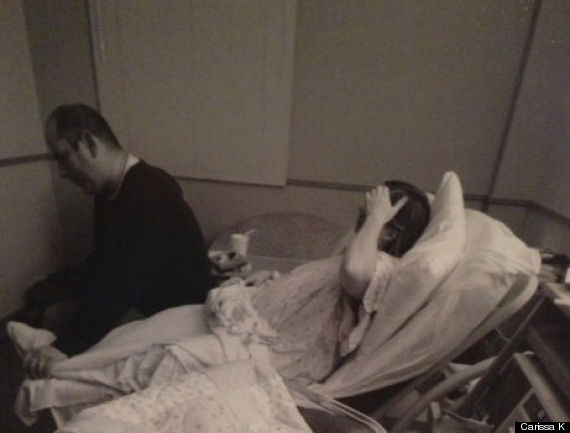 I've always thought of this photograph as truly capturing the essence of our relationship because even in those early hours there is a connectedness and fortitude in our body language. And while it may not have been our most romantic hour, as individuals and as a couple, it was our finest hour. That photograph shows a resolve to grieve together and to move forward together. To me that photograph is the definition of partnership and steadfast love.
And so I submitted the photograph along with a description of our family love story. I can't recall much about how I wrote the story. When I wrote it, I know I was sitting on the couch with the laptop, home alone with the kids because my husband was traveling. But other than that I don't have a sharp memory of writing that piece because I was so in flow. I know I didn't edit it, I maybe re-read it once. I don't really know what I hoped would happen. But before I could think otherwise I had sent it in an email text to The Huffington Post along with the photograph explaining why to me, this image was love.
Within 24 hours I was in contact with the wonderful Lisa Belkin and Farah Miller who very gently guided me through the insecurities and process of publishing this piece. I had been writing quietly since I was a kid, but within a few days I officially jumped, two feet first, into the public blogosphere. I grabbed a Twitter handle, a blog, and a facebook page.
Within a week the piece had been shared around the world and published on iVillage Australia. I heard from supportive friends and family as well as people I'd never met, yet who had experienced similar losses.
Something very important happened. Not only did I share my story, but doing so opened me up to listen to other people's stories. I heard from a gentleman whose child was stillborn over 40 years ago and I heard from a father who had lost his baby the night before. A grandmother, a sister, a friend; there were so many people who were going through this, or who loved someone going through this. And heartbreakingly, each story represented a child that the world will never get to know. I read every comment and cried and celebrated each and every one of those babies. And every time I thought of my own daughter and grieved for her all over again. Connections were made and in those stories I felt the warmth of friendship and the bond of universal understanding that can both sustain and uplift. I gave, just as I received.
The stories continue to be shared. I'm proud that Our Family Love Story will be a part of the book Three Minus One being released this spring and associated with the film Return to Zero about a couple grieving after a stillbirth.
Sharing this story has allowed me to gain confidence as a writer and share other stories. There are now many pieces on The Huffington Post and my blog about careers, and friendship, parenting and food allergies. A piece on leaning in was featured on LeanIn.org. I'm finding my footing as a writer, attending workshops, retreats and conferences. I've met writers and bloggers who inspire and challenge me. At home, friendships have been formed and strengthened with other mothers and writers.
Sharing this story has fostered so many relationships. This story was mine for many years, but it was time that I give it to others so I could nurture and grow the other stories in my soul. I needed to get back to a vantage point where I can see the whole me, so I could tend to her and develop her. The whole me is powerful and wise, and has things to say, lessons learned and tales forged on a journey that is simultaneously treacherous and beautiful.
Most of all, sharing this story reminded me that we are not on this journey alone. Sure we have ourselves, and we have our family and friends. But we also have something else. Something that bonds us to each other. There is a big, big world out there full of people who are ready to love and ready to share, ready to listen and ready to give.
I do believe that the words to this piece didn't come from me, but through me. My daughter didn't get the chance to live, but she is my heart and she is my voice. And for us, she is the reason why Valentine's Day is once again a day to spread some love.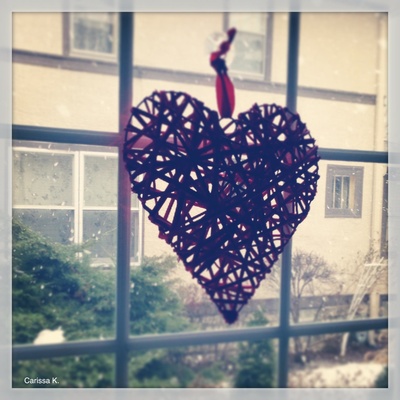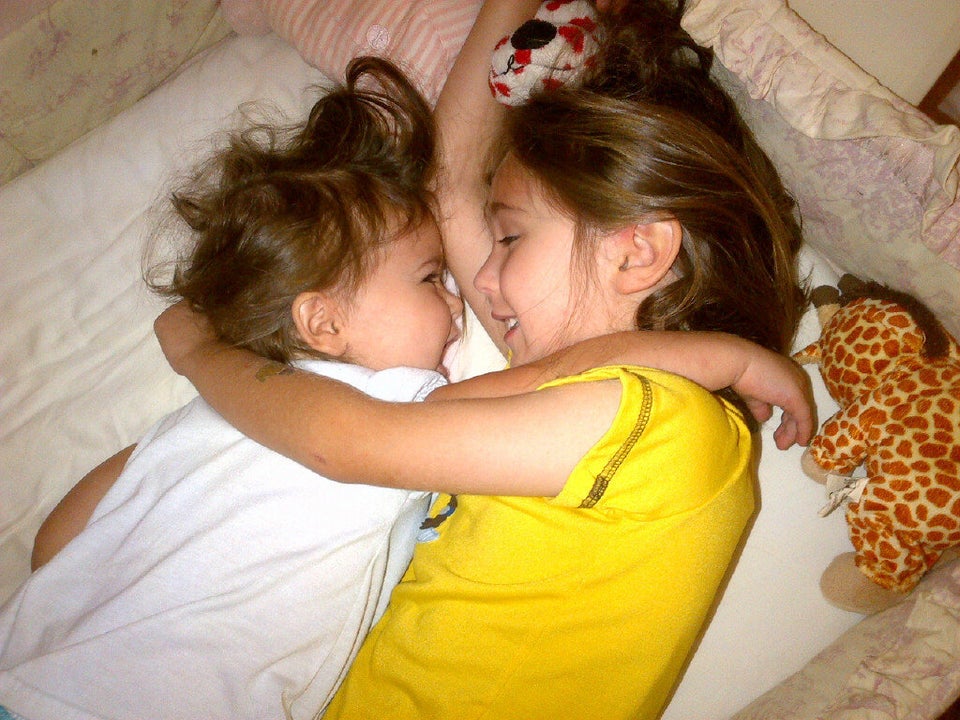 Love in One Photo
Related