Once again we turn to the cinematic mirror to see what we can use for living, particularly in this age of Grey Divorce's rising tide. That said, nothing written here is to be construed as advice or as a substitute for therapy though reaching out to a professional can help. This film opens in theaters in Los Angeles and New York, May 5.
'The Lovers' should be mandatory viewing for any silver fox or cougar contemplating an affair or in one.  For paramours who want more from their married lovers, this film could be painful yet informative. Shaken to their roots by middle life reassessments and realignments, our marrieds played by Debra Winger and Tracy Letts turn to other tormented souls, rather than turning to each other for comfort or into themselves for answers.
The experimental idealistic self needs to be revitalized especially in middle age. There must be other ways to grow and reclaim suppressed parts of self than to seek out sex with a new partner as if that is the 'answer.' As Leonard Cohen sang in Hallelujah, " I couldn't see, so I had to touch."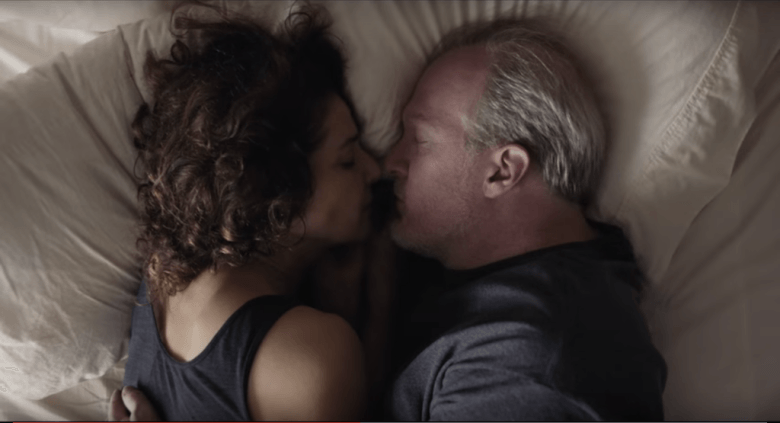 The cheaters look for their younger idealized self in another person, rather than awaken in themselves talents which lie dormant or repressed. In order to get on with the business of life, the "Heavy Lifting Years," it is common to let go of hobbies because of the inability to earn a reasonable living as a cultural creative. Time and energy are available again in the "Empty Nest Years."
The younger generation fend for themselves to sort out adult lives with role models who struggle with imperfection. Tyler Ross, the couple's son, is a graduate student falling in adult love with Jessica Sula. Ross is triangulated in his parents' trail of tears, defending Winger his mother, against Letts, his father. As befuddled as John Steinbeck characters in, 'The Grapes of Wrath,' we are reminded, "There ain't no sin and there ain't no virtue. There's just stuff people do."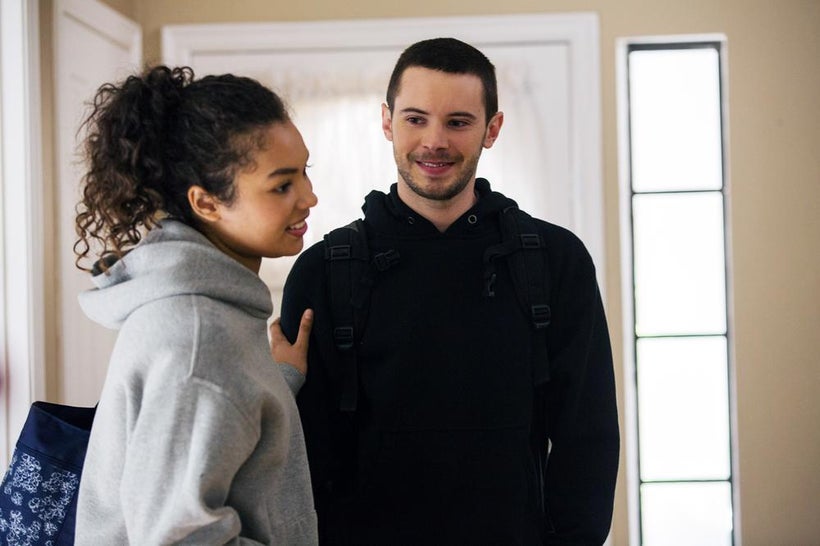 No matter how much Plan B is told a marriage has no pulse, chances are this is not true. Never underestimate the stability of a long term marriage. The couple's cue to wake up and appreciate the shelter of each other occurs in the aftermath of extramarital trysts. Watch how rich the spousal interactions become when the marrieds fight with their mistresses/gigolos.
The interloper knows that spouses have each other even as they take each other for granted. There is that dating question, "Does anyone else not consider you free." Friend and astute observer of storytelling tropes, songwriter, Annie Roboff called Debra Winger's new winner a Pina Colada romcom. Can this love survive marriage?
Affairs are jump starts or false starts. Finding in another person what you need to make peace with in yourself short circuits an important existential challenge of keeping a long term relationship vital by keeping oneself vital. Our protagonists externalize anguish rather than become introspective in a revolving door of fidelity and infidelity. What is unresolved will surely return.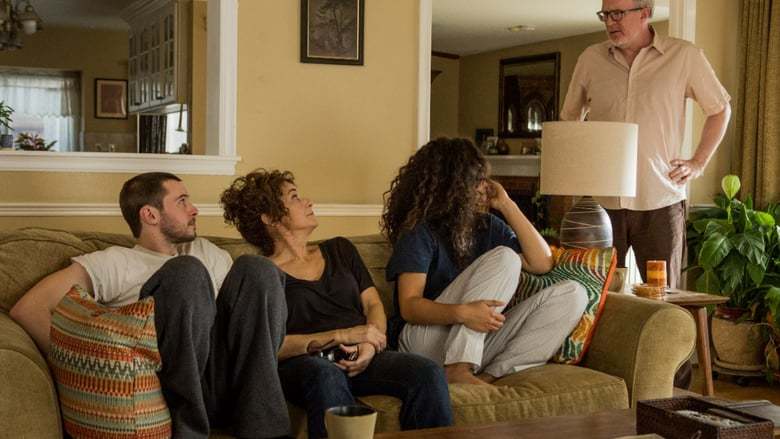 Debra Winger returns in her full, she who has been relatively absent from the screen both large and small. In 'Lovers,' Winger is radiant and natural, smoother than her guffawing co star played masterfully by Letts. From the son's perspective, Letts has historically been the perp and Winger to be pitied. True or not, mother proves she has game too. No side liner, conventional or underestimated, Winger is a maverick, even when distracted, a regal woman in her fullness.
Winger and Letts are trapped and comfortable in the daily quotidiens of life under management. Something is missing, apparently, as they are both otherwise engaged. The irony of lying to their respective side hustles is outrageous and cringe worthy.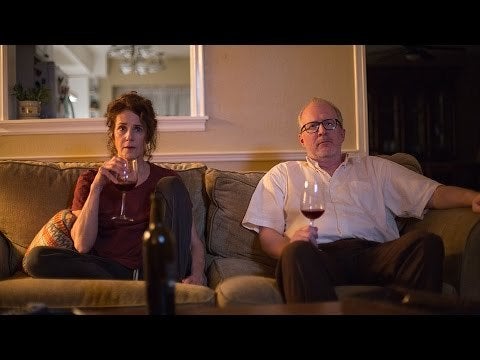 The cautionary tale to long term lovers is to keep courting, finding things to look forward to, as opposed to dreading. This could be simple as giving each other compliments, playing music and dancing in the kitchen, putting down devices giving each other full attention . This is what new lovers do.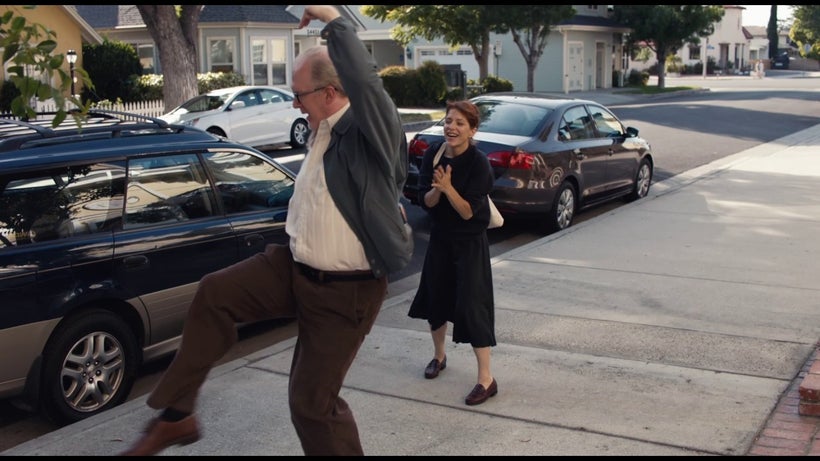 When lovers stop growing in their own right courting suffers. Loss of courting invites third parties in. Guilt turns up as incipient hostility displayed in flashes of anger. The danger is being caught in flagrante, creates the high alert of frustration, stewing without substantial changes. Tensions builds until the orgasmic release of tension is foreplay for make-up sex.
Intermingled with Letts' sly smirks are equally well-delivered grimaces. Flirting with disaster, informing Winger from behind a closed bathroom door of the need to replace the toothpaste with the faucet running to drown out the tap-tap of illicit texting is a zero sum game. Our protagonists are delightfully unreflective, or only hint at moments of self awareness when they are particularly upset and disregulated.
We meet this couple at an interesting pressure point. Both spouses have lovers who demand a deeper commitment. The timing must be specific for the unfolding to work. The hitched protest they 'can't' leave, or is it they 'won't.' Partial resolution of the issues keeps a defiant thread in the marriage going.
Letts 'other' is Melora Walters a ballet teacher, a hint of Glenn Close and Sharon Stone, in her 'boil the bunny' state of mind. A little of this drama goes a long way to feel foolish. Out of control, Walters is dangerous to play with. Creepy idolatry or welcome adoration, Walters has a larger than life portrait of Letts in her dining room as though she might eat him up alive. Highly triggered with partial resolution, Walters boiling point is the default emotional setting for the affair. Exhausting and exciting is the affair sustainable.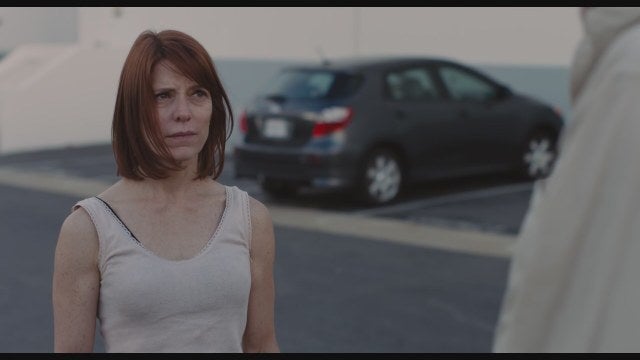 Walters calls Letts a 'coward," and she is right, they both are. Her idea of confrontation is destructive or is it constructive? She provokes another level of truth telling, clearly hard to stomach. What's the old saying? Whatever you spout off about another person is likely something you struggle with. In other words, it takes one to know one.
Winger's character is marginally more put together. Her workmate played so well by Lesley Fera is onto what these 'client' lunches and meetings are really about. Both Winger and Letts are cracking under the hypocritical nature of their deceit. They are both late to work, tired, distracted, and in need of EAP sessions. The paramours are also hot messes.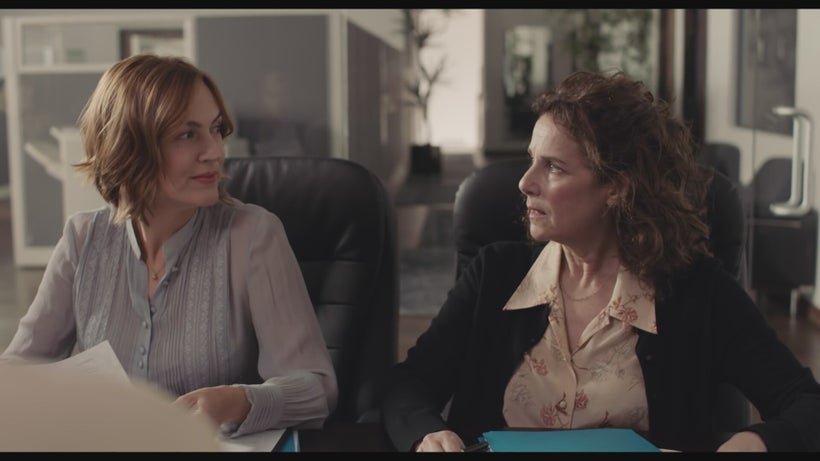 Much energy is expended for the married ones to serve and lie to two masters. No wonder our sullied heroes are drained. Winger, studied the cheater, or so the son thinks so. On the receiving end she learned well from her husband. Is it pay back time or did Winger allow Letts to think he was the guilty one? Does Winger use this knowledge to cover her own affairs? We are not told. All we know is the marrieds return to each other with gusto, despite the outs they have created for each other.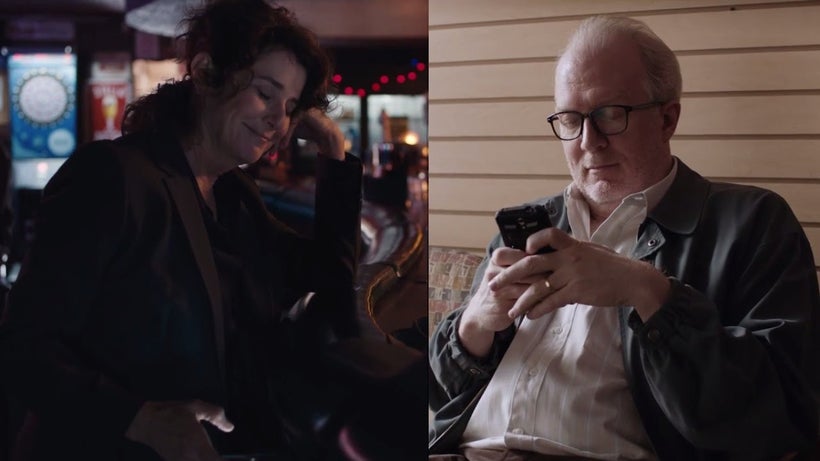 Are the affairs worth the energy for snippets of stolen pleasure? After viewing the film we discussed it over Happy Hour at Nava, a restaurant at SoHo House West Hollywood with a member eager to discuss the film. I experienced humor whereas all he saw was pain. He called the paramours borderline which I reminded him goes hand in hand with a narcissistic partner as Joan Lachskar, wrote about in, "The V-Spot: Healing Your Vulnerable Spot from Emotional Abuse." Amplified insecurities returns focus to the couple who are brought back to life by conflict.
Triggered emotions equals feeling more alive. Affairs could be seen as disruptive technology for our couple in their redemptive/reconciliation phase. Why are they cavalier about what they have?
Home became so sanitized and predictable without the artistic soul in play, home represents deadness. Self expression is not about earning a living which our protagonists do well. Winger's guy Aidan Gillen resembles a younger tortured Richard Gere figuring out how to earn his daily bread and who knows, may think of Winger as his future meal ticket. She falls asleep while he is reading out loud from his fresh out of writer's block new missive after a night of torrid sex with Letts. When poked awake, on Winger's lips is something mumbled, like Dorothy in The Wizard of Oz, "There's no place like home."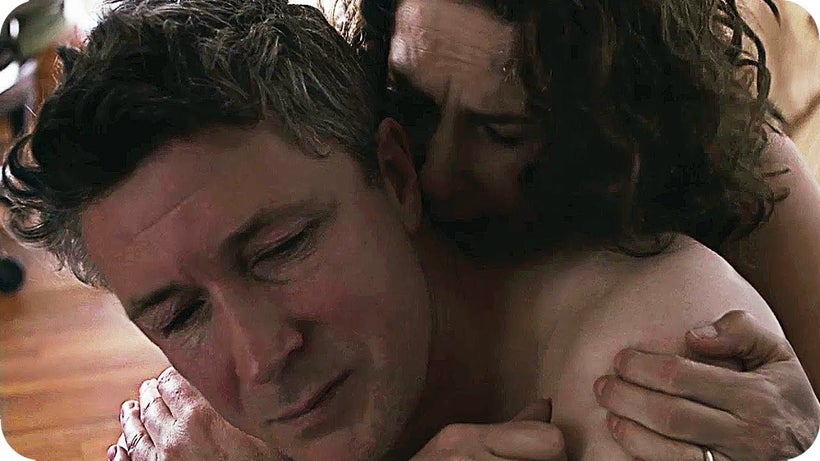 Predictable, or life-like, are our protagonists stuck or rooted? 'Lovers' takes a few unsuspecting turns. At one point are Winger and Letts spring cleaning or conscious uncoupling, quite calm as they divide their household goods? Are they shedding an old life, shoring up the manifestation of their younger selves in the crash pad apartments of their lovers, or starting fresh coming back around the long way to each other?

We all know the good times can not go on forever, or can they? Not all bad news is all bad. Simple pleasures are best with the people you know and trust most. These may be some of the enigmatic lessons of this entertaining and compelling film.
REAL LIFE. REAL NEWS. REAL VOICES.
Help us tell more of the stories that matter from voices that too often remain unheard.
This post was published on the now-closed HuffPost Contributor platform. Contributors control their own work and posted freely to our site. If you need to flag this entry as abusive,
send us an email
.