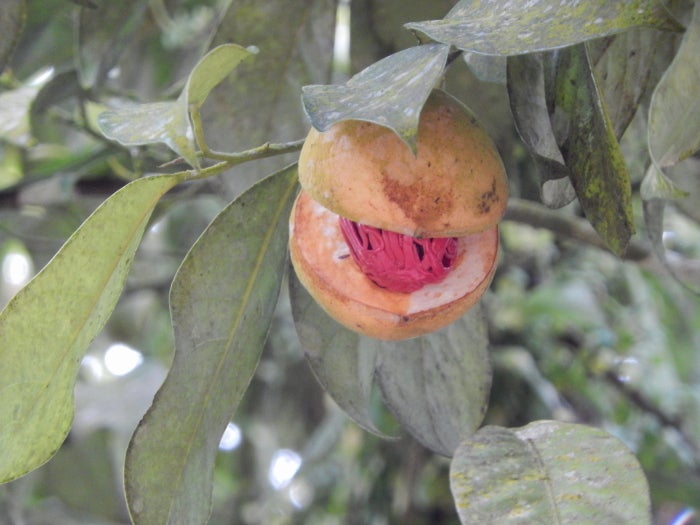 In researching shore activities while disembarked for the day from the small luxury cruise ship who shall remain unnamed, we were encouraged by various Caribbean Island travel forums that Grenada had a particularly good public bus system. It could not have been more enjoyable or easy way to visit the Grand Etang Rain Forest with several excellent hikes, a number including water falls and fresh water pools for swimming.
The bus station in Fort George was a short walk from the docks. Three connections under $20 (including tips) was all it took for this scenic adventure. Bus tenders wore purple and white striped polo shirts and personally led us to the correct bus, really a maxi taxi with a defined route. Do heed the advice to only ride with vehicles with license plates starting with an 'H,' for Hack.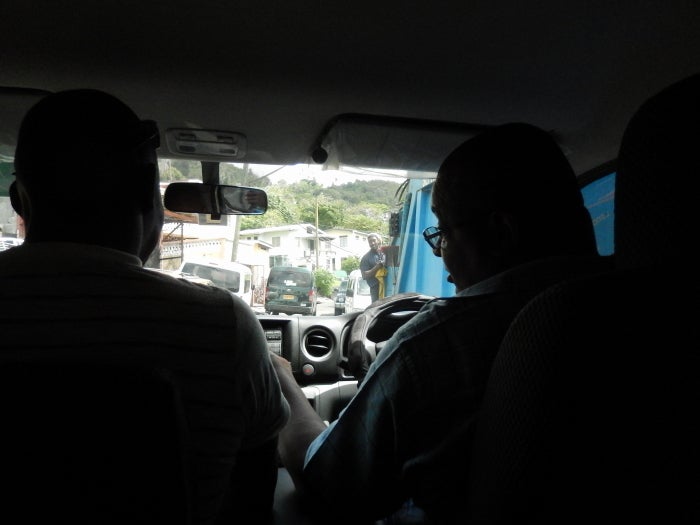 Our foray consisted of a loop into the Grand Etang that runs the spine of 'The Spice Isle,' a jaunt across to the Atlantic beach side and then down coastal route, which took about 6 hours. Patience and a "low key roll," helped. This attitude was advocated by our rain forest guide, Andrew, who we encountered later, as every available seat must be filled at major embarkation sites which in total added about 90 minutes of travel time, waiting, and seated. But no mind on the #6, as I was immediately enamored to be greeted by Patti Smith on the radio thanks to the local radio station 107.5. Her rendition of "Because the Night" was followed up with Nina Simone's "Ne Me Quitte Pas," and the John Holt reggae version of, "If I Was A Carpenter." Tears of joy were shed climbing the luminous hills in an orderly, soulful and utterly foreign way of transporting myself.
Bus #6 North to Grand Etang Forest Reserve from the Main Bus Depot in Fort George, Grenada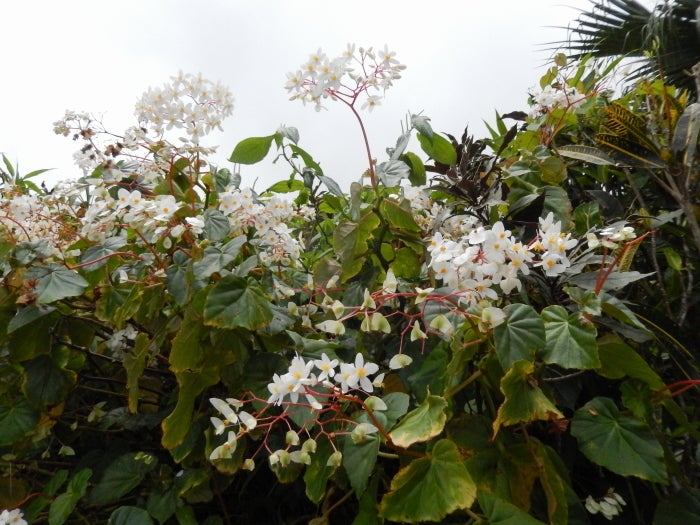 There are several hikes to choose from in varying degrees of difficulty and length ranging from one to three hours. We chose St. Margaret Falls, one of the famed 7 Sisters which make the island of Grenada a hiker's paradise.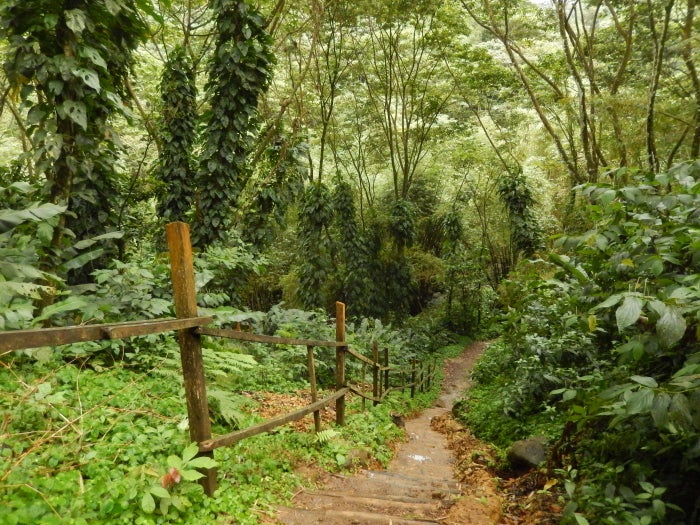 We were implored to take walking sticks provided by our young guide, Andrew, relatively new to the profession. "They are not only for the elderly," explained Lenox, a more senior guide, to protect one's knees and hips. As a self-proclaimed hot springs fanatic it came to my attention that Grenada has a number of minimally developed hot springs.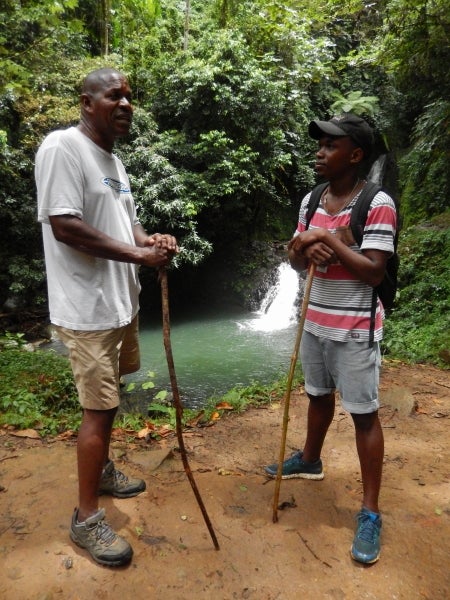 After a leisurely hike and refreshing swim, despite a downpour along the way, reapplication of bug spray and suntan lotion was a must. We choose the most eco-friendly varieties.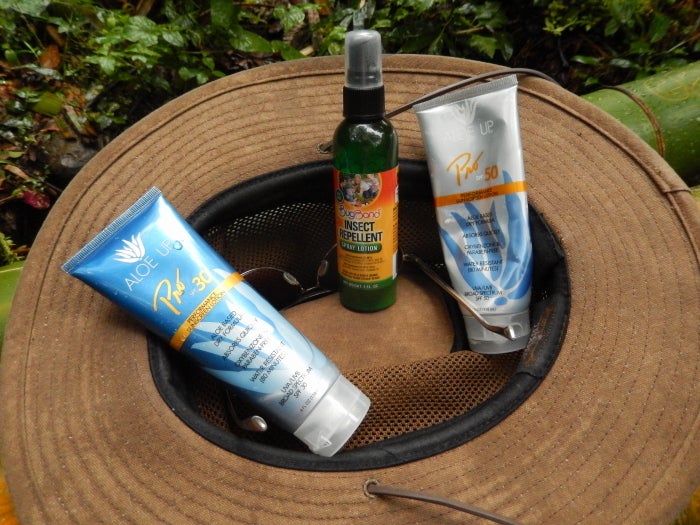 Bus #9 from Birch Grove to Grenville
Rather than feeling sorry for ourselves, wishing we had our canes hoofing it to the town of Birch Grove to catch the next bus, we foraged a couple of broken bamboos sticks readily available alongside the road. An elderly man hacking in his garden summoned to us, while great radio emanated a funky Afro-Caribe beat from his house. He macheted off the scraggly parts of the sticks. Our hands thanked him.
Waiting for our caravan by a babbling stream with two local women they struck up an impromptu acapella song of gratitude and in a few minutes the bus appeared. Other passengers, all of whom were acquaintances, were picked up at their doorstep. Reminiscences about grandmothers' knowledge of walking routes up the sides of the hills no longer doable because of development was discussed in the context of the rate hike. People talked and interacted though a few of the younger ones were engrossed in their smart phones head phones on just like home.
Bus drivers work in concert with an on board helper by the door who took fares, assisted with passengers' cargo, as well as hand off as few as two coconuts to a local cafe, as the narrow roads with hairpin turns must be carefully navigated.
Bus #2 Grenville to La Sagesse Beach to Carenage, via Fort George
Our helper from #9 escorted us by foot during his break to the exact place to catch the #2. There were a number of times we were tempted to hop off and take a taxi to the La Sagesse beach known as a safe eco-touristic hub. Instead we got to see the life of the island from an insider's perspective. School children in their crisp uniforms were dismissed, which is a time for important social connections to be made. I also would have missed the sweet subtle flirtations between my bus mate and the driver as she quietly sang along to the radio.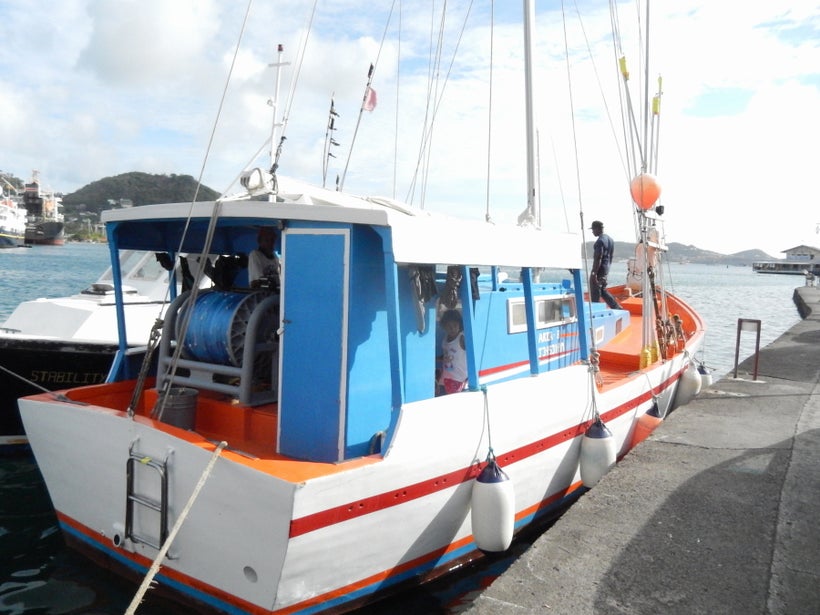 The #2 bus dropped us off in the historic malecon section, the Carenage, where we encountered the, "Agriculture Store," busy bagging up of culinary corn seeds for sale.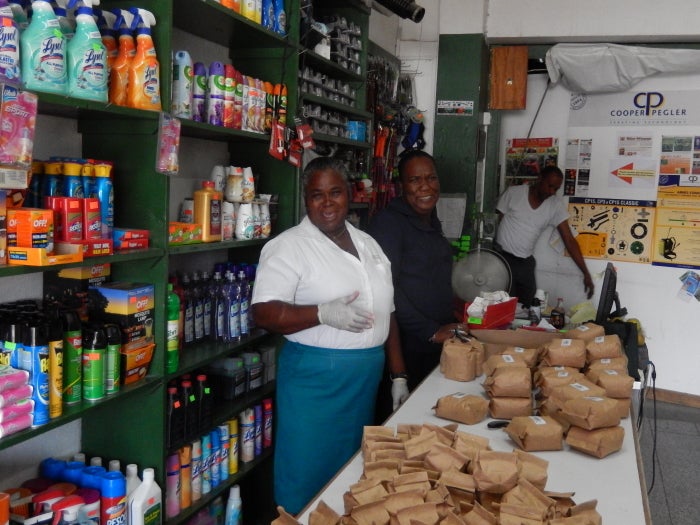 A little further down the road the second floor Nutmeg Restaurant with its large opened windows beckoned with toothsome smells emanating from the kitchen above. We opted out having timed our return for a barbecue dinner to be served on deck. Instead we conversed with bartender Kelvin Ross who told us of his new venture propagating grapes and berries on land once owned by his grandfather.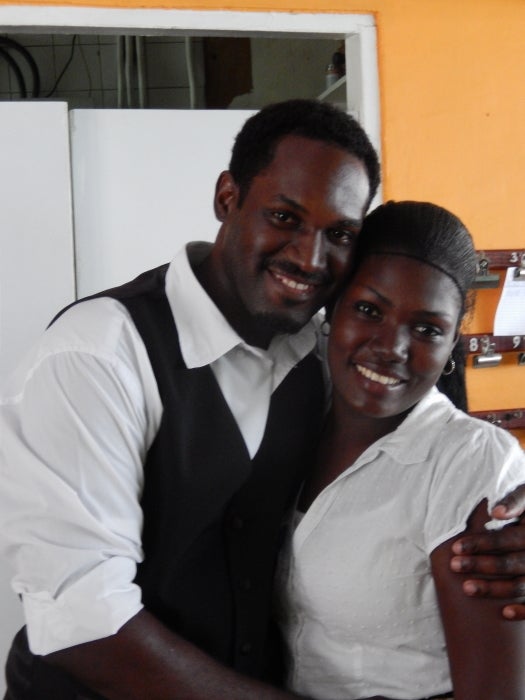 We found the central market shutting down for the day though there were still vendors plying the shells of gourds filled with local spice packets to take home. Through the seal the aromas of curry, ginger and cinnamon were strong and delectable. We could easily stay another week with plenty to do. Not having eaten lunch turns was an excellent choice given the ship's fabulous spread. Asleep before the ship left dock, we know what this means. We would be up for another round of stargazing before dawn, this time with a visit to the bridge.
REAL LIFE. REAL NEWS. REAL VOICES.
Help us tell more of the stories that matter from voices that too often remain unheard.
This post was published on the now-closed HuffPost Contributor platform. Contributors control their own work and posted freely to our site. If you need to flag this entry as abusive,
send us an email
.