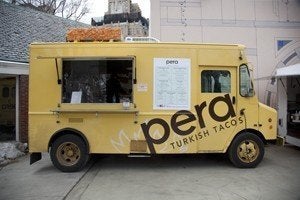 Proving that almost any type of cuisine can be served in taco form, Turkish tacos are the push behind Pera, a spin-off from a Midtown restaurant. Packed full of exotic spices and seasonings, these unusual tacos have been one of the most positively reviewed food-truck items on NYC's streets since they appeared in late 2010.
The Menu: For the price, these tacos are tiny. They are about the size of a tube of toothpaste, and you can finish one off in about four bites. In your choice of shell, there is lavash bread or zucchini pancake. The lavash is rather thin and light, while the zucchini pancake is thicker and more filling. Note: The original price of the tacos was $3.50, but jumped to $4.50 in 2011. Oddly, if you order them as a meal with a side ($9), it is more expensive to buy the same two items individually. However, these tacos are probably some of the most flavorful among the city's many taco trucks. The spicy shrimp with sumac and onions is truly spicy, while the smoked lamb and lavender-and-honey-roasted chicken are both undeniably savory. Sides include three flavors of hummus served with pita chips, rice and beans, Mediterranean fries, whipped eggplant and olive oil green beans.
Desserts: Pistachio baklava, rice pudding with cinnamon
Drinks: Turkish coffee, hot teas and the regular bottles of water and soda
Coverage: Pera's truck sticks mostly to the Tavern on the Green Food Court in Central Park, on the weekends only, unless there is an event going on, and if not, they are usually somewhere nearby. There is also a brick and mortar restaurant at 303 Madison Ave., at 41st Street.
To Call Your Order Ahead: 212-203-1379
Related
Popular in the Community