I recently went through a full year of pessimism.... between cancer, hospital admissions and thoughts crowded by death, I've simply had it with all things negative. Whether you're going through hell on a personal level or just watching our world fall into the traps of the terrorists and political turmoil, I'm sure you've not only experienced it, but are tired of it too.
The question is, how does one get out of this media-frenzied negative rut? Where I tend to find hope and positivity in this world is through music. I know I'm not alone in this society of ear-bud paradise inhabitants. It seems so very easy to find love and light through the likes of Spotify, Pandora and the entire Internet. Utopian moments are available at just one click...
One of my personal go-to sources of peace throughout the years has been the brilliantly gifted songwriter, Chris Trapper.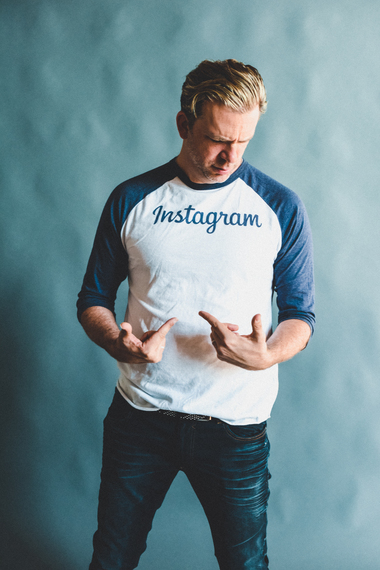 (photo credit: Emma Meyer)
Five years ago, I met a man through online dating. For our first date he suggested a concert seeing as we both considered ourselves music snobs. I was pleased and definitely knew the headliner, Colin Hay. But his opening act? Never heard of him... Little did I know that this date would lead me to music that would become an intricate part of the fight for my life. I became a super fan in an instant. His calm demeanor, kind eyes and funny tales from the other side of the mic seamlessly fuses with a lyrical style that is most empathetically engaging. It's almost as if listening to him has the power to take you away in a singular breath.
Chris Trapper is brightness personified. His music has been featured in huge films such as, "There's Something About Mary," "August Rush," and shows such as "ER" and "Malcolm in the Middle." With Grammy nominations and large scale touring fame, Chris is a man that has mitigated his ego by ensuring that his life is consistently rooted in fans and family with a true optimistic view of reality.
To hear his story peppered with a sanguine outlook is a gift. Last week I had the opportunity to sit down with Chris before his show at one of Denver's best spots for live music, The Soiled Dove.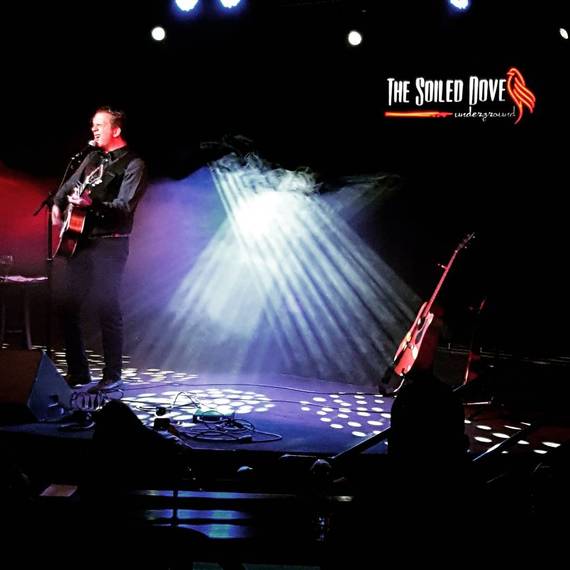 His show was just what the doctor ordered and then some. Every tune is just the tip of the iceberg. His words share a story that is best filtered through his warm-hearted vocals. The story behind the story? Chris tells it best in his own words:

I never thought I'd be where I am today. For me, it's always been realistic to think that this might not last. But here I am, with fans that have been with my two decades or more from an industry that is constantly changing and still doing what I love. In this world, you can write your own story. A lot of musicians look outside for endorsements from labels and industry execs and other big names, but I have always focused on my fans, as they have become the impetus for all the actions that have happened in my career. Well, them and my family.
My parents have been one of, if not the biggest influence in my life. They were very big dreamers, idealists and loved songwriters. They were also major alcoholics from the day I was born until they both passed. They were drunk everyday. Of course it added to the family dysfunction but it all comes out in my art and the writing process. It's a mixed bag. You have the pain, addiction and it's all mixed with the joy and laughter and everything else. Music was a huge part of our family and still is. My parents have been in a lot of my songs and part of the content for years and still are to this day. As a matter of fact, my parents were borderline groupie-ish to songwriters. So they always encouraged me to do what I loved. Had I gone to them when I was 19 or 20 years old and told them I wanted to go to medical school or be a lawyer, they probably would have given me thumbs down and asked why? When I said I wanted to be a songwriter, they welcomed the idea. My mom would have me lip-sync to Tom Jones when I was six years old for my aunts and uncles when they would come over. I would pretend to sing into a hairbrush for nickels. When I became a musician, I wasn't being rebellious, it was just who I was and was a part of my family.
My dad was the biggest part of my inspiration to be who I am today. I think I got my work ethic from him. I remember him waking up every morning, even when he was in his 50's and 60's, at six-thirty to shave and get ready for a job he didn't necessarily love. He had a very minimal sales job and was more of a working class salesman but always told me that he had no choice. He would say, I have six kids and I did what I had to do to make a living. He couldn't necessarily pursue his dreams and goals. He was also fiercely loyal to my mom. She could be very temperamental. She could go from the most joyful person in the world to the most challenging person. She would make major waves in her family of origin and our family but my dad always stood by her. He was just a very good example of what being a man and a good humble person was all about.
But, he always encouraged me to do what I loved, even if he couldn't. I played music in college and kind of quit after college was finished. I was about 27 years old and had been working a "real job." I was a purchaser at a hotel in Boston. My dad called me one day at work and asked why I was still working there...and then he asked if I was still writing songs every day. I told him that I was still writing constantly. He suggested in that moment that I try to make a living at it. I had one of those moments...where I thought, you know what? I'm 27, I come to a job I feel passionless about, so why not take a shot? There was an open mic night across the street from my job. I played a few songs and got a very good immediate response. Next thing I know, the host asked me to play the next night as the feature. I got paid in tips...I just remember that 50 dollars hitting my hand and thinking that maybe I could get paid to sing. Since then I've been finding ways to monetize my passion and my art. Because of that job, I have an appreciation for the fact that the absolute worst day at my "job" as a musician is better than the best day at most "real" jobs. I can see fans and truly be appreciative of them for coming out of the basement of their buildings and leaving their offices to come see me. I really feel blessed to do what I do. Of course sometimes I wish I could do this at a higher level and do more business but I have a lot of faith that this will all come in time.
Last year, right after my dad died, I had to play in Denver. It was two days after his death and I just remember that singing for me gave me this feeling of alleviation from grieving over him. As I drove to Oklahoma the next day, which became my time to really grieve, I played one song on repeat in the car that made me think of him, and then I would play his old voicemails over and over. Water works. I cried the whole drive. It was beautiful and just what I needed. The creative process just became more. The more I could pour the negative grief into something joyful knowing that it was a big part of who he was, helps. I can feel him when I sing, when I am on stage. I don't see anything in life as exclusive; it's all a full circle that gets intertwined.
You have to love this life and all the different aspects of this business to succeed. You have to love composing and writing and singing live. This love has to go along with having a passion for driving the road and rest stops and meeting new people in different cities everyday. But the business is changing. It's always changing. The only thing that doesn't change is your fans. You should never look past anyone in your life or in your fans. They are your connections and your success.
I think life brings people to you when you need them. I guess you could call me a cockeyed optimist in this way. I've always felt that you'll go through things you don't necessarily understand and have things come at you that you might not see coming. It's good to have mentors because of this. My mentor and one of my heroes is Colin Hay. I met Colin at a folk festival in Edmonton. At the time I was looking for a mentor to aspire to be like and keep going as a solo artist. We were so very similar in our shtick. He was funny, self-deprecating and I had never really been exposed to another artist like that. I loved the way he treated his fans and asked him if I could do a couple of shows with him. Those few shows turned into two years of shows. Colin's a good guy...a very humble and approachable man that treats everyone the same. It doesn't matter to him if you're a janitor or the head of Sony. I wanted to be more like that and now I look to him as a mentor in how to mature gracefully in this business.
I still feel very optimistic about what I do and that I'm very lucky to do what I do everyday. It's just that now I have more pressure as I have two kids to put through college and a family. Despite everything being driven by the masses and money and ratings, I still feel a sense of accomplishment that I bring a song down to Earth that never existed before and play it for you.
Chris Trapper can be found engaging audiences not only on tour, but also through his light-hearted banter and witty views on Facebook, Twitter and his website. I hope you'll support the good guys that are trying to change this world, one tune at a time.
Calling all HuffPost superfans!
Sign up for membership to become a founding member and help shape HuffPost's next chapter