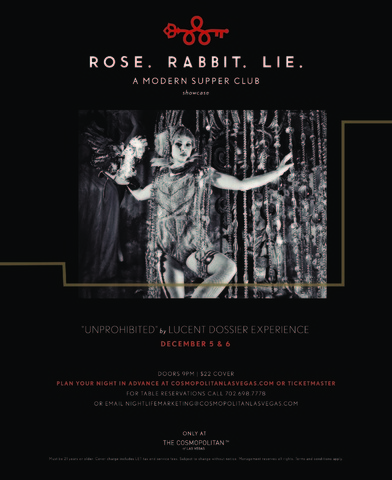 Running away to join the circus has become much more enticing since the emergence of electro-cirque tribe, The Lucent Dossier Experience. Combining a neo-tribal, steam punk aesthetic with orchestral electronic music creates a rich and textured palette for your senses. Though not your traditional circus, there are many elements that still pay homage to their striped-tent predecessors. Trapeze artists, stilt-walkers, clowns, jugglers, contortionists, a sword-swallower, a snake charmer, and even a bearded lady, have all populated Lucent Dossier's many stages. Described by LA Weekly as a "world that doesn't exist, a place where the future and past happen simultaneously," The Lucent Dossier Experience hosts an array of unique performance acts such as burlesque, ballet, and fire dancers, aerial silks, lyra, and oh so many more. They have even created a one of a kind aerial crescent moon and a mechanical lotus flower, taking the audience on a journey through Alice's post-apocalyptic Wonderland.
Now in its 10th year, this multifaceted showcase is as much of a musical indulgence as it is a visual indulgence. Onlookers are swathed in dreamlike sounds that vibrate your innards as much as they caress your soul. The musicians in this troupe range from electronic producers to instrumentalists, making the music so alive that it grabs you. With drums, guitar, bass, sitar, hang, percussion, and more, these world-renowned musicians add a full, orchestral component to the gut-throbbing bass music. Combining this audio adventure with an ocular orgasm is what makes The Lucent Dossier Experience a multi-dimensional journey that cannot be missed.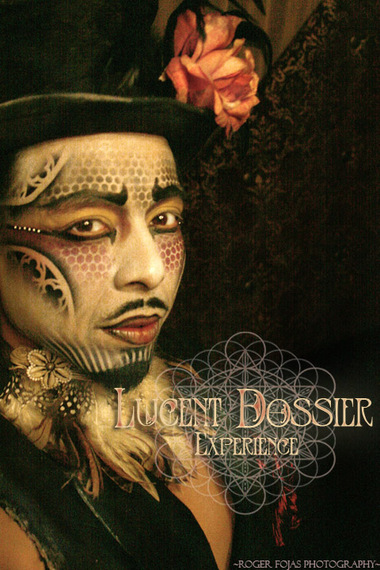 One of The Lucent Dossier's most iconic elements is their costume and makeup design. Donning otherworldly apparel often made from recycled materials and found objects, they have started a fashion revolution which is often represented in the music festival and Burning Man scenes. Objects like bones, feathers, teeth, gems and flowers are paired with tactile items such as leather, fur, silks, and metal. The image these pairings create is one that is gossamer, tribal, theatrical and timeless. They have created their own era in their own plane of existence. By airbrushing intricate designs on their faces and bodies, they appear as creatures from a different realm, like someone Alice might encounter on the other side of her looking glass. Embellished accessories from wig to toe-shoe show that no speck of glitter goes unappreciated. The attention to detail in wardrobe and makeup is not just exciting for the audience, but also for the performers as each one of them is a living work of art.
So, what better place to feast on a sensual buffet than Las Vegas? Hosting a sold-out show during their last Vegas appearance, The Lucent Dossier Experience will be returning to Sin City for two nights at Rose. Rabbit. Lie. in the Cosmopolitan on Friday, December 5th and Saturday, December 6th. The lush Rose. Rabbit. Lie. is the perfect facilitator for the spectacular because of its vaudevillian ambiance and playful atmosphere. The Lucent Dossier Experience is just that, an experience. It is a transformative odyssey that takes you on a fantastical ride, shapes your perspectives, and gyrates your soul. To watch them is to be apart of them. To hear them is to feel them. Be the light and join the experience.
Event Details
Date: Friday 12/5 & Saturday 12/6, 2014
Location: Rose. Rabbit. Lie - The Cosmopolitan, Las Vegas
3708 Las Vegas Boulevard South
Las Vegas, NV 89109
Doors: 9:00 PM
21+ event
Event Page
REAL LIFE. REAL NEWS. REAL VOICES.
Help us tell more of the stories that matter from voices that too often remain unheard.