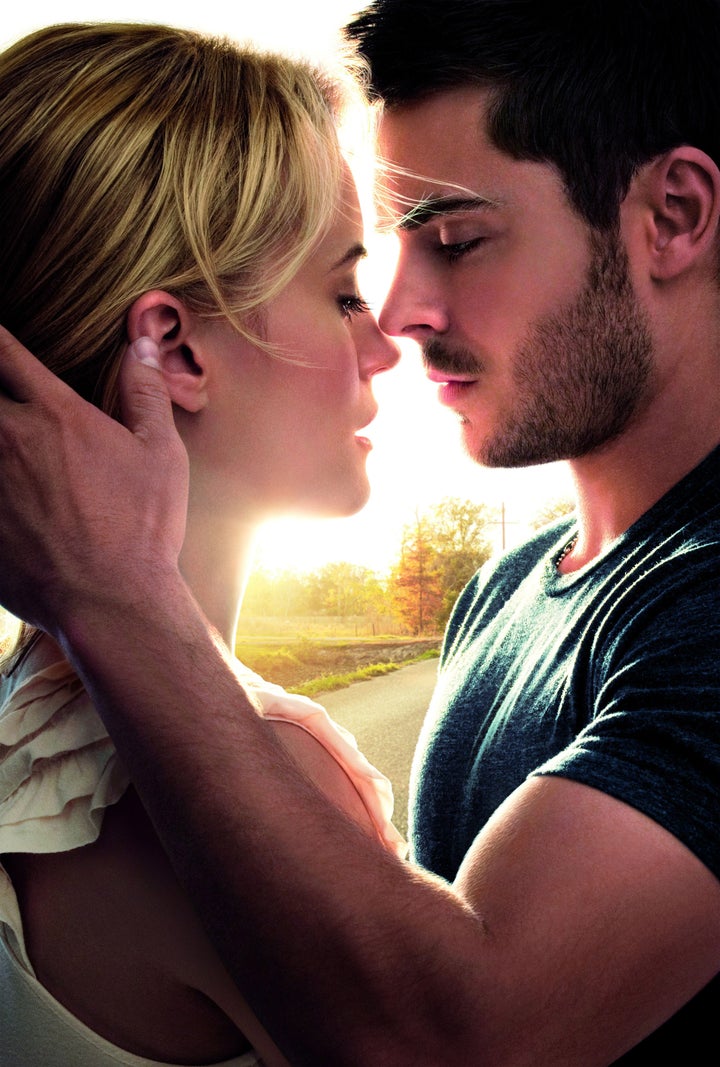 Nicholas Sparks really knows how to write a love story. Some might even say that he's mastered the art.
In a little more than a decade, he's managed to create his own recipe for the perfect romance, so much so that the best-selling author has already seen seven of this novels turn into hit movies, including "A Walk to Remember" and "The Notebook."
His latest film adaptation, "The Lucky One," follows Sparks' recipe perfectly, starting with his first ingredient: A ridiculously attractive leading man.
In 2004, a practically unknown Ryan Gosling starred in Sparks' "The Notebook" and captured the hearts of young women everywhere with one rain-soaked kiss. Not only is the film now a Valentine's Day essential, but Gosling is one of Hollywood's most in-demand leading men. Then, in 2010, a young Channing Tatum starred in "Dear John" before launching into total superstardom with leading roles in "The Vow" and "21 Jump Street."
"We've been pretty fortunate with our casting," Sparks told HuffPost Entertainment. "I always want young actors with great emotional depth. That's essential. I wish I could say that it was these movies that launched their careers, but they're all just good actors. We were lucky that we found them."
"Zac was the perfect choice," Sparks said. "We were looking for someone who was the right age. If you're not an officer, you're 18 to 25 ... We also wanted someone who had already been in front of a camera because Logan was a tough role to play. It took a lot of depth. [...] Zac just seemed most suited for the role. He worked so hard at it too. He put on 20 pounds of muscle, and he worked out for three hours a day. It wasn't easy."
After adding the perfect leading man, every Sparks' novel-turned-film needs a dash of drama. In "The Lucky One," Logan returns to North Carolina after his third tour of duty in Iraq, with the one thing he credits with keeping him alive -- a photograph he found of a woman he does not even know. Upon his return to the U.S., Logan is also struggling with post-traumatic stress disorder.
Stepping into the shoes of an emotionally distressed Marine may not have been an easy road for Efron, but for Sparks, Marine culture was something that he grew up with up in North Carolina.
"My father-in-law was a Marine, and I grew up near two Marine bases, so I didn't have to do too much research as to what kind of people they were," he said. "They were my neighbors. I talked to a lot of them after they got back from deployment to see how much being deployed affected them. For some, it affected them a lot, and for others, depending on how much they went through, not so much. Of course, with each deployment, it affects you more and more. That's where Logan's story picks up because he's been deployed three times, and now he's out. How does he move on in his life?"
Of course, with the perfect leading man and the right amount of drama established, Sparks adds another important ingredient -- the equally-as-attractive leading lady. In this case, it was relative newcomer Taylor Schilling who snagged the part of Beth, the woman in Logan's lucky picture.
"We were looking for an actress who had great chemistry with Zac," Sparks said. "It's something that you just know when you see it. It was was the same thing when Rachel [McAdams] did her audition, and I was like, 'Oh there's Allie.' Taylor just had perfect chemistry with Zac, and I was like, 'She's perfect! That's her.'"
So with the attractive protagonists in place, now Sparks develops their everlasting love story. He adds a pinch of pleasure (lip locks, stolen glances and one long-overdue sex scene), a dash of suspense (will they end up together?) and finally, a bit of happiness (that final kiss).
Sounds delicious, right? Well, when it comes to crafting a love story, sometimes the endings aren't so sweet, and the perfect love story doesn't always end in everlasting love. However, if everlasting love is the intended outcome, as a precaution, don't add any teenagers to the mix.
"I write real, romantic drama, not romantic fantasy," Sparks said. "I'm not putting down 'Twilight' because that is a romantic fantasy novel, but you can't write about everlasting love if it hasn't lasted. It can be a deep love, it can be a real love, it can be true love, it can be a passionate love, but it can't be everlasting because it hasn't lasted. Noah and Allie in 'The Notebook' have an everlasting love. But that doesn't mean it's not real. [...] Jamie and Landon in 'A Walk to Remember' is a powerful, true love, but I wouldn't say it was everlasting."
So what about the love between Logan and Beth? Unfortunately, Sparks won't reveal that ending just yet. It looks like fans will just have to taste that one for themselves when "The Lucky One" hits theaters on April 20.
Sparks is currently casting for his next film adaptation, "Safe Haven." He hopes to begin shooting the film at the end of May. He's also finishing up the script on his next adaptation, "The Best of Me."
The best-selling author is also organizing a fundraising weekend in New Bern, North Carolina for the weekend of April 20, where Sparks will hold fundraising events and screen the film for the attendees. All proceeds will go to various charities, including the Wounded Warriors Project.
PHOTOS: Other Book-to-Film Adaptations
PHOTO GALLERY
Books To Movies (CLONED)
Calling all HuffPost superfans!
Sign up for membership to become a founding member and help shape HuffPost's next chapter
BEFORE YOU GO