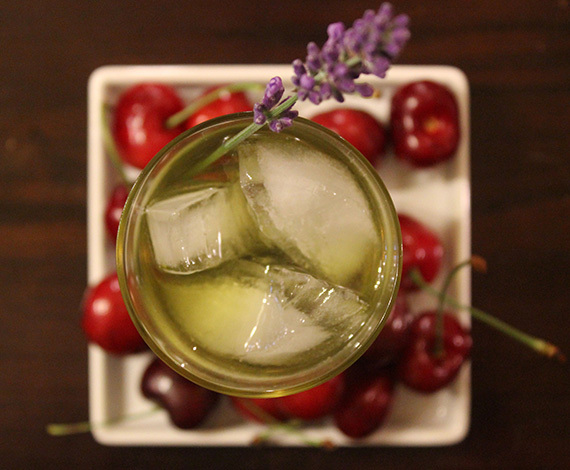 With Father's Day approaching, you may be planning a brunch or dinner tribute to that special head of the family. A beverage or two might be in order. And while a title like The Lullaby might seem more destined for Mother's Day, it is true that fathers sing and tell stories and rock their kids to sleep. A few of these mighty beverages and you might be able to rock you father to sleep, too.
The origins of this drink? A new restaurant and a new bourbon!
In the West Village of New York City, Chef Kurt Gutenbrunner has that new restaurant, the Upholstery Shop, to go with his already outstanding Wallse, Café Sabarsky and Blaue Gans. On stage at the Upholstery Shop is mixologist Cody Goldstein who has fashioned this combination of bourbon and lavender.
And the bourbon. It's not actually new, but it is different. Surely you have seen bottles of Maker's Mark on the shelves of bars and cocktail establishments around the country, if not the world. Maker's is truly great. But the Maker's team wanted to be greater, so they have fashioned a new bourbon Maker's Mark 46, one that has more caramel and vanilla flavor but reduced bitterness -- that aftertaste that we have come to expect from a bourbon. If you taste test regular Makers and Makers Mark 46 you will instantly note the difference.
The story of how they turn regular Makers Mark into Makers Mark 46, for that is exactly what they do, transform one into the other, well that story involves searing wood and extra aging to achieve what they call "a crescendo of flavor." Here's a link to the whole story that you may enjoy.
If you pass on the story, you should not pass on the Makers Mark 46.
This cocktail combines two very distinctive flavors: bourbon and lavender. Distinctive but similar in terms of mouth reaction: you nose and palate instantly relate to scents and intensity of these ingredients.
Mixologists, like Cody, are very talented and special people, akin to those experts who create perfumes. So, when I made this cocktail, I did follow his proportions exactly. I will admit to being a flavor addict with a dull nose, so on the second pass, I doubled the relative proportion of lavender syrup to pick up more of the lavender notes. I'm a beverage drinker, not a mixologist, and my nose is far less sensitive than Cody's.
This cocktail offers exceptional flavor. Try Cody's proportions and adjust as you see fit. One major, big side benefit here is the lavender syrup idea. It presents a lovely delicate flavor. You can use the syrup with some Cava or Prosecco to begin your Father's Day Brunch. Then hit Dad with the bourbon. Maker's Mark 46, of course.
Ah, Cody's recipe calls for using a giant 2-inch ice cube for visual effect. My 2-inch ice cube tray was in the dishwasher so I went with standard cubes. But I did garnish with the lavender flower. The green color of the cocktail comes from the Peppermint Bitters. If your bottle has been sitting on the shelf, be sure to shake it vigorously to mix the color appropriately.
For full disclosure, I was contacted by a PR firm with this recipe and asked to test it and blog it if worthy. It's most worthy. I did not receive any compensation for this, but I was given a bottle of Maker's Mark 46 to do the testing. I plan on further testing with the remainder of the bottle.
For many more cocktails, recipes and cookbook reviews, please visit Suzi's Blog at www.cookingbythebook.com. While you are there, you can learn how we use the kitchen for culinary teambuilding.
1 cup of water
2 tablespoons of lavender flowers
1 cup of sugar
½ ounce lavender syrup
2 ounces Maker's Mark 46
3 dashes peppermint bitters
Fresh lavender for garnish
2 inch ice cube, if available
Cherries on the side for a nipple, optional
In a mixing glass with ice add Makers 46, lavender syrup, peppermint bitter and stir. Strain into a rocks glass with a 2 inch ice-cube. Garnish with fresh lavender.
Source: Cody Goldstein from the Upholstery Store, NYC