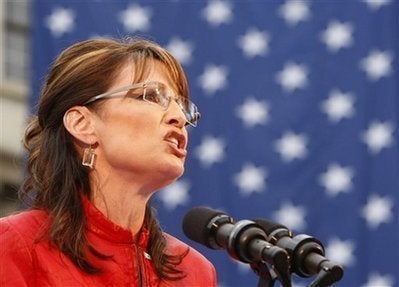 Let us for a moment consider "The Palin Effect": a woman clearly ill-equipped for the task of high office still manages to reinvigorate a Presidential ticket. She is any thoughtful moderate's worst nightmare, and an insult to any female voter who believes in a woman's right to choose. She lies in public, and may be thoroughly corrupt in private. Why then has she made such an impression?
First, she gets attention precisely because she is so unlikely a candidate, and therefore extremely polarizing: the Dems can't believe she's on the national stage (it clearly caught them off-guard), and the GOP sees her as their secret weapon, their proof of change. Hey, if the professionals can botch up government so badly, let's give it to the amateurs. See what they can do.
To be sure, appearances count in the GOP, since reality is no friend. Sarah projects the unlikely dream of a normal American girl: to go from Alaska Beauty Queen to Hockey Mom to Mayor to Governor to Vice-President and then, who knows? The lady gives off a quality that used to be called "spunk"- a combination of confidence, toughness, and charm that wins over voters, even when a track record commensurate with the office she seeks is lacking. Right or wrong, many Americans like the fact that Sarah dares to be strong.
The same phenomenon represents a recurring theme in film. Over the years, movies built on strong female characters have consistently entertained and inspired us. Instinctively, we root for these characters as we do for all non-conformists. These are women who confront head-on those ingrained roles which only gradually have faded from society-whether it's being judged by the man you marry, the conflict between motherhood and competing in a male-dominated world, or the lopsided moral burden placed on a lady to maintain her "virtue". To navigate these thorny obstacles, a woman must be resolute, independent, and smart.
Take the larger-than-life example of Mae West. In the timeless "I'm No Angel" (1933), she plays a blatantly sexual, flamboyant lion tamer named Mira who happily conquers men, displaying their framed likenesses like so many trophies. She is unafraid and unashamed of who she is, knows her assets and how to use them. At the same time, she is decent to anyone who shows her a modicum of respect. When a young Cary Grant appears to warn her away from a smitten friend, he too falls under her spell. But we see that it's not just her ample curves that attract him, but also her integrity, attitude and humor- in short, the whole package.
In a foreshadowing of feminism, director Howard Hawks had the daring idea of remaking the newspaper buddy movie "The Front Page" with a gender twist, making the star reporter a female who'd previously been married to the editor. Thus, in "His Girl Friday"(1940), Hildy Johnson is played by the incomparable Rosalind Russell, and Cary Grant is the conniving Walter Burns, who wants to derail her upcoming marriage and keep her where she belongs- at the paper, and also, we intuit, at his side. In both manner and aptitude, Russell's Hildy is not just one of the boys, she's their leader: a tough, dedicated, wise-cracking newspaperman who just happens to wear high heels. Then and now, her very existence seems to proclaim that virtually anything is possible.
Fast forward five years to "Mildred Pierce", a pungent melodrama starring Joan Crawford. The title character is a poor but determined divorcee who will sacrifice anything to give her daughter the life she never had. Starting as a waitress, Mildred scrimps and is soon able to invest in a diner. Once that is successful, she launches a chain of restaurants. Unfortunately her business acumen doesn't translate to sound judgment in men or effective parenting, as she marries a shiftless heel (Zachary Scott), while allowing her beloved daughter (Ann Todd) to turn into a haughty, spoiled brat. Ultimately, Mildred is victimized by the very person whose security she's worked to guarantee. With this role, Crawford revived a film career that was stalling ominously.
1950 saw the release of Joseph L. Mankiewicz's superb drama about overweening ambition in the theatre, "All About Eve". Bette Davis plays Margo Channing, the doyenne of Broadway, whose countless opening nights are beginning to show. Hard and temperamental on the surface, Margo is vulnerable and slightly lost underneath, and doesn't notice the wolf in sheep's clothing in her midst. It turns out that young Eve Harrington (Anne Baxter), Margo's humble and adoring acolyte, is quietly formulating a succession plan. On many top-ten lists, "Eve" is fabulous across the board, but it's Mankiewicz's brilliantly barbed script that takes center stage, delivering equal parts tragedy and satire. Whether it's the first viewing or the tenth, the engrossing "Eve" is always worth a look.
Anna Magnani was already an international star when she was lured to Hollywood to do the film adaptation of Tennessee Williams's play, "The Rose Tatoo" (1955). The earthy, fiery Italian actress inhabits the central role of Serafina Della Rosa like a second skin. A reclusive widow stung by circumstances and revelations surrounding her husband's death, Serafina maintains her family's dignity by drawing an ever-tightening circle around herself and her budding daughter. The arrival of a new suitor, the sweet, simple truck driver Alvaro (Burt Lancaster) begins a process whereby Serafina opens herself to life once again. Though Lancaster is miscast as an Italian, he wins points (as always) for sheer effort and bravado. Meanwhile, Magnani's powerfully expressive face betrays the conflicting emotions of a proud but emotionally wounded woman facing the prospect-and attendant risks- of new love.
Martin Ritt's stark, complex "Hud" (1963), concerns a cynical modern-day cowboy trapped in a destructive pattern of self-loathing. Though Newman scorches the screen in the title role and Melvyn Douglas is equally impressive as his stolid, distant father, veteran actress Patricia Neal manages to steal the movie playing Alma Brown, the family's world-weary housekeeper. Though the father-son conflict dominates much of our attention, Alma is pivotal as the surrogate mother figure who by turns attracts and repels Hud. Neal, who'd known considerable tragedy in real life, is haunting as a weathered soul resigned to disappointment and drudgery, who, unlike Hud, has still achieved a sort of inner peace.
Though basically a sleek, stylized movie about a bored millionaire who plans the perfect heist for fun, the chic trappings and star chemistry emanating from "The Thomas Crown Affair" (1968) still comprise a winning formula. It's fun to see the usually scruffy Steve McQueen dressed to the nines in the title role, but for me, Faye Dunaway's the revelation. As a kid first seeing "Crown", crack insurance investigator Vicki Anderson was like no female character I'd encountered. Though stunningly beautiful, she's not a decorative appendage for a powerful man, but a professional in her own right. Stacked up against the wily, macho Crown, Vicki is his match in looks, confidence and brains, so that the inevitable seduction feels balanced and mutual. Tellingly, though Vicki falls for Crown, she still won't hesitate to nab her lover for the crime. "Crown" is a sexy, suspenseful cat-and-mouse game waged between equals, with a nifty surprise finish.
"Alice Doesn't Live Here Anymore" (1974) is atypical of director Martin Scorsese's work, a world away from the gritty, urban, ethnic male preserves of "Raging Bull" and "Goodfellas". Still, the highly personal, heartfelt quality of "Alice" makes it one of my favorite Scorsese outings. Once more, a young widow (Ellen Burstyn, who's note perfect) is left to make a new life for herself and her young son, with no prospects and precious little money. With Alice harboring vague hopes of becoming a singer, the two take an eventful road-trip west. Watching their challenging but colorful journey unfold is as satisfying as the hopeful outcome they ultimately achieve. Singer/actor Kris Kristofferson is immensely appealing as Alice's laconic, no-nonsense boyfriend. Also look for a young and precocious Jodie Foster in a small, pre-"Taxi Driver" role.
The diminutive but plucky Sally Field, who got her start playing pert teenager Gidget on television, would achieve breakout movie stardom with an astonishingly assured performance as a Southern textile worker turned union representative in Martin Ritt's "Norma Rae"(1979). Crucial to the film's success is the believability of the title character's evolution from pliant employee to impassioned agitator for workers' rights. The interplay between Norma Rae and her unlikely teacher and ally, a Jewish organizer from New York played by the talented Ron Leibman, is fascinating to watch. But it's the righteous fire coming out of Field's delicate frame that's most memorable, reminding us that in this country, fighting for the fair treatment of working people is a fundamental right and necessity.
Next comes "Coal Miner's Daughter"(1980), Michael Apted's affecting drama based on the life of country music star Loretta Lynn. We see young Loretta develop from humble beginnings in the coal-mining hills of Kentucky to star of the Grand Old Opry. Her husband Mooney (Tommy Lee Jones) serves as muse and manager on Loretta's rise, but finds his role minimized once she hits it big. As for Loretta, the touring life is anything but glamorous. Through a range of conflicts which could easily demolish other unions, Mooney and Loretta endure. This is both the tale of a young woman intent on using her gift to get out of the harsh coal mining life, and also the unvarnished story of a real marriage with bruises and bumps that still lasts. Spacek won the Oscar that year, but Jones is every bit as good. Also look for an impressive turn by Beverly d'Angelo as the legendary Patsy Cline.
From the heart of Appalachia we travel due south to Argentina, and a film that portrays the costs of political oppression in the most personal terms: "The Official Story" (1985).
Alicia (beautifully played by Norma Aleandro) is a history teacher whose curiosity becomes aroused as to how her husband (Hector Aterio) secured the adoption of their precious only daughter, Gaby. Is Gaby in fact the offspring of political dissidents who were quietly made to disappear? The truth is anything but pretty, and forces Alicia to confront the painful fact that her seemingly happy life is built on a foundation of base injustice. "The Official Story" is strong medicine worth taking.
No less sobering is "The Accused" (1988), about a working class girl who summons the courage to use the court system to go after the men who gang-raped her in a bar. Jodie Foster and Kelly McGillis , respectively playing victim and lawyer, create sparks on their own, as a cynical, hardened young woman must be convinced by her principled attorney to fight, knowing her attackers will impugne her character in court. This drama is an eye-opener, raising thorny questions about the blurry line between a woman's right to exhibit her sexuality, and still not be violated against her will. "The Accused" is absorbing from start to finish, but decidedly not for kids or the squeamish.
Tim Robbins is an extremely gifted actor, but also a director of the first order. My personal Robbins favorite is "Dead Man Walking" (1995), an intense, harrowing account of one nun's commitment to see a convicted killer through the torturous emotional and spiritual process culminating in his execution. Sean Penn is ideally cast as the convict, but Susan Sarandon's stripped-down performance as his spiritual guide is courageous, gut-wrenching work, fully meriting that year's Oscar for Best Actress. Though unavoidably depressing, the film is also very real, shedding light into spaces we could easily ignore, but shouldn't.
Before quitting Britannia, I should reference the strongest female character of her time, the long-reigning Queen Victoria. "Mrs. Brown" (1997) recounts one of the most unconventional and unlikely romances in history. With the premature death of her beloved husband Prince Albert in the 1860s, the Queen (Judi Dench) has withdrawn from her subjects into a period of extended mourning and seclusion. A Scottish stable worker named John Brown, whom Albert had much admired, is summoned to the Queen's service. Brown's common-sense directness and strength draws the Queen out, and literally and figuratively, puts her back on her horse. The close and affectionate friendship that grows between the two scandalized Britain then, and should fascinate audiences now. Judi Dench is a marvel to watch, and the brilliant comic Billy Connelly shows he can act with the best.
I close with an independent film which has lingered happily with me since I first saw it. "Whale Rider" (2003) tells the story of a Maori native, a young girl named Pai (Keisha Castle-Hughes), whose family is traumatized by the death of her twin at birth, a boy who would have eventually assumed leadership of the tribe. As a female, Pai is barred from any opportunities to prove herself worthy of such a role, and indeed is largely ignored by the grandfather she so wants to please. Yet there's a mystical power within her that cannot be denied, and defying generations of tribal tradition, ultimately young Pai achieves her proper destiny. Visually breathtaking and emotionally uplifting, "Whale Rider" is a must-see for the whole family.
Amidst ongoing consideration of gender roles, these movies provide the invaluable perspective of showing women up against it and in action. All the central characters share an ambition to make the most of what's been offered them, and achieve an abiding sense of fulfillment in their lives. Exploration of this sort, after all, constitutes the worthiest and most fundamental of human pursuits, as all these films convey with considerable insight and feeling.
REAL LIFE. REAL NEWS. REAL VOICES.
Help us tell more of the stories that matter from voices that too often remain unheard.