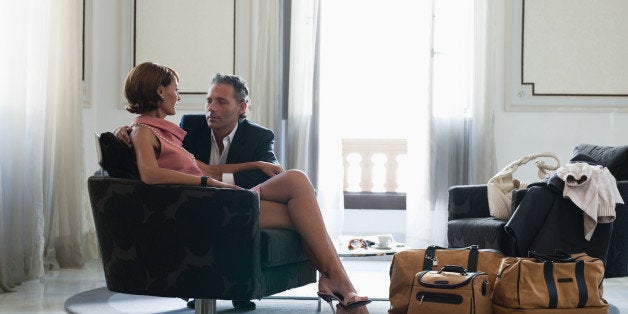 As I am sure you have seen, whether you are in the dating pool or not, there is an online dating site for almost every type of demographic segment possible. One of the more recent growing online dating site trends to make its mark in the industry are "sugar daddy" sites, websites where women seeking rich men can be paired with rich, older men seeking younger women.
The women who use Sugar Daddy dating sites
Why do women join these types of dating sites? Well, it's complicated... young women join Sugar Daddy sites for a myriad of reasons, including:
1. They are possibly looking for a father figure;
2. They may be fixated in an earlier stage of development and wanting to be cared for rather than taking personal responsibility and caring for themselves;
3. They may have a problem with intimacy, and need a relationship that offers space and distance;
4. They may have a need for control;
5. They may desire financial gain (clothes, college, jewelry, hair and makeup, spending money, etc.) and social mobility;
6. Perhaps they want to increase their social status;
7. They may want security and mentoring from an older partner;
8. They may have a narcissistic need to manipulate for goods and services.
Finally, a young woman may be seeking not only a superior partner who can give her financial security and social gain, but also because of her own need for power.
The men who use Sugar Daddy dating sites
On the other hand, men who seek romantic satisfaction from a financially-based dating arrangement are using money to replace intimacy. By controlling the purse strings, men step into a fantasy relationship, not very different from prostitution. And by creating the illusion of love, men caught in the web of "sugar daddy" dating maintain control and protect themselves from emotional vulnerability. When a partner enters into a relationship with an agenda, it is no longer authentic. Here, each partner has a primary interest other than commitment and responsibility... all the things necessary for a mutual and healthy relationship.
Older men are often emotionally trapped in the archetype of seeking a younger partner to reignite the sexual vitality of youth. Men who seek younger partners may be having problems aging and are trying to re-establish a connection with the culture of a younger generation. Further, fear of death and its total annihilation can entice an older male to reach one more time for that feeling of youthful energy. And finally, there may be the psychological need for power and control that creates the space and distance necessary for the male, who has problems with intimacy.
The problem with Sugar Daddy dating sites
There are two things in life you cannot buy: happiness and love. Therefore, Sugar Daddy dating websites, though gaining in popularity, are fraught with problems, for example: lacking in intimacy and lacking the commitment, obligation and responsibility necessary for real relationships. Moreover, these sites promote disparate agendas. An unhappily married older male may be using this site for an uncomplicated affair. Meanwhile, young women have their own program, which may include being fortune hunters, having a need for impersonal sex or other sexual problems. Relationships that are founded on foundations such as these often prove unsatisfying and dangerous to all parties concerned.
Your online profile is a permanent record that you can't erase
If you are a young woman preparing to place your photo and profile on these sites, remember that you are creating your history -- who you are to be, you are becoming. I would remind you that a mutual manipulation, to satisfy separate and independent needs, negatively challenges the potential of mutuality and true happiness.
Young women and older males, though satisfied in the short-term, may find that the age disparity and separate agendas lead to a deflated outcome. By investing in a scheme instead of in a person, partners of significant age differences may not be able to find the commitment to sustain a long and enduring relationship... especially when the partnership is based on a manipulation rather than love.
Support HuffPost
The Stakes Have Never Been Higher
Related
Popular in the Community