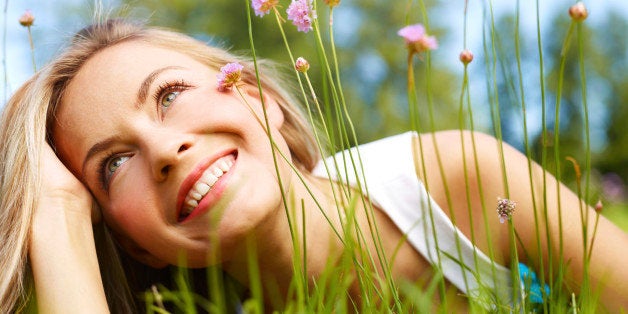 In 2009, I launched the L.U.S.T. campaign with the straightforward mission of reminding us all to Look Up, Stop Texting. Full-blown tech addiction was just emerging as a serious issue while, simultaneously, Smartphones were starting to prove their invaluable role as portable secretaries, virtual memory banks and magical agents of connection when we really needed it.
The L.U.S.T. conversation has continued in different ways, most recently here on HuffPost, where we've been urging you to #Unplug, #LookUp and #Thrive, then to share your experiences of unplugging via social media, online... while you're plugged in. It sounds like we're hoping you'll do two exactly opposite things at the exact same time. And we are. And we get it. And we're sorry.
Here's our offering for a logical next step: an exercise we call "Look Now, Text Later" (no racy acronym here, unless the word "lentil" turns you on.)
It's a three-step process:
1. GO: Put your phone down for a prescribed amount of time -- five minutes, half an hour, the length of a meal -- and go experience something. A sunset, a flower, something poignant someone said. It doesn't have to be so Buddhist-serious either. The thing you contemplate could be a pigeon flying too close for comfort or an embarrassing belch. The point is not to do anything except take in the moment.
2. GET: If the thing which caught your attention is still there when you plug back in (a flower, a funny billboard), enjoy it again it by circling back to get a picture when you can. If it was something fleeting (a belch) or something that can't be photographed (a comment, a feeling), write about it, even if it's just a few words.
3. GIVE: Share it with the world on whichever social media outlet fits -- Twitter, Instagram, Facebook -- so that others may experience and admire it as well, using the hashtag #looknowtextlater.
Could #looknowtextlater be the key to achieving that elusive state where technology is our servant instead of our master? Can we actually use GO, GET, GIVE to help us focus more intently on the people and things around us, then more fully share life's highlights with one another? We don't know, but let's find out together!
Join us is this 20 day experiment from today until August 31st. Let us know how its working for you to #looknowtextlater.