The international film scene is dotted with a series of spectacular events -- from the glitz of Cannes to the slopes of Sundance to Toronto and Tribeca -- to more intimate festivals everywhere from Sarajevo to Missoula, Montana.
The Madeira Film Festival is one of the scene's hidden gems. The festival on the Portuguese Island of Madeira, which just completed its 4th edition from April 27th to May 3rd, offered a celebration of all that is best in cinema in a setting that can only be described as paradise -- or paraíso in Portuguese.
Dedicated to the preservation of the Madeira's indigenous Laurisilva forest, the festival highlighted 17 feature films and 39 shorts from across the globe -- all accompanied by glass after glass of the island's namesake Madeira wine. (Madeira wine actually has strong roots in America; the Founding Fathers had a particular affinity for it, even using it to toast the Declaration of Independence.)

A non-competitive event, where each entrant receives an award dedicated to their role in preserving Madeira's forest, the festival showcases a series of mostly independent films that focus on nature. As the festival founder Aitken Pearson said, "it's not merely about the premier of the latest film -- it's a celebration of nature."
Madeira itself offers the perfect setting. A lush, 309 square-mile island off the west coast of Africa first colonized by the Portuguese in 1419, the landscape resembles a seeming hybrid of the Mediterranean and Southeast Asia.
Verdant hills -- many of them dotted with terraces for growing citrus, mangoes, bananas, and other tropical fruit -- rise up from the ocean to a height of up to 6,106 feet at Pico Ruivo, the highest peak on Madeira and the third highest in Portugal. The hills are sometimes shrouded in clouds rolling in from the ocean. From the peaks themselves, you are often above the clouds.
Madeira's Laurisilva forest is itself spectacular and unique. A UNESCO World Heritage site, the forest is the largest surviving area of the previously widespread laurel forests, which covered much of Europe in prehistoric times. Its trees are a captivating collection of shapes and sizes -- as if Dr. Seuss had been inspired to sketch a landscape by the ancient spirits that many believe still inhabit the trees.
The island's natural wonders make for a film festival that not only showcases amazing art, but is also a destination for artists looking to enjoy the outdoors. Films ran from 2pm to 11pm most nights, with morning excursions arranged for participants including off-road adventures, canyoneering down a river valley, and sailing around the island in search of dolphins.
Madeira's main city, Funchal, where a majority of the island's nearly 300,000 residents and 1.5 million annual visitors base themselves, is both quaint and cosmopolitan. With neighborhoods dotted by red-tiled roofs extending up the hillsides, bougainvillea in full bloom, and world-class cuisine, Funchal is reminiscent of a Portuguese Monte Carlo-- complete with an old-world casino-- only at a fraction of the cost. (A multi-course feast, complete with soup, salad, skewered meat or fish, side dishes, and an array of wines, can cost as little as 15 Euro at many restaurants in town).
The festival itself is set in two venues: the Teatro Municipal Baltazar Dias, Funchal's main theater, built in 1888; and Belmond Reid's Palace Hotel, an old-world resort first built in 1891 that has hosted everyone from Winston Churchill to Roger Moore to George Bernard Shaw. Reflecting Madeira's longstanding relationship with the English -- the Anglo-Portuguese alliance is the oldest one in the world -- the hotel has a distinct British feel. Imagine the Grand Budapest Hotel, if it was still in peak form and geared towards a clientele speaking Queen's: afternoon tea is still an honored tradition.
The hotel has also served as temporary home to an array of notable guests, including a number of deposed leaders who used it as their home in exile, including Cuban dictator Fulgencio Batista and Austro-Hungarian Emperor Karl von Habsburg.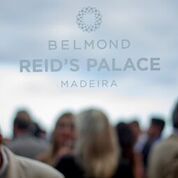 Opening night at the festival set the stage for what was to be an entertaining week. A cocktail reception at Reid's featuring, of course, Madeira wine and other regional specialties soon gave way to a parade of antique cars. The parade was led by two traditional Madeiran riders on horseback to honor the festival's first feature film, Of Horses and Men by Icelandic director Benedikt Erlingsson.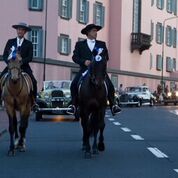 The movie was an absolute masterpiece. Set in rural Iceland, it tells the intertwined story of humans and horses struggling to survive in a harsh environment. The film is above all a love story between its two main human characters, a man and a woman on adjoining farms. But it intersperses all the drama of rural life: prying and sometimes feuding neighbors, alcoholism, sexual intrigue -- and that's just among the people. Much of the film is seen through the eyes of horses, their own experiences reflecting that of the human characters.
Erlingsson was in attendance and spoke afterwards to a rapturous audience of how as a native of Reykjavik, his summers in what he called Iceland's "brutal" interior had a tremendous impact on his art and view of nature and humankind.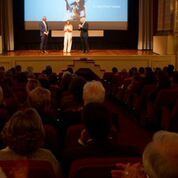 The opening film laid the groundwork for a spectacular week of cinema.
One of my favorite screenings was of Garnet's Gold by British documentarian Ed Perkins. From the two-time Academy Award winning producer of Searching for Sugar Man and Man on Wire, Garnet's Gold follows Garnet Frost, an extraordinary man on a quixotic adventure in search of hidden treasure, in what amounts to a belated rite of passage to rediscover the meaning of his life.
It is a sublimely beautiful and moving film that was recently screened by the BBC, and is currently screening in film festivals around the world. Perkins and Frost were both in attendance at Madeira, where it received rave reviews. Perkins commented, "it has been an enormous privilege to screen our film at the wonderful Madeira Film Festival. I always saw Garnet's story as a mirror into which we see our own hopes and dreams and fears projected, and it is very humbling that the film appears to be resonating so strongly with people."
Another favorite of mine was Beneath Water, a short drama/fantasy film by 20-year-old British director, writer, and producer Charlie Manton. Starring British actress Louisa Connolly-Burnham and American actress Miranda Wilson, the story takes place on the one year anniversary of a traumatic event and focuses on a mother and daughter's struggle to move on. The film is set in Missouri, and is a memorable exploration of a family overcoming tragedy.
The festival not only featured great films, but tremendous artists in other media as well. American singer Natalie Gelman did a series of acoustic performances throughout the festival. Both sunny and soulful, Gelman sang a series of original songs, many of which are sure to become classics. She also sang a medley of covers such as a version of "One Fine Day" that was more tragic and moving than earlier versions by the Chiffons, Carole King, or Natalie Merchant. Her original song "Some People" ought to generate its own slew of covers. It is a classic in the making, capturing the essence of America and the globe's current "Gilded Age", with its chorus that "some people are so poor...all they have is money".
Gelman herself was touched by the festival, saying, "this is a film festival to go to if you want to be inspired. I have been to some of the largest film festivals like Sundance and Tribeca and I've been to quite a few small town film festivals - the Madeira Film Festival has the best of both worlds. Loads of talent like those larger festivals with the community and camaraderie of something you would find in a small town. "
Another spectacular performance came from Ballet Teatro Paz, a contemporary dance company from the Azores, Portugal's other Atlantic archipelago. They performed their piece "Trees Die Standing", choreographed by Milagres Paz. A haunting dance set to classical music, the piece is, according to the dance company, "based on the parallel between the physical death of trees and the spiritual death of Man."
With only four years under its belt, the festival is aiming to move to the next level. Next year's festival will be dedicated not only to the preservation of the forest but to that of the ocean as well.
"My original vision for the Madeira Film Festival was that it would serve as a platform for independent filmmakers to share their work in a most conducive setting," festival founder Aitken said.
"Four years later I realize that the Madeira Film Festival is actually a reward for independent artists by virtue of an enjoyable, fun and to a degree luxurious week on Madeira where they can forge personal and business relationships very easily. We anticipate to further enhance the festival by inviting up to 100 industry delegates each year during the event to participate in a glamorous networking soiree, capitalizing on the merits the Madeira Film Festival has created and grown into."
Ari Ratner is an independent writer based in Washington, DC. Arranged by the Madeira Film Festival, he received highly discounted airfare to travel from Boston to Madeira on Sata International, a Portuguese airline and festival sponsor, as well as accommodations from Belmont Reid's Palace Hotel, another festival sponsor. Follow him on Twitter @amratner.
Calling all HuffPost superfans!
Sign up for membership to become a founding member and help shape HuffPost's next chapter