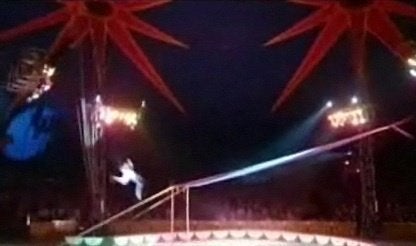 I've seen five other Cirque Du Soleil shows and could probably watch one every week and still be entertained and swept away in each moment.  There simply is no higher form of entertainment than a night under the tent with Cirque Du Soleil's experience of dreaming while awake in a magical atmosphere.  It's like living in some of the best children's adventure stories for a couple of hours where the real world disappears and you become engulfed in an exciting fantasy world.  Join the Cirque Club to get email notices on when shows are near you and to get discounted tickets.
The first thing to remember about a Cirque Du Soleil show is that while you're getting seated the pre-show happening in and around the audience is not to be missed either.  Almost immediately after I sat down with my friends, an Asian contortionist in a tutu invited my friend's 11 year old daughter to dance with her on the stage.  She unbuckled her tutu, placed it around the girl's waist after going on stage and proceeded to spin and twirl in ballet moves with her for about ten minutes.
While they danced on stage six different clowns were roaming the audience starting playful mischief with unassuming ticket holders.  Just like during the main show, you can't keep up with all the fun going on underneath the Grand Chapiteau once you enter and leave the mundane world outside.
Kooza is the show that lit up the night this time.  The name is inspired by the Sanskrit word "koza" meaning "box," "chest" or "treasure." The experience fully lives up to it's name in bringing a world class "circus in a box" to town. Who needs elephants and dancing bears when you can see acts ranging from Cirque standards like the teeterboard and Hand to Hand to contortionists and the amazing Wheel of Death where two men run in and around giant spinning wheels connected by a whirling axis?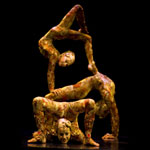 Being Cirque Du Soleil, even the acts you think you've seen before like juggling and the double tightrope are far from ordinary and not anything like what you would expect to see.   
Kooza brilliantly integrates the art of clowning and acrobatic performance with a moving story of The Innocent, a melancholy loner in search of his place in the world.  As his journey unfolds your eyes will be amazed as deeply as your heart is touched by the awe-inspiring expressions of human
performance by astoundingly creative characters in dazzling costumes.
The music and talent of the live band is a magic ingredient that drives the pulse of the story home.  The visual artistry is impossible to miss, but the music can be overlooked as only being great to listen to when it is actually adding so much more.
During the performance I watched one of the double trapeze performers slipped and caught the tightrope.  He was one of four men balancing on two wires which made the slip much more dramatic than if he would have been a solo performer. After the audience gasped for a minute or two, held their breath and felt their eyes widen out of fear for him, he gracefully climbed back on to the wire.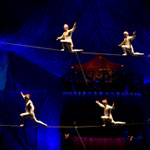 After noticing how elegantly he, and the other men, returned smoothly to their routine and went on to perform even more daring stunts, I became very aware of the skill of the band.  If a large crowd witnessed a man slipping off of a trapeze wire with no music there probably would have been a much deeper wave of fear overtaking them.  But in this case, the band did not miss a beat and their continuous steady flow of calm rhythm set a steady emotional tone across the audience.  For the rest of the show I paid attention to the band's performance high up in the air almost as much as I was engulfed by the visual performances.
The drummer heightened the peak points of each act, but his interplay with the juggler and the acrobat who climbed a self-stacked three story tower of Chinese Chairs was flawless and artful. Drumming is crucial to a Cirque Du Soleil show because the drummer's responsibility is to
find the arcs and accents of every performance.  His view, along with the other band members, is generally blocked in the band's bird's nest above the stage.  Closed circuit
monitors help them to see everything that's happening when there's not a clear path to follow.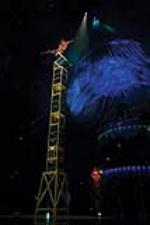 We all know that a lot of behind the scenes rehearsals take place, but even with that, the level of skill embodied in each band member and visual performer is enviable.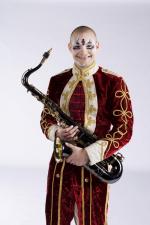 Seth Stachowski, the Band Leader, shared with me how the music was created and adapted for Kooza to  match the acts as a force multiplier to give them more emotion.  It all begins when the team comes to the table with a concept.  With
only a basic storyline and inspiration to start they hash out which acts
are available and then add the music to support the vision. 
Jean-Francois Cote composed the music for Kooza into twenty-five sections to help them deal with unexpected parts of the show.  Over time experimenting occurs when any sound is discovered to accent a trick or an improv idea.  Since there have been over 900 Kooza performances so far (they will hit 1,000 in December of this year) you can imagine how deftly both the musicians and the performers have mastered their craft.
As Seth described life on the road with Kooza it made me want to run off with the circus.  He works with world class performers from across the globe who share their cultures with one another.  His wife is on the road with him and they experience living in interesting cities across North America for 6 to 8 weeks at a time so it feels like home.  And his job is entertaining people and collaborating with great teams of people to spread joy to new crowds every night.
Alas, I don't have the talent to make it through a Cirque Du Soleil audition.  I'll just have to count the days until one of the six travelling Cirque Du Soleil shows rolls into town with a new crew full of insanely talented performers itching to deliver a visionary show that won't soon be forgotten.
Calling all HuffPost superfans!
Sign up for membership to become a founding member and help shape HuffPost's next chapter