Who knew that the über-hip had a sense of humor? Run, don't walk to the nearest browser and get your tickets to The Magic Flute, re-imaged by the cutting edge "1927" animation arts group, and now onstage at L.A. Opera. This one is a pure delight -- from wild stagecraft to exuberant song. It's a total reboot, and somewhere, up in musical heaven, Wolfgang is smiling.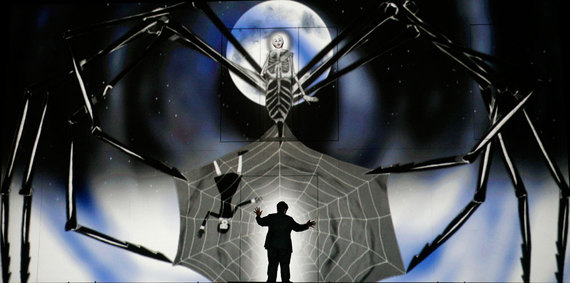 The Queen of the Night, part human, part cartoon, makes trouble.
From its first performance on September 30, 1791, The Magic Flute has been the special effects opera. A musical canvas on which artists painted crazy pictures. It opens with a prince battling a dragon, and as he seeks the enlightenment values of wisdom, courage and virtue (definitely capitalized by the composer), he encounters magical beasts, a bird-man, a bird-woman, trials by fire and water and of course, the Queen of the Night. The music itself is peppered with special effects: The highest note sung by a coloratura soprano, a trio of boy sopranos, the duet of "pa-pa-pa" sung by Papageno and Papagena.
Sometimes it's all taken too seriously... but no danger of that here.
The present production originated at the Komische Oper Berlin and was created by the British "1927" headed by the brilliant Suzanne Andrade and Paul Barritt. Direction is by the always-out-there Barrie Kosky, now artistic head of Komische Oper Berlin. It uses the latest in projection technology to create a series of whimsical animated tableau that mix 1920s silent-movie kitsch with greeting card silliness and Nightmare-Before-Christmas pop-art. Buster Keaton meets Tim Burton meets the animator from Monty Python.
Silent-movie style titles are substituted for the spoken dialogue between arias, and the scenes are often laugh-out-loud funny -- even while offering a contemporary edge.
Somehow, it all hangs together beautifully.
Eye-popping imagery can obscure the music, and as often happens in avant-garde productions, singers can find themselves becoming mere extras to the effects -- pawns rather than actors. In this case, however, the young, high-energy cast seems to delight in the combination of film and stage -- effortlessly hitting the complex animation cues while staying in touch with the audience. It's an exceptionally strong ensemble, held together by ever-masterful conductor James Conlon and chorus master Grant Gershon. Perhaps, as digital natives, this cast is just more comfortable than most singers in a virtual landscape.
Acoustically, it doesn't hurt that a big solid wall backs up the singers -- guaranteeing audio projection into the not-always-vibrant Chandler Pavilion.
Up-and-coming soprano Janai Brugger proved the musical highlight of opening night, as she managed to bring a stunning passion and control to her Pamina, Tamino's would-be lover - even while being attacked by cartoon dogs or posing in an animated snowfall. Her "Ach, ich fuhl's" was superb.
Tenor Lawrence Brownlee made for an engaging and robust Prince Tamino, despite having to perform in whiteface and peer into all that high-intensity, high-res projection.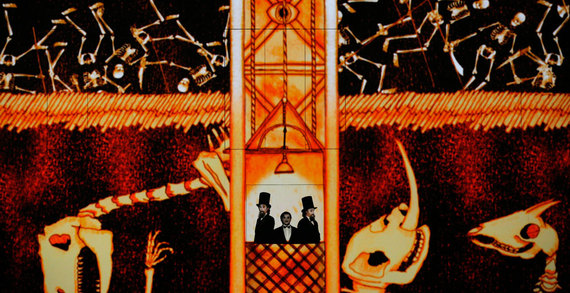 Tamino heads underground to endure his trials. The biggest effects were, of course, reserved for the Queen of the Night, who appears as a three-story tall spider. One felt for Erika Miklósa, who performs the Queen in productions around the world -- forced to sing stock-still, and swathed in a white straight jacket as the animations were projected onto her body, and raged around the stage. She nevertheless managed to thrill the audience with her two big arias and her coloratura force and precision received the biggest applause of the evening.
The "three ladies" who serve the Queen were wonderfully and hilariously sung by Hae Ji Chang, Cassandra Zoé Velasco, and Peabody Southwell -- have these women been singing together for years? If not, they should form their own touring trio. Bass Evan Boyer struggled a bit to bring energy to his bearded and top-hatted Sarastro, but was admirably grave and mysterious.
It was interesting to see how this production played with the traditional themes of Magic Flute -- and yes, some good stuff gets lost in the translation.
Papageno, for example, is the comic heart of Magic Flute, working as a foil to all the serious Enlightenment themes, and the nonstop goodness of the priests who minister at the quasi-Masonic temple which initiates Tamino into its ranks. Papageno bumbles, he fumbles, he gets drunk even as he tries to follow his master to the heights of human virtue.
In traditional productions, he's a bird-man, dressed in feathers, playing Pan Pipes. Here he's not a bird-man, but a straight-up Buster Keaton, accompanied by of all things, an animated black cat. Robbed of his feathers by the costumer, his Pan Pipes by the director, and his best lines by the silent-movie titles, baritone Russian Rodion Pogossov still manages to be funny, songful, and engaging. But when he meets his bird-mate, Papagena (the delightful Amanda Woodbury), some of the traditional charm is definitely missing -- and the echo of his Pan Pipes in the orchestra is entirely out of context.
The physical "magic flute," however, usually an awkward and underutilized prop, gets a spectacular upgrade to a nude animated fairy, charming not just a few costumed beasts onstage, but a whole heavenly zodiac. The "magic bells" appear as a whole chorus line of animated women. All the temple initiates, including Pamina, imitate artistic director Suzanne Andrade's flapper hairdo. And yes, of course, the drunkenness brings about Disney-style pink elephants.
You wouldn't want this symbolism to dominate the opera for the next two centuries -- but just for a moment, here at the dawn of the digital age, the change is joyfully welcome.
Like I said, run, don't walk to the Pavilion before it's all over.
The Magic Flute continues through December 15. See here for details.
Popular in the Community