Maybe there's something in the water. Or on the hillsides overlooking two of western Mexico's most breathtaking bays. Whatever it is, Manzanillo seems to draw ultra-rich hotel developers like kids to a pinata.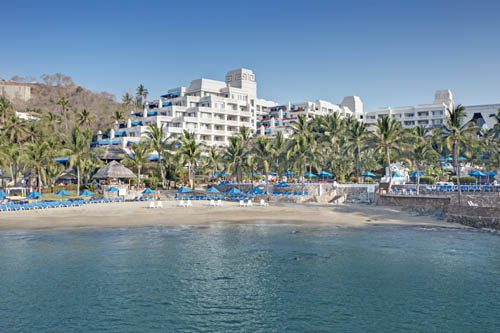 Take Robert Woolley. The Dallas-based hotel tycoon was said to be so enchanted by the tropical beauty of Manzanillo that he decided to build a luxury resort there - in the shape of a Mayan temple. When it opened in 1999, Woolley used a variation of his wife's first name to label his Mexican masterpiece the Karmina Palace. Sold to the upscale Spanish hotel chain Barcelo Resorts in 2006, the property today features 324 lush suites nestled around eight pools and a cozy cove.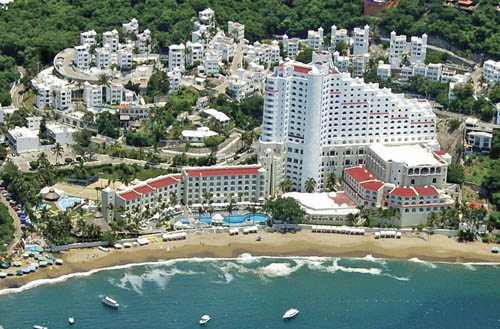 Gracing the hills of a nearby peninsula is a towering, $200 million hotel built on prime real estate once owned by former Mexican President Miguel de la Madrid. The property opened in 1991 and was later sold to its current owner, Tesoro Resorts. Rated five stars, the Mediterranean-flavored hotel has 331 rooms looking out at the waters of Audiencia Bay.
Just over the hill from the Tesoro is a place that put Manzanillo on the modern-day tourism map. The story goes back to 1974, when Bolivian tin magnate Antenor Patino held a party there that made headlines around the globe.
It wasn't just the 2,000 glitterati who showed up - everyone from Hollywood stars to people who sat on thrones - or the way they got there on sleek yachts, private planes and chartered jumbojets (the latter landing at a brand new airport financed by the tin man).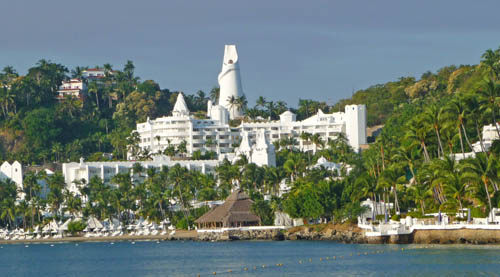 What got all that ink was the place itself. On arrival, the guests hopped into golf carts to enter Patino's Moorish fantasy of white minarets, cupolas and twisted minarets lining cobbled paths to their lavish suites. The world, thanks to hordes of reporters flown in for the party, would soon know this fairyland as Las Hadas, meaning "the fairies."
Vogue magazine called Las Hadas "a delicious dream...the world's ultimate playland." Playboy gave it this supreme accolade: "A better version of heaven."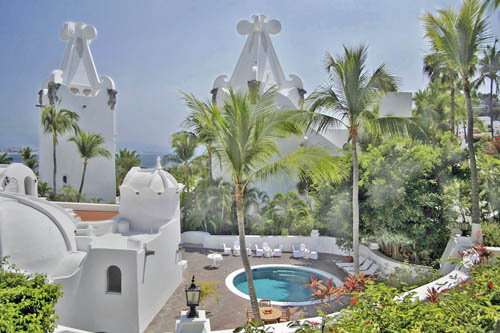 The party went on for weeks, during which Patino's guests dined on filet mignon, lobster and caviar washed down by fine champagne in four gourmet restaurants while being pampered by a staff that far outnumbered them.
For three years, Las Hadas was run more or less as a private club for Patino's friends and their families. There was some talk that the ongoing financial drain - coupled with tumbling prices for tin - prompted a plan to turn Las Hadas into a kind of condo development. But the glitterati came to Las Hadas to play, not pay.
In 1977, Las Hadas was sold to a hotel chain, but even the publicity from the 1979 hit movie "10," in which a soused songwriter played by Dudley Moore followed Bo Derek's corn-rowed bimbo to the burning sands of Las Hadas, failed to make the hotel pay off.
Las Hadas changed hands several more times before winding up as a featured destination in the prestigious Brisas Hotels & Resorts chain in 2000. Visitors to the resort today will find the property and its 232 rooms still sparkle in Moorish splendor, thanks to a recent $4.6 million refurbishment.
Getting there: Nonstop flights to Manzanillo are currently scheduled from U.S. gateways such as Los Angeles and Houston. Tour operators additionally offer a number of charter flights from other U.S. and Canadian cities.
Staying there: Tourist-class hotels around Manzanillo include the Barcelo (barcelokarminapalace.com), the Tesoro (tesororesorts.com), Las Hadas (brisashotelonline.com), Wyndham's 1,235-acre Grand Bay Hotel (islanavidad.com) and the 514-room Club Maeva (clubmaeva.com).
More information: Visit the Manzanillo Convention and Visitors Office at vivemanzanillo.com or the Manzanillo section of the Mexico Tourism Board at visitmexico.com.
Related
Popular in the Community