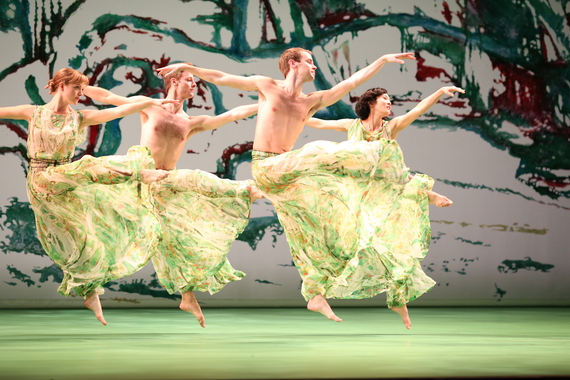 "Please locate the nearest emergency," intoned the voice on loudspeaker, triggering the first of many chuckles from Saturday night's audience at Cal Performances in Berkeley, at the opening of Mark Morris' latest adventure in opera. Morris gets Handel like no one else gets him: He crafted a towering piece of dance architecture in L'Allegro, il Penseroso ed il Moderato, and now Acis and Galatea (the jazzed-up Mozart arrangement) gets the witty and lightly absurdist Morris treatment.
This time there's a storyline, involving Greek nymphs and shepherds and a lascivious monster, which Morris ornaments with great charm, punctuated by occasional bouts of schoolboy humor.

The nearest thing to an emergency onstage was the dizzying scenic design by Adrianne Lobel -- a series of abstract painted drops, the main one resembling a giant Rorschach inkblot. These clashed dismally with the busy leafy designs on the long, filmy Isaac Mizrahi-designed skirts worn by both men and women. For one scene only, toward the end, the backdrop lifts, and lighting designer Michael Chybowski bathes the stage in a burnt orange splendor, as the ensemble mourns the murder of the upstanding shepherd Acis. They raise chests and raging fists to the heavens, they crumple to the ground and spiral in agony. Minus the distracting backdrops, the magic of Morris and Mizrahi convey the paralyzing sorrow in Handel's "mourn, all ye muses! weep all ye swains!"
Had an actual fire broken out at Zellerbach Hall, no one would have rushed the exits as long as the Philharmonia Baroque Orchestra, under the rousing direction of Nicholas McGegan, remained playing in the pit. Their glorious rendering of the music, with terrific assist from the Philharmonia Chorale, had us transfixed throughout.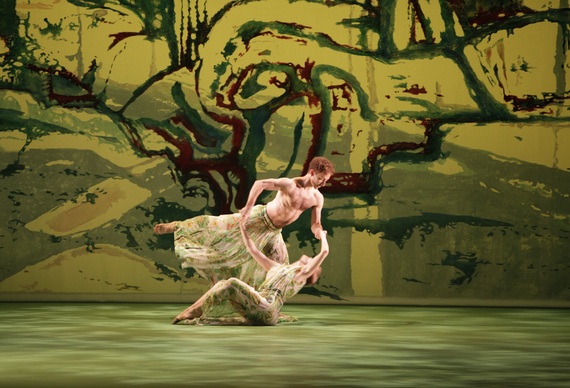 Tenor Thomas Cooley in the role of Acis and soprano Sherezade Panthaki as Galatea swore their eternal love in crisp, clear tones, as the dancers swirled around them. Panthaki was especially moving in her final lament: "must the lovely charming youth/ die for his constancy and truth?" Tenor Zach Finkelstein as the busybody shepherd Damon saw trouble brewing and counseled both Acis and the wicked Polyphemus, who lusted after Galatea. He warned Polyphemus: "beauty by constraint possessing / you enjoy but half the blessing" but the splendid bass-baritone Douglas Williams, who physically towers over everyone else in the cast, merely looked bored and flung himself on the ground, idly stretching his hamstrings and twirling his enormous bare feet at the ankles. While Polyphemus is generally described in Greek myths as a monstrous, hairy, one-eyed Cyclops, the hunky Williams, with rock star hair, gropes everyone, grabs his crotch, and taunts the outraged Acis by planting a big smacker on his lips.
Galatea bravely orders Polyphemus to take a hike, and Morris turns all Girl-with-a-Dragon-Tattoo, marshaling a posse of angry females to beat up Polyphemus. Unlike the Soviets, however, who insisted on rewriting the classic story ballets with a happy ending, Morris sticks to the original tragic narrative. In the most inspired sequence of the entire opera, he deploys a dancer, Maile Okamura, to depict the giant boulder with which Polyphemus murders Acis. Okamura is passed over the heads of the ensemble in a cockeyed, slow-motion cartwheel before she strikes Acis.
Ingenious moments such as this pop up throughout, with the ensemble embodying forces of nature, the singers' emotions, or literally enacting the lyrics as if in a game of charades. As the Chorus warns of Polyphemus' arrival in Act II -- "see what ample strides he takes! / the mountain nods, the forest shakes" -- dancers are launched into the air like missiles, then rustle their flowing skirts vigorously. The effects are breathtaking.
But Morris' inventiveness does not keep pace with Handel's. There was lots of skipping. And endless variations on London Bridge. Which might have gone over better danced by young children. ("Happy we!" wrote librettist John Gay, who was believed to have collaborated with John Hughes and to have borrowed freely from Alexander Pope, all three of whom were Handel's comrades in the raffish aristocratic set around the Earls of Burlington and Carnarvon.) Ballet to the People half expected Morris to pick up on scholarly speculation around Handel's suspected homosexuality (there having been no Mrs. Handel) and the hidden homo-erotic content in Acis and Galatea -- notably the thrilling climactic duet between Acis and Galatea ("The flocks shall leave the mountains") which the jealous Polyphemus gatecrashes ("Torture! fury! rage! despair!"), and in which musicologist Ellen Harris hears echoes of one of Pope's famous Pastoral poems referring to same-sex love. But Morris plays it straight.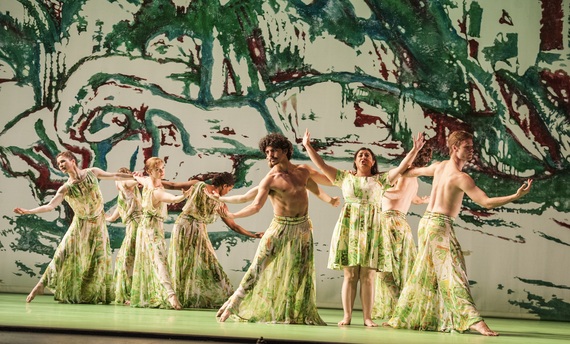 He closes with a curiously static and unimaginative tableau that leaves the faintest of impressions. Unlike the tender intertwining of Aaron Loux and Chelsea Lynn Acree, that embellishes Acis' starry-eyed paean to Galatea ("Love in her eyes sits playing"). Or the devotion with which Sam Black lifts and transplants Jenn Weddel across verdant fields. Or the gorgeous canon that opens Act II, as the Chorus somberly warns "wretched lovers... no joy shall last", while five groups of three dancers repeatedly entwine and break apart. Or the majesty of Laurel Lynch's solo, conjured by Acis' stirring call to arms ("Love sounds th'alarm"), with a martial flair seemingly inspired by Irish stepdancing.
Whether skipping like schoolchildren or sailing through the air like swifts, the Mark Morris dancers in their floaty Mizrahi garb look nothing short of stunning. This is in sharp contrast to the singers, whose ordinary clothes, executed in crisp cotton with a distinct thrift-shop vibe, detract from their sublime performances. Given Morris' strategy of integrating dancers and singers on stage, it seems only fair to drape them in a similar aesthetic.
Photos, courtesy Mark Morris Dance Group:

1. Chelsea Lynn Acree, Billy Smith, Noah Vinson, Maile Okamura (photo: Ken Friedman)
2. Aaron Loux, Chelsea Lynn Acree (photo: Johan Henckens)
3. Sherezade Panthaki (Galatea) and members of MMDG (photo: Susana Millman)
REAL LIFE. REAL NEWS. REAL VOICES.
Help us tell more of the stories that matter from voices that too often remain unheard.