If ever there was a guitar player who captures the gorgeous nuance, the magic that a nylon string classical guitar can emote in the right hands it is Ralph Towner. His principal instrument was the piano, which he studied as classical conservatory student until he decided to take up guitar in his senior year of college at the University of Oregon. The Washington State born musician has certainly charted his own unique path since then. He became a member of saxophonist and world music pioneer Paul Winter's Consort in the late sixties. It is there he met fellow musicians Paul McCandless, Colin Walcott and Glen Moore. These four would leave Winter to form their own ground-breaking group Oregon, where they skillfully wove, folk music, Indian raga, jazz improvisational techniques and world music influences into a musical tapestry that would itself become the Holy Grail to scores of musicians that followed in their footsteps.
Along the way, Towner has lent his considerable skills as a gifted player in countless musical settings.He fronted a powerful group of European improvisers including the saxophonist Jan Gabarek, the bassist Eberhard Weber and the drummer Jon Christenson on his brilliant Solstice from 1974. In 1975 he released Matchbook, a duo outing with vibraphonist Gary Burton. He has worked with impressionistic guitarist John Abercrombie, first on their dual guitar album Sargasso Sea from 1976 and later on Five Year Later from 1982. Over the years, Towner has collaborated with other notable jazz musicians including the trumpet players Kenny Wheeler and Pablo Frescu; repeat performances with bassists Gary Peacock and Eddie Gomez; and legendary drummers Peter Erskine, Jack DeJohnette and Bill Bruford. But fundamentally it is his solo guitar work that seems to be the most personal and direct means toward the fulfillment of his inner most expression.
On his latest release My Foolish Heart, in the Spartan liner notes, Towner says this Victor Young composition "...had immeasurable impact on my musical life..." "The seminal version of this song played by Bill Evans, Scott LaFaro and Paul Motian set me on a course to try to attain the magic of this trio..." In talking about this his latest recording, he says "So many years later, I've decided to include it among a variety of my own pieces. I hope I've continued to use the inspiration I gained from that first encounter in all the music that I play."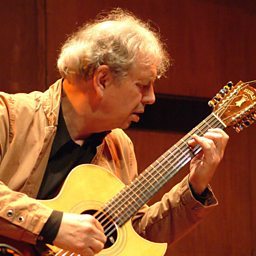 Inspired is perhaps the most meaningful word to describe Towner's guitar work. It floats in the mist somewhere between classical and jazz, in a nether land that Towner has singlehandedly staked out as his own personal territory; a musical mode of rare beauty and singular expression. The seminal guitar work of the great Brazilian guitarist Baden Powell comes to mind when listening to Towner.
Eleven of the of the twelve songs on this album are Towner's own compositions. Two of which, "Shard" and "Rewind" he surprisingly revisits from his days with Oregon. In looking over Towner's discography you rarely, if ever, find him repeating himself; re-recording songs that he has already recorded. Despite the obvious Evans connection-unlike Evans, who made it almost a sacred mission to take a song and reconstruct it over and over, extracting every possible nuance-Towner seems to prefer to constantly create new, often miniature, vehicles of expression.
"Pligrim" has a beautifully repeating melody over which the guitarist spins a minstrel-like magic. "I'll Sing to You" is a love song of delicate, filigreed beauty. "Saunter" is a marvelously light, energetic piece that does indeed saunter with Towner's fleet fingering. The song has a feel of familiarity that leaves you with a sense of Déjà vu.
On the title song, Victor Young's "My Foolish Heart," the slight resonance of his strings, the sounds of his fingers creaking as they make contact with the tightly mic'd fretboard and the breathy intake of air that you hear from him as he begins to engage into the depths of this beautiful composition is quite poignant. There is a tenderness in his playing, an homage to Evans light, introspective touch on piano. Towner has masterfully translated this touch to the fretboard of his guitar. Simply gorgeous.
Now living in Rome, steeped in the culture, Towner's "Dolimiti Dance" has the folk-like sound of a traditional Italian dance with its playful repeating lines and its rhythmically chicanery. On "Clarion Call" he picks up his twelve-string acoustic guitar to create an aurally mysterious composition. His fingering and percussive dancing on the strings belies a myriad of techniques that are all Towner creations. "Two Poets" is a brief two-minute beauty that finds Towner working on a simple melodic idea that is the springboard for further exploration. There is always a sense that you are discovering the path of the journey at the same time as he is. "Shard" is a brief fifty-four seconds. One of the few tunes that Towner has resurrected, revisited as it were from his Oregon days.

"Ubi Stut" is another short repeating melodic phrase that Towner plays with a Baroque sound, delicately dancing his notes over a pedal point line that he skillfully weaves into the piece. "Biding Time" again has Towner on his full bodied twelve-string guitar.
"Blue as in Bley" is a tribute to the pianist Paul Bley who died a month before Towner went into the studio to record this session. The composition has a suspended quality to it that finds the guitarist offering some of his most inspired playing. There is a sense of that Towner is channeling some of Bley's complex harmonic ideas within the confines of his own structured composition.
The finale, "Rewind" is the other tune resurrected from Towner's days with Oregon. This uplifting piece has a beautiful sense of vigor and vitality. Towner's guitar work is always precise and often poignant. His ability to both improvise and accompany himself simultaneously and flawlessly can only be appreciated by thorough listening. Put on a set of headphones with this album and you will not be disappointed and likely transported.
Calling all HuffPost superfans!
Sign up for membership to become a founding member and help shape HuffPost's next chapter