At summer camp, you will find children in search of counsellors as if they are godlike beings, capable of healing all wounds and bandaging all torn friendships. You will find the whisper of pines, children's laughter, windblown hair, sunkissed skin, a constellation of freckles, hot sand on your toes, the rush of water on your skin, a symphony of crickets, the echo of an eerie loon call, a crack of thunder, the collecting of raindrops, the smell of rugged earth after a storm, canoe paddles slashing the water's edge, the setting sun, the warmth of a fire, the ooey-gooey taste of s'mores, and the leftover remnants of chocolate and marshmallow on wide smiles. Fatefully, as the season draws to an end, you will find the falling of leaves, the arrival of autumn, and many heartfelt goodbyes.
In my 18 years, there has been no greater sense of belonging than during my time on the sunny shores of a traditional summer camp in Ontario, Canada. One day is spent embarking on a voyage to the untouched woods of the north, sitting beneath the star filled galaxies. The next is spent sailing through the bays on a windy day or instructing the world's tiniest archers on how to hit a bullseye. Regardless of the activity, day after day, I always find myself standing with toes in the sand and a smile on my face.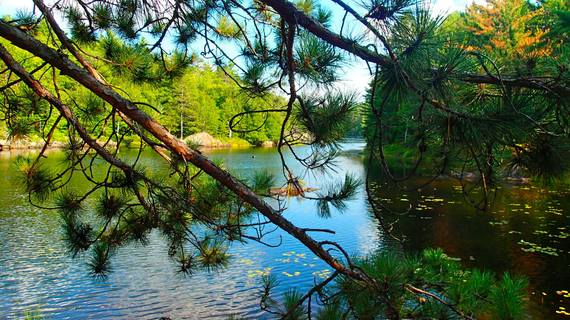 Reflecting on my first summer as a camp counsellor, after 10 years of holding the title "camper," I'm left with experiences akin to no other. Camp is this magical place that forces those together who usually wouldn't co-exist in society, foraging unlikely friendships between individuals of vastly different backgrounds, all within the tranquility and beauty of nature. I now hold the divine ability to deal with chaotic children without ever having owned one. After lice outbreaks, soiled linens, projectile vomiting, and shrill screams in the wee hours of the morning, getting splashed by an oncoming bus on the way to class or stepping in dog poop at the park just doesn't take a toll on my happiness the way it once did. Now a nuance in facial expression can tell me everything that words cannot. Camp has provided me with a safe haven, free of judgement, where I can learn and grow from my peers. Throughout the two months of my life I reserved for over-excited children and the Canadian wilderness, it became my goal to provide the same sense of belonging and foundation for personal growth that I had experienced, to each and every one of my campers.
Last summer, I took on a new challenge by working closely with special needs children. This only furthered my foreknowledge of how camp welcomes everyone with open arms to a space where they will feel equal and appreciated for each unique quality they bring. I was privileged and inspired to watch one of my campers refuse to let her differences tell her apart from the rest. She didn't let her divergence from the norm stop her from cultivating a life worth remembering. Why should you?
Somehow, when asked about my stay at summer camp, I find myself at a loss of words, uncertain of how to genuinely express the extraordinary, endless adventures that occurred, in just two months, at summer camp. It can be difficult to explain camp and its profound ability to shape and transform an individual's life in unimaginable and remarkable ways. I often wonder where I would find myself had the very foundation of my character not been built in such a place. There are infinite lessons to be learned at camp and I have dedicated my summers to discovering the meaning behind them. For instance, one does not take a warm bed for granted after sleeping with a tree root wedged between their back bones, in a collapsing tent, with a stream of rainwater running through. To those who have not experienced camp, the immense bliss from such a scenario is but an enigma. It can be tough to fathom why anyone would wish to spend the nights of their youth sleeping on a forest bed, until having experienced it.
As the permanent end of my stay at summer camp draws near, I am expected to regain my place in the city during the summer months, leaving camp behind as a distant memory. Still, I am thankful to know that camp is still alive. I now relish in my experiences and feel capable of beginning my own adventures. Perhaps the brevity of camp is what makes it so cherishable. On an uneventful night, or at the end of an over eventful week, I often wish to return to this carefree lifestyle, as it evokes a kind of magic I thought was lost long ago in my childhood.
Huddled around a campfire, amid a forested landscape on a starry night has been my greatest measure of happiness thus far, and a memory that will languish for many years to come. At the end of this journey, I know there will live an insatiable longing within my core, for the peaceful wilderness that I called home and the friends that once awaited me. Camp is where I redefined magic.