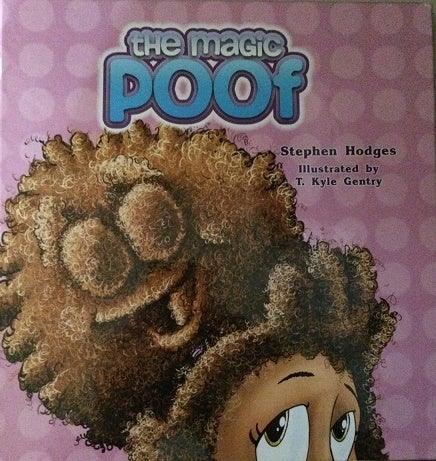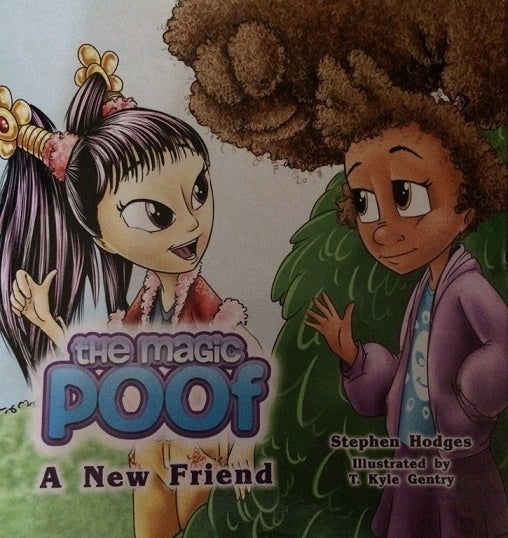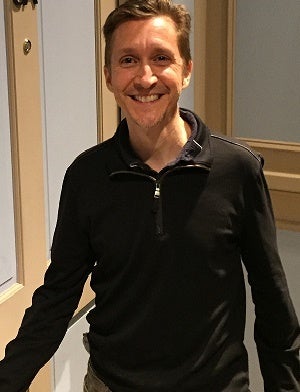 Author and Creative Executive Stephen Hodges sits at a vendor table at the Los Angeles Convention Center autographing books and chatting with fans. He poses for pictures with smiling children as they gleefully clutch copies of his award-winning book series The Magic Poof.
The irony of this moment is not lost on Hodges as a grandmother joyfully hugs him, thanking him for creating a story with characters with whom her granddaughter can finally relate. This is not your typical book show. In fact, it's not a book show at all. This is the 2016 Afrolicious Hair and Beauty expo, and Hodges does NOT fit in. The author has attended many cultural events such as this all while promoting a very "hairy" brand.
The Magic Poof series details the adventures of a little girl of color named Ange-Marie with a magic ball of curly hair (the eponymous Poof) who is also her best friend. When Hodges was struck by the idea five years ago, the self-proclaimed "short skinny white guy" had no clue if he would be embraced by a community he knew little about; he was simply captivated by these characters and wanted to share them with others.
This desire has lead him on a journey to a new, critically acclaimed brand that moves past just a book series into an award-winning app, accolades from the entertainment industry, praise from academics and educators, and most importantly, the love of kids and adults of all colors—all thrusting Hodges in the spotlight as an unexpected advocate for inclusion.
We had a chance to sit down with Hodges while he was preparing to sponsor the 4th Annual Multicultural Children's Book day on January 27, 2017, Hodges is contributing to an important event promoting much-needed diversity in children's literature.
What do you see as the future for The Magic Poof?
Stephen Hodges: The Magic Poof was never meant to be a one-off book. The first and second books are used by several school districts as a teaching tool for diversity and compassion, and I'm currently working on illustrating the third book. I really do see The Magic Poof as a platform to engage in a celebration of diversity and inclusion, so the books are really just a launch pad for a variety of other ventures.
What other ventures are planned for The Magic Poof brand?
Stephen Hodges: The Magic Poof app has received great reviews, especially because of the interactive "Build Your Own Poof" activity? I have an animatic, storyboards, and script outlines for an animated series that have garnered interest from more than one Hollywood studio. The Magic Poof characters can also be the faces of inclusion via a working proposal for an anti-bullying campaign I've submitted to the National Ad Council. Natural hair care company Righteous Roots has approached me to use my characters to help promote their children's hair care line, and executives at Mattel Toys love the idea, so it's just a matter of someone signing on to the vision.
What do you want people to get from The Magic Poof brand?
Stephen Hodges: For me, The Magic Poof is not just about how one character looks or whom you think they represent. The Magic Poof is really for everyone. Brands with positive values and diverse characters have been embraced socially, emotionally and commercially. Look at Tony-winning Hamilton or Oscar-nominated Moonlight. Today's media is about the intersection of complexities that make us who we are and how we relate to ourselves and to others.
The hot-selling Magic Poof is on its way to becoming a household name, and soon children all over the world will be waiting for the next animated adventure and their very own Ange-Marie doll.
In honor of Black History Month, The Magic Poof app containing both books and the "Build Your Own Poof" activity are available for $.99 cents through February 28, 2017. Physical books are available on Amazon and Barnes and Noble.com.
Autographed copies are available at a discount at:
Popular in the Community