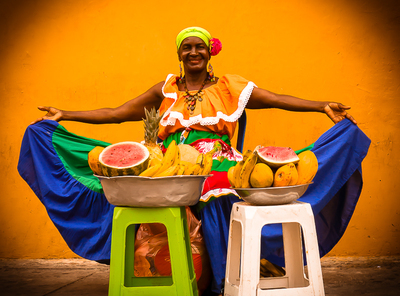 The lady selling watermelons, pineapples and mangos beams as she spreads her indigo skirt wide for a photograph against the burnt orange stone wall facing Cartagena's Plaza de Santo Domingo. Her wide open smile, equal parts exuberant and sultry, seduces passersby into stopping to gape at her, a living mural of brilliant tropical hues.
Radiating from the square, the labyrinthine streets and alleyways of the Old City are lined with resuscitated colonial era mansions, their walls and wooden balconies painted pastel shades of sky blue, lemon yellow, lime green and burgundy -- riotously bold declarations of primal color that open into cool courtyards stocked with toucans and fabulously decorated interiors harkening back to Viceroyal splendor.
Here, amid the ghosts of five hundred years of stupendous wealth, sacrilege, slavery, magic and solitude that first inspired Gabriel Garcia Marquez to become a writer when he briefly lived here as a penniless student, Colombia's Caribbean jewel shimmers with possibility like never before.
Since its crumbling walled city and fortress were named a UNESCO World Heritage Site in 1984, Cartagena de Indias has made a remarkable recovery from dark decades of decay, violence and despair that engulfed the whole of Colombia. Today, tourists are once again flocking to this former outpost of the Spanish Empire.
They come to inhale the town's lovingly restored colonial ambience, stroll its infamous ramparts and beaches, soak up its laid-back atmosphere, savour its Caribbean infused gastronomic delights and relax behind the thick walls of its many beautifully restored boutique hotels. During the day, they tour majestic fortresses, Inquisition museums and surreal galleries. By night, they are serenaded by the clip-clop of horse drawn carriages mingling with the siren calls of salsa wafting from countless café courtyards.
Marquez once said "All of my books have loose threads of Cartagena in them. And, with time, when I have to call up memories, I always bring back an incident from Cartagena, a place in Cartagena, a character in Cartagena."
Memories of a visit to this magical city by the sea will linger long after departure. Sensual, sweetly melancholy memories captured in photographs taken of love in the time of Cartagena.